A CELEBRATION: MODERN BRITISH SCULPTURE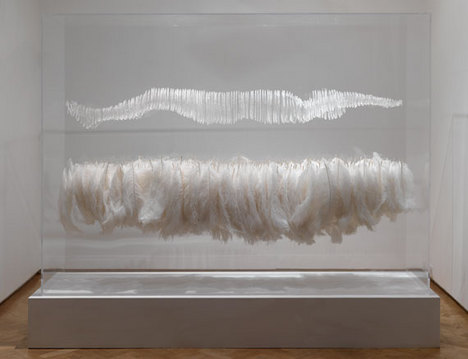 Dreamcatcher, Marilène Oliver, 2009, Laser-cut acrylic, fishing wire and ostrich feathers, 150 x 216 x 50 cm, Ed. 3
On a street called Cork Street in central London there is a window where you can see a very interesting sight, it is called 'Dreamcatcher' and it was created by Marilène Oliver. Made out of Laser-cut acrylic, fishing wire and ostrich feathers, it depicts a stretched out human form floating above a bed of ostrich feathers. The name 'Dreamcatcher' suggests a method of retaining dreams while looking upon this fascinating artwork is also like looking into someone's dream and invites you to imagine yourself floating above a bed of feathers too. Currently the Beaux Arts London gallery are having their Summer Exhibition, A Celebration: Modern British Sculpture and it is quite fitting that the first artwork to be seen is like a dream. The gallery itself opened in 1993 with the specific aim of exhibiting the best of contemporary British art, whether new talent or established artists. Surrounded by other galleries and with this street of art placed behind the Royal Academy of Arts, this area is surely one of the centres of great British art in London. The gallery itself has the space of two floors which are well lit and spacious providing a perfect place for exhibitions.

Maquette for Three Piece, Reclining Figure (Draped), Henry Moore, 1975, Bronze, 15 x 25.5 x 15 cm, Ed. 7
At this particular exhibition, which manages to cover seven decades of British art, it is hard to pick out particular artworks for special attention as every single piece has its own unique qualities and character. However, this is something to be proud of as it shows that the work of British artists is very much alive and well, or in the case of some has always been very well. Henry Moore was born in 1898 and during his long life he became famous worldwide. His sculptures are very famous for their abstract forms and long curved forms; at this particular gallery it was possible to see his Maquette for Three Piece Reclining Figure from 1975. Henry Moore himself described this artwork as being a problem, and type, of relationship between two people.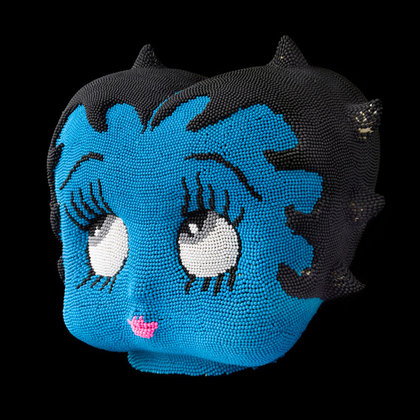 Betty Boop, David Mach, 2011, Matchsticks, 47 x 41 x 30 cm, Ed. 4
After entering the gallery your eye will be inevitably drawn towards the head of Betty Boop which has been entirely made out of matchsticks by David Mach. Even an old cartoon can become art, and even though Betty Boop is no longer on TV through art we are reminded not only of characters that still exist within society's psyche but also how something as simple as a cartoon character's head can be created out of an everyday item such as matchsticks. Nearby another sculpture can be seen of marble in a series of oval shapes on a perspex plinth, it is called 'Love Begins' and was made by Stephanie Carlton Smith. It is an abstract piece which will force you to think of the connection between the name and this piece of artwork, or the message that the artist is trying to bring across. It is the special quality of art that it can always make you think.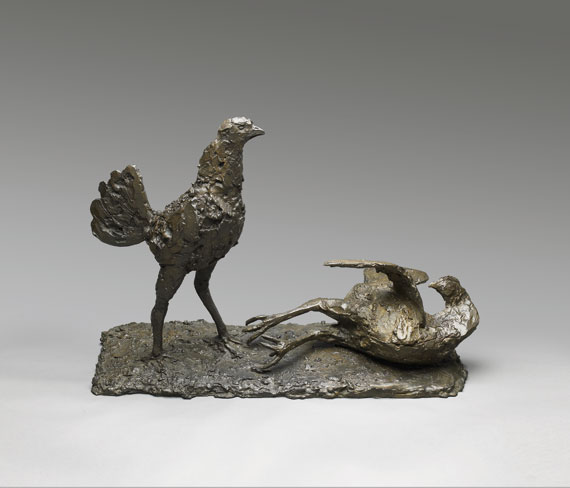 Fighting Cocks, Elisabeth Frink, 1987, Bronze, 66 x 84 x 30.5 cm, Unique
In the same room small bronze creations can be seen such as 'Horse with Anatomy' by Eduardo Paolozzi, a small horse seemingly without skin on parts of its body allowing the muscles to be seen, and Elizabeth Frink's 'Fighting Cocks' with one male chicken standing triumphantly above its fallen foe who looks up at its vanquisher. It could just as easily have been made using humans and thus represents nature but also the foolishness of people who idolize heroes. Towards the back of the room one can see 'Stairs' by Lynn Chadwick, this large piece has three steps with two feminine forms, one walking upstairs and one walking downstairs. However, neither has arms and both have pyramid like heads; it is a little disturbing as they resemble people on stairs, yet they aren't people, however each is going their own way creating a sense of isolation. Lynn Chadwick's work can also be seen downstairs such as his work 'Maquette II Teddy Boy and Girl' which was made in 1956 and features two figures standing on two legs and are vaguely masculine and feminine, as well as one of another pyramid headed woman sitting alone. These two pieces help represent connection as well as isolation and exclusion.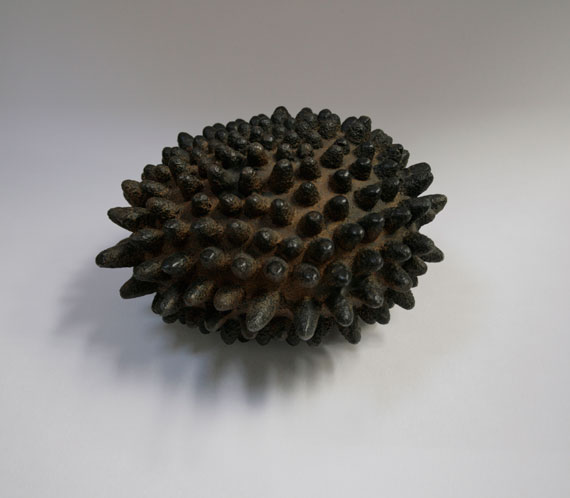 Ironed Out I, Peter Randall-Page, 2009, Iron, 29 x 41 x 64 cm, Unique
In this room downstairs from the main gallery a number of other pieces can be seen such as Angela Conner's 'Pair of Sentinels' which have been made out of stainless steel, marble dust and resin, Rachel Schwalm's 'Lost Continent' created from alabaster, pigment and glass, and Peter Randall-Page's 'Ironed Out I' made from iron. The number of artists represented at this exhibition is impressive and the work that can be seen is equally memorising. It is certainly worthwhile seeing, and all of the pieces are for sale. This art gallery has set itself the difficult goal of showcasing the best of British art, however exhibitions such as their celebration of sculpture, or their upcoming exhibition of the work of the artist Ray Richardson, demonstrates how well they are succeeding in their aims.
A Celebration: Modern British Sculpture
Date: 27th June – 1st September, 2012
Opening Hours: 10:30-17:30, Saturday 11:00-14:00 (Closed on Sunday)
Place: Beaux Arts London
Address: 22 Cork Street, London W1S 3NA
Admission: Free
Tel: +44 (0) 207 437 5799
info@beauxartslondon.co.uk
http://www.beauxartslondon.co.uk
Text: Michael Sullivan

[Help wanted]
Inviting volunteer staff / pro bono for contribution and translation. Please
e-mail
to us.