The moment Kyoto blooms as an International Art Market.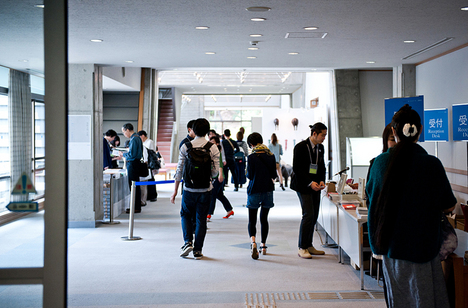 Kyoto International Conference Center. Photo: Nobutada Omote. © ART KYOTO 2012 Executive Committee
Cherry blossoms have withered, and it's almost summer in Kyoto. For 3 days- this large-scaled art fair, "ART KYOTO 2012" was held from April 27th to 29th. It was the year 2010 that the fair was held at Hotel Monterey Kyoto by renting out a one whole floor. Every year, each gallery exhibited in show in a room, this is the type of a style they followed. This year, the main exhibition was held in Kyoto International Conference Center, and Hotel Monterey Kyoto as a sub-venue. On top of that, various events were held in metro facilities, and made this art fair into a larger-scale.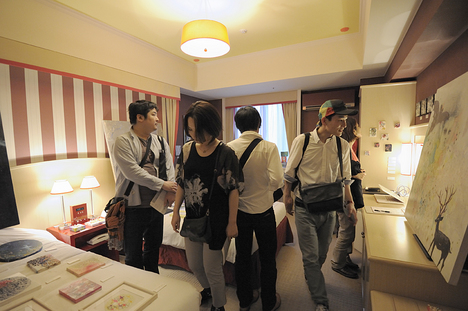 Hotel Monterey Kyoto. Photo: Ikuko Hirose. © ART KYOTO 2012 Executive Committee
Many galleries from Korea as participants, its global expansion has definitely become visible at the Hotel Monterey. Creatively using the hotel rooms, even the powder room and bathroom as an exhibition space, this exhibition was indeed unique. Not only for the gallery, being able to interact with the artists are also what make this kind of styled art fair have a distinct characteristic. In every room, being able to passionately share their thought about each piece was impressive.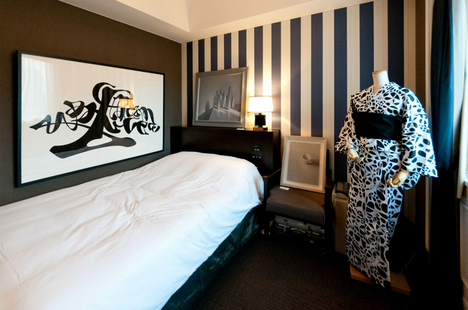 Clark Gallery + SHIFT / Hotel Monterey Kyoto. Photo: Yoshikazu Inoue. © ART KYOTO 2012 Executive Committee
This year at Hotel Monterey, Clark Gallery + SHIFT from Hokkaido also participated. Toshihiko Shibuya, highlighted on the nature in Hokkaido as a theme, other artists include Wabisabi, Hiroyuki Tamino, Asche Yamamoto, Kaori Kojima has also presented their works at the show. Not only as the visitor, Shift was able to experience from the presenter's perspective as well.
At the main exhibition, by using the spacious booth, each gallery was able to take an advantage by showing color. In contrast to the hotel-style exhibition, large pieces and dynamic installations gave the atmosphere more volume. Every booth was unique and had their distinct characteristic as an atmosphere. Also, because the location was held in Kyoto, quite a lot of pieces themed "Sakura" and "Japan" were seen.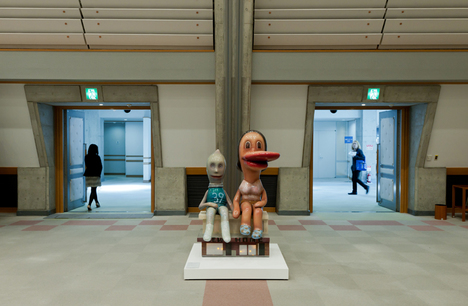 Naoki Kode "new home" / Kyoto International Conference Center. Photo: Nobutada Omote. © ART KYOTO 2012 Executive Committee. Courtesy of Tomio Koyama Gallery
Near the entrance, Tomio Koyama Gallery based in Tokyo and Kyoto has exhibited Naoki Kode's piece, "New Home" inviting people in the showcase– A womanly figure with big lips holding a rather small-sized man's hand. This piece apparently represents the artist, himself and his wife. Inspired to make pieces from people and things around him as a motif, this piece "New Home" plays with the idea to represent his relationship with his wife masterfully. Its strong presence drew many media attention.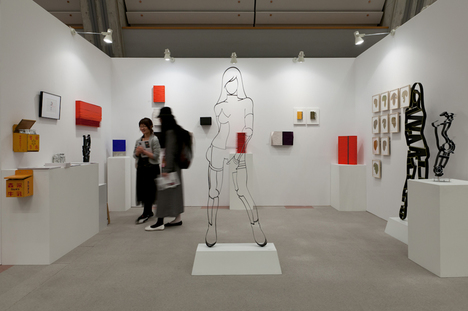 COHJU Contemporary Art / Kyoto International Conference Center. Photo: Yohei Sasakura. © ART KYOTO 2012 Executive Committee. Courtesy of COHJU Contemporary Art
As many local galleries participate in this art fair, from COHJU Contemporary Art, Seiji Kiriyama and Masayuki Tsubota has showcased their work. Welding artist, Kiriyama worked to represent womanly figure through metal work. Made from outlining the figure, the body is transparent. Being able to see the other side, it looks as if it's drawn in the air. Seeing some of the parts of the body, it may look like something else, but the legs and upper torso by itself proves to look as a woman. Additionally, when constructing a model, it's better to pick a proportionate figure rather than an ideal figure says Kiriyama. Also, Tsubota and artist also active in overseas has patterns of stacked four squares and crevice. To count each gesture with importance, its repetition creates human illusion making this piece more interesting. Even from a simple form, stacking on top each other seems to link our memory and time that calls for attention.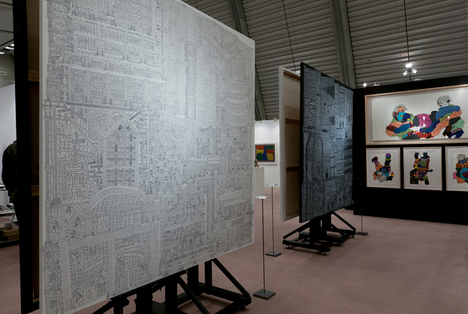 Gallery Incurve Kyoto / Kyoto International Conference Center. Photo: Yohei Sasakura. © ART KYOTO 2012 Executive Committee. Courtesy of Gallery Incurve Kyoto
Detailed lines engraved on canvas is a piece from Gallery Incurve Kyoto's Katsuhiro Terao. All of his artwork motifs steel. Working at home as welder back in his hometown for 20 years as his background, his inspiration comes from working with steel that he loves. Not only in Japan, he is also popular in overseas as well, that there is his fan in England collecting his pieces. Gallery Incurve Kyoto is run by a group that supports mentally impaired artist to work independently. The founder of Atelier Incurve, Hiroshi Imanaka states, "Originality that is not overpowered by academism". Every piece here is like the statement, sincere and it speaks for the truth.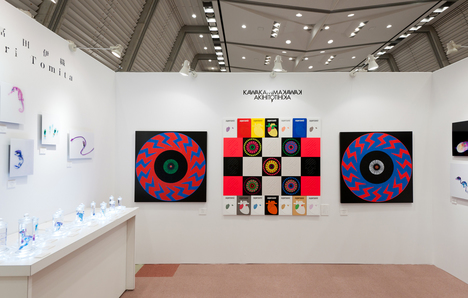 Gallery Tomura / Kyoto International Conference Center. Photo: Nobutada Omote. © ART KYOTO 2012 Executive Committee. Courtesy of Gallery Tomura
Gallery Tomura from Tokyo, showcased 3 artists at their booth. One of the artists Iori Tomita stood out from the crowd is "The New World Transparent Sample" that in colorful liquid, dyed insects samples lined up in a row. Accordingly following the steps of a biologist's sampling dyed the bone in reddish-purple, and the cartilage in blue. By using the chemical that makes the flesh transparent this sampling was made. Working as a fisherman in training, Tomita on the side specimen on the side. This piece shows the beauty of nature and at the same time shows how precious life is.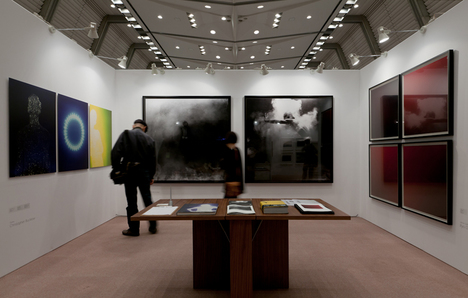 Emon Photo Gallery / Kyoto International Conference Center. Photo: Yohei Sasakura. © ART KYOTO 2012 Executive Committee. Courtesy of Emon Photo Gallery
Congruently specializing in photography from Tokyo is Emon Photo Gallery, Christopher Backrow's "Guest" series. With a modern impression of its series, this is by hand-made technique called photogram that is captured without using a camera. By punching 25000 pinholes on tinfoil then, placing a developing paper inside. Once this is made, then place the object out in the sun to absorb the sunlight. The blue colored piece is the sunlight itself, the yellow and the other colors are made from using the color gelatin film. The sharp dotted light displayed on due to the size and the layout looks 3-dimensional figure, and the energy of a life is felt that left us with an eerie impression.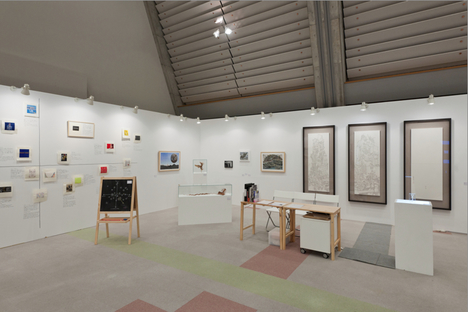 Mizuma Art Gallery / Kyoto International Conference Center. Photo: Nobutada Omote. © ART KYOTO 2012 Executive Committee. Courtesy of Mizuma Art Gallery
Mizuma Art Gallery booth of course, also had various interesting pieces. Up in the front displayed works by Go Aoyama's "21st Century Craft Research", in which depicts Picasso, Damien Hirst, Taro Okamoto and famous artist's artworks done in embroidery and summed up as a chart. Aoyama from his perception visualized various artists whether socially or conservative. Thought out for their compatibility through his perspective, describes each artists wittily. Animal anatomy inspired sculpture done by Junichi Mori's "Creeper" is made from boxwood meticulously. This delicate piece indeed is not only aesthetically appreciated but its fragility and ephemeralness can be seen what was on his mind at the time of the production was- to think of a way to show what can't be seen externally. This way, viewers are able to see the overall concept.
The predecessor of this ART FAIR KYOTO is innovator and member of the committee, Ishibashi, stating "This Art Fair Kyoto has grown to draw many attion as the very first Kyoto's international art fair. Compared to the past two years, more than 20,000poeple has visited. It has grown so rapidly as the domestic art fair. There are still many issues that need to be sought out. Including more participants from overseas. For this, alliance with other worldly famous art fairs, as well as, call for more sponsorship and such will need to be looked into. However, I would like to take this opportunity to thank all for this successful event. In terms of sales, although it all varies, but there are some booth that was able to negotiate for a project that is worth 10 million yen. So, it's nonetheless succeeded at a certain level. As there are many more to discuss, the key is to steadily build up with a solid ground, so we can continue to bring more to the future planning."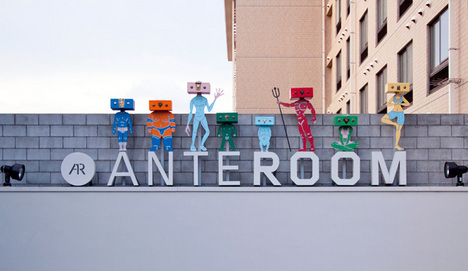 ANTEROOM PROJECT Photo : Yuki Moriya
This year, with many talk events, film festival held at a subway station, artist, Kohei Nawa's showcase at HOTEL ANTEROOM KYOTO, we brought to you artists, designers, architects and any more creators from various fields; together built collaborative pieces in an assertive manner. SANDWICH and Kyoto University Graduate School of Art and Design Research Seminar has showcased their exhibition for two months, and other events, "ANTEROOM PROJECT" also held there. By refraining from the word "art fair", people were able to visit freely without specific knowledge regarding art, but more as a festival- to simply enjoy the atmosphere and have fun.
From Historical architecture to shrines and temples, world heritage, Kyoto is a place that never undermines other parts of the world as a beautiful place. Hence, for this art market to grow outside of Tokyo holds more potential. By treasuring historical importance, and cherishing the past art, not as a past but as a key element to bridge over to the future, this role will may be play as an significant role in the modern art.
ART KYOTO 212
Date: 27th – 29th April, 2012
Place: Kyoto International Conference Center and Hotel Monterey Kyoto
Admission: 1,500 yen
Organized by ART KYOTO 2012 Executive Committee
http://www.artkyoto.jp
Text: Satsuki Miyanishi
Translation: Frances Jyo

[Help wanted]
Inviting volunteer staff / pro bono for contribution and translation. Please
e-mail
to us.