Singapore Arts Festival 2012
The offcial word is out. The Singapore Arts Festival is taking a break next year. In 2013, the annual event, which started in 1977 to celebrate the local arts scene in a multi-cultural Singapore, will take a year's haitus.
The theme of the 2012 Festival was "Our lost poems," the third installation of a trilogy, which began in 2010 with "Between you and me" and 2011's "I want to remember." The 2012 Arts Festival explored stories, legends and myths from over 13 countries. The venue for the 2012 festival was a village setting at the heart of Esplanade Park, overlooking Marina Bay and offering a glimpse of the Civic District, the view provides an interesting juxtaposition to create a unique setting.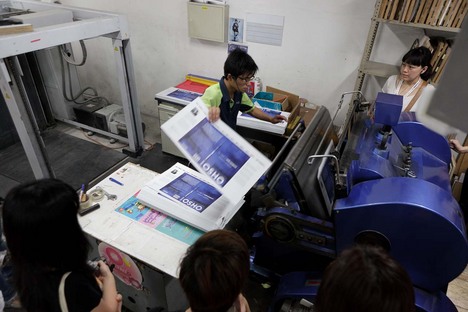 © Singapore Arts Festival
The play Parallel Cities presents a series of repetive and mundane jobs in a factory and beyond. Based on the tales of actual workers, dierctor Gerado Naumann hailing from Buenos Aires, collaborated with local Singapore theatre company, Drama Box, to present a dramatic production about the daily life of factory workers. It tells stories about workers traveling from neighbouring states, and also about the migration of foreign talent. The flatness of the characters and their way the spoke in a monotone was a performance of the repetitive boredom of their stories and life. Perhaps the play was questioning the role of labour in a service-oriented globalised world and representing the drive in each individual.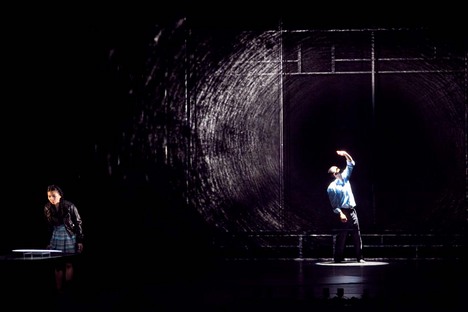 The Wind-Up Bird Chronicle © Little Red Ants Creative Studio
The performance of "The Wind-Up Bird Chronicle" uses Hollywood style re tell the Murakami's acclaimed novel. Part play, part installation, part soundscape, part puppet show, this was a visual and audio spectacle that joins words and images. Multi-media turned inner conflict and turmoil into explosions of sonic and visual immersion. Perhaps most difficult to translate were the unspoken words, the imagined sounds of cicadas on a hot summer afternoon.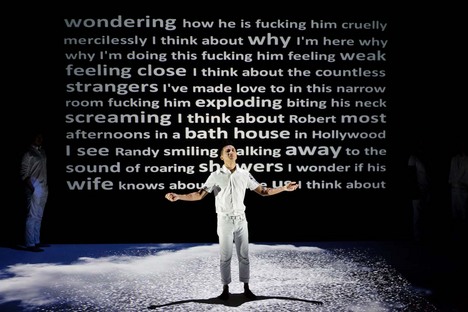 The Wind-Up Bird Chronicle © Little Red Ants Creative Studio
"A language of their own" is a dramatic production [it is a play] about the parallels between relationships and the realisation and understanding of personal languages by others. Perhaps it was the process of translating the English text into Mandarin word that brought the beauty, pain and inner turmoil of the two couples out from the darkness and into the light.
Singapore's art scene has come a long way, from a cultural desert to a vibrant cosmopolitian city. What perhaps was missing from this festival, though, were the lost Singaporean poems. Moving from a local arts festival to an international festival, the notion of "Singaporean" art forms appeared to be a missing strand in the songs of legends. Perhaps the break next year will allow us to delve deeper and reflect upon what the Singaporean Arts Festival stands for.
Singapore Arts Festival 2012
Date: 18 May – 2 June 2012
Place: Various locations
http://www.singaporeartsfest.com
Text: Fann ZJ