In New York City, major CD stores like HMV and Tower Records are all closed. If you prefer to purchase music in store, rather than on line you need to go to independent shops. It was impossible to think of this situation up until a few years ago, but I have lived in this city for the last couple of years and saw a major CD shop rush to close their stores. I understand when America changes some systems, they change everything from the bottom up. Transformation in the city. Of course it doesn't mean less people enjoy listening to music, we can hear music all day and all night in this melting pot. People always look for exciting music and music spots.
Since Francis Englehardt and Paul Nickerson opened Dope Jams Records in 2005, they have attracted support from core music lover by their selection mainly focusing on dance music. Their appeal is a huge selection, backed by knowledge and experience without being obsessed with existing genre formats. Besides records and CDs, they stock books, T-shirts, and incense in the store. African tribal masks and ceremonial tools from some middle eastern country were set just beside records and CD. There was a very ritual and ethnical atmosphere, but it is not just an eccentric interior, the atmosphere and the goods in the store fit very well.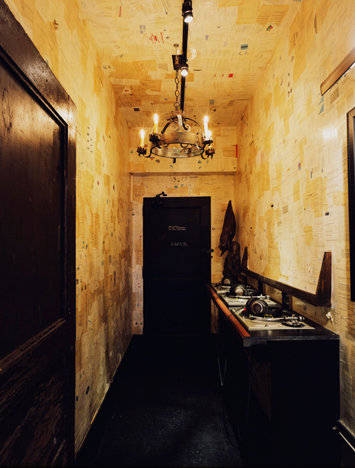 © Dope Jams Records
The selection of the records in the store ranges from 80s disco as represented by Paradise Garage to various styles of house music, Hip Hop, Funk, Rock, in addition to more up-to-date sounds like dubstep and techno. They stock new and old releases from all over the world, though their strength is a huge catalog of US labels that everyone looks for to get new releases like Detroit DJ/Producer Theo Parrish's label 'Sound Signature' and New York afro american Joe Claussell's label 'Spiritual Life Music' and 'Mental Remedy'. There is no center of the world in this era, or from now on, but around the time when disco was born in this city, New York was the center of the world without a doubt. In this store we can feel the flow and history of the dance music since the early disco era through the 90s to today. They explain they just pick the records that they like, but the selection seems to reflect their experience for a long period.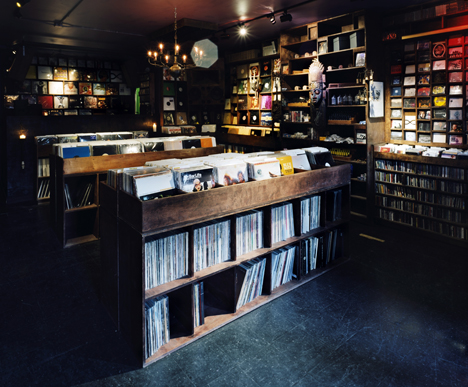 © Dope Jams Records
In the store, they stock not only mainstream, but also more left-field music and it is their strength that they cover such music. When I visited the store for an interview, incense floated in the store with sunlight coming through the window, jazz or maybe rock music with Middle Eastern melodies played in the store, and I wondered whether I am really in New York City. But the music and interior atmosphere fit very well and that balance is somewhat very New York in a sense, the store has mystical and special atmosphere. They have their own label called 'slow to speak'. It is a label that specializes in reissues and they simply release the stuff they like, not only limited to dance music. They have already had 60~70 releases, classics and undiscovered classics of musicians that every body know like Santana, Michael Jackson, Patti Smith, Smashing Pumpkins etc (also including artists not so generally known) were released in the 12inch single record format chosen for its superb sound quality. Not just reissue maniac records, it seems that they think it is important to get back to the basics and revaluate the authentic dope music that never becomes old, and we can feel their attitude and respect toward music. There is no other label doing this kind of reissue and we can say that it's a very original and unique reissue series. Within this label there is also a 'Core' series and where they reissue dance music records, and they gain attention for hard to find dance music records reissues.
What they repeat during interview is that they are not satisfied with the New York scene now, including the record shop circumstance, furthermore almost disappointed with the situation. They don't have a record shop and DJ they like, so they do so by themselves. There are not any good parties in the city so they start them, and run a label too – they are full of DIY (Do It Yourself) spirit. Their style is distinctively different from a commercial approach, showing such an independent stance. The store is not located in the area where a lot of fashion boutiques stand, and in a sense their stance is almost like outsiders because they don't try to belong to anything in the city, but of course it doesn't mean they are closed off, as seeing their Slow To Speak releases they seem to open to anybody who loves music. Their one-of-a-kind style of not trying to belong to a scene in the city seems to veer in an unintended direction to make a new direction for New York City.
They often have in-store events and impressive line-ups have played in the past – Joe Claussell whom I described above, Detroit charismatic house producer Moodymann, also from Detroit worldwide top techno producer/DJ Jeff Mills. They have their own event 'LIFE' once a month, and New York's DJ duo Rub n Tub's Thomas Bullock played a short while ago. The event is a huge success every time and we can listen to their play at 'LIFE' non-stop in their Dope Jams web site as a streaming internet radio, so if you are interested in the store I recommend you listen to it. Then if you have a chance to stay in New York City, I want you to visit and feel the air of the store.
Dope Jams Records
Address: 580 Myrtle Ave, Brooklyn, New York, NY 11205
Open: Tuesday-Saturday 12:00-21:00, Sunday 12:00-19:00
Tel: 1 718 622 7977
https://dopejams.pinnaclecart.com
Text: Yuji Shinfuku

[Help wanted]
Inviting volunteer staff / pro bono for contribution and translation. Please
e-mail
to us.