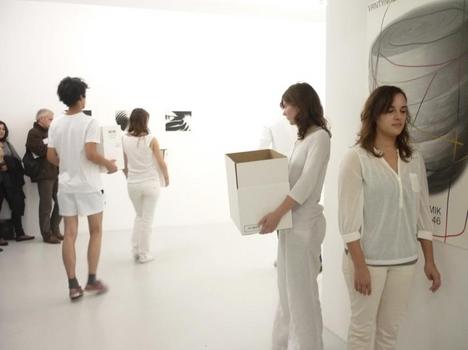 Benjamin-Valenza, performance, October 20th, 2011 © cneai =
News in Paris flows gradually. Unless you are a curious person, it is easy to miss it. One thing I didn't miss was Cneai=, which organizes and sponsors art and cultural activities in Paris, though it was only by chance that my attention was caught by it.
I became interested in the organization in October 2011, when I visited Salon Light 8, an event that gathers self-published labels from all over Europe, including Nieves. There was a past occasion when I had visited the organization's studio/gallery (I suppose it was an event related to design books), however, my deep attraction to the brand-new European publishing labels of Salon Light 8 was a step towards an interview to the organizer of the event, Cneai='s director, Mrs. Sylvie Boulanger.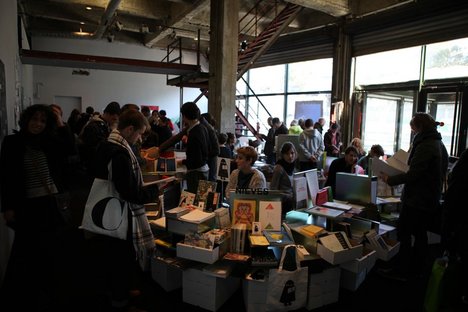 Salon Light #8 © cneai =
Cneai= was established in 1997, the name is derived from the letters C for Centre、N for National、E for Edition、A for Art、I for Imprimé (meaning "printed" in French), and "=" indicates a synthetic blank (blanc) space between artists, curators, and the audience. As the name suggests, Cneai='s activities are quite diverse.
For example, in 2009 'Salon Light' was held in São Paulo, Brazil, with a theme "Flowers & Books", in collaboration with local curators.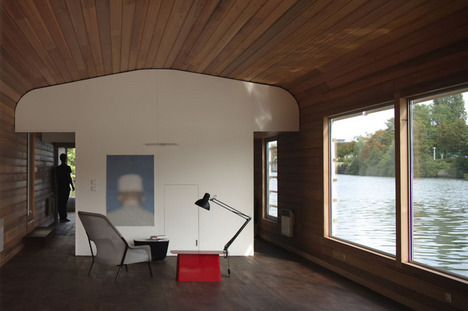 Maison Flottante. Photo: © Paul-Tahon
Since 2006, they have been running a project called "Maison Flottante" at a chateau (French country house or castle) on the outskirts of Paris. This is a project where a boat on the river has been turned into an artist residence. Artists live on board the boat and on a regular basis perform unique activities and do installations. In addition, they do their own label activities, publish books, and release LPs and DVDs. During the interview I was shown a DVD that was done by these wonderful artists. It was uniquely designed with the DVD packaged in a LP cover, the DVD itself was a collection of abstract films of Hungarian Yona Friedman. The vibrating space of Yona's abstract images and music is still fresh in my mind.
As mentioned earlier, the studio/gallery of Cneai= is based in Paris. It could be said that this is where the brains of the operation can be found. In their basement office space are the archives of various events and other works are crowded together and lined up. A gallery space on the ground level is open to the public, events are held regularly and people can find out about the 'now' of Cneai=, the various activities they do while touring the world.
Their appearances are flexible, because many curators and artists are called up to do new creations, so please keep an eye out for Cneai=.
cneai=
Address: 20 Rue Louise Weiss, 75013 Paris
Open: 11:00-19:00 (Closed on Sunday and Monday)
Tel: +33 (0)1 3952 4535
cneai@cneai.com
http://www.cneai.com
Text: Shotaro Okada
Translation: Meiko Maruyama

[Help wanted]
Inviting volunteer staff / pro bono for contribution and translation. Please
e-mail
to us.