12 visuals have been selected for SHIFT 2012 CALENDAR! Sale from October 20th.
The Shift Calendar Competition started in 2003 with an aim to discover fresh creators. For the 9th competition of this year we have received 1,279 entries from 30 countries. 12 carefully selected works will decorate each month of the Shift calendar, which will be on sale from October 1st and appeared in shops and galleries around the world.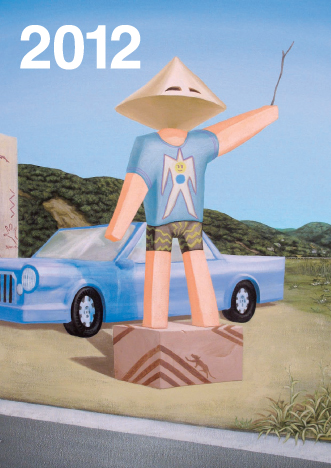 Enjoy the 12 visual works selected for the calendar created by artists and designers who are waiting to be flowered.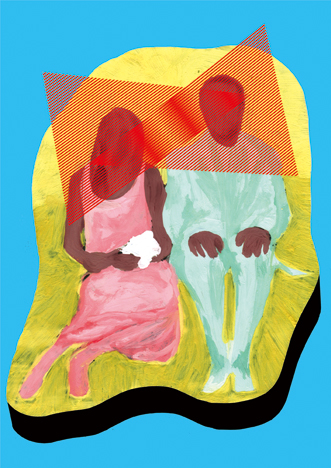 Mr. Image and Miss Idea.
Eri Inami (Japan)
I live in Tokyo. I make graphic works or film works as a VJ. I launched a collection of my works called "DBOOKD".
Work description: This work is named "Mr. Image and Miss Idea."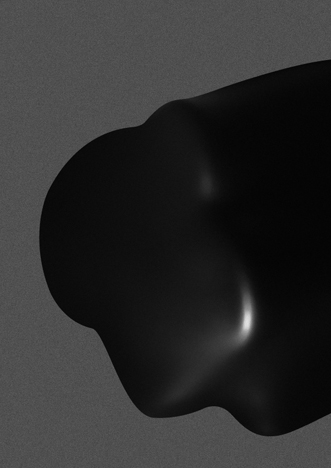 Not Alphabets / B
Takeomi Yoshimoto (Japan)
Graphic designer. Born in Hokkaido from 1982. Working in Tokyo.
Work description: An alphabet that is unrecognizable.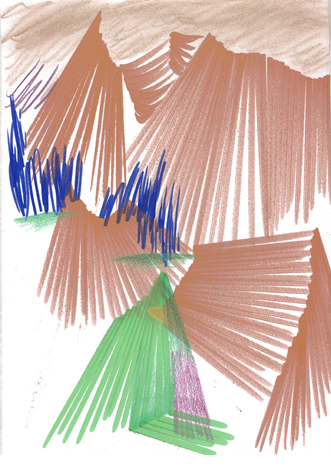 Miku Miyata (Japan)
I was born in 1990 in Hiroshima. I am studying graphic design at Tama Art University right now. I am trying to make works based on daily activities that blend without hesitation into the viewer's mind.
Work description: I am influenced when I watch the sky for a long time in a daze. This is one of the works that I drew in my sketchbook during an experience like that.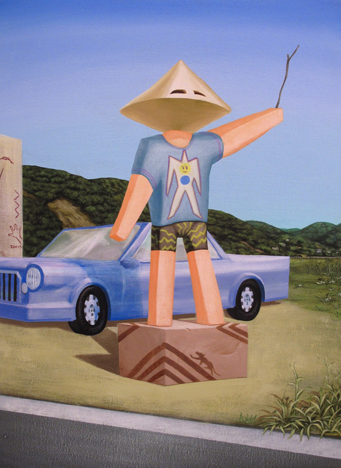 Snap series-Rocket Boy / Acrylic on canvas / 515×728mm / 2011
Makito Takagi (Japan)
I'm an artist and illustrator from Shizuoka, born in 1986. I graduated from Tama Art University. From the time I was a student, I have presented paintings that capture a snapshot of a character. And I'm also a member of "OLTA".
Work description: The sight from my car on the way to my grand father's house in the country. I think he going is going hitchhike.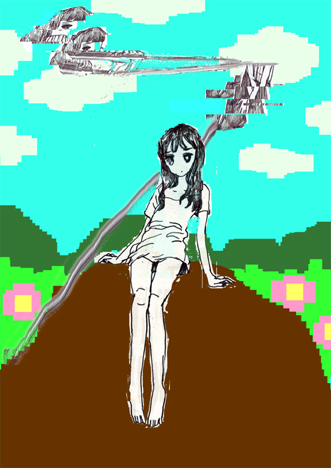 Tomoko Oshima (Japan)
I live in Kanagawa prefecture, Japan. The subbject of my artwork (drawing) is dull girls. It's like their lives could fit into just a notebook-sized folder, and I'm uploading them on Tumblr.
Work description: The girl is disappearing without notice. They're featureless and low resolution. Falling apart gradually, they end up becoming a 0 byte picture.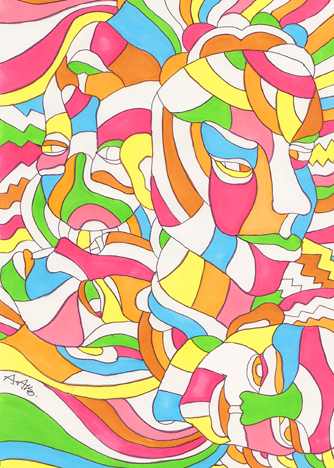 Asako Iwamizu (Japan)
I was born in Fukuoka in 1980. I like art and fashion stuff from childhood and I was an assistant for a fashion brand and have begun working on costume design and knit design. I have been working as an extensive field artist since 2008.
Work description: My artwork consists of a gathering of lots of different faces and shapes. Since I was born I've had so many feelings and so many expressions. Toughness, sadness, happiness, and fun. How fun life is. 
Everyday I'm too happy. You can meet various people and various things each day in this world. Don't you think it's wonderful? Various things in the world infect my art, and it's increasing. A little laughter and cheer, that's my art.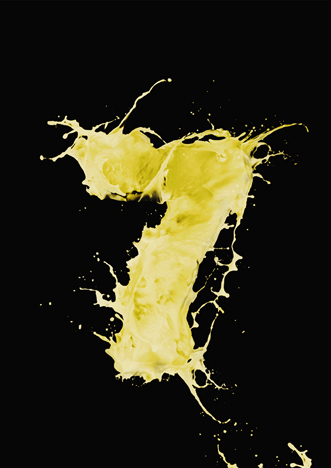 Takuma Hojyo (Japan)
I was born in Tochigi in 1986. Now I am working in Tokyo as a graphic designer. I graduated from Nippon Engineering College, majoring in Graphic design. I've been working as a graphic designer since 2008.
Work description: On my mind is how the look of typography will be shaped.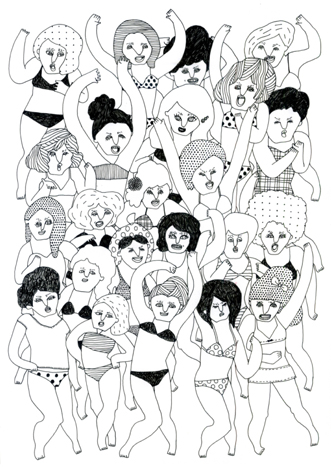 Yoko Usami (Japan)
Laughing, Upset and crying, Thinking too much or think nothing, Dancing or stretching or dress up,
I draw humans that are so cute and lovely like that.
Work description: Dance, have fun with a bikini in a hot summer. Invite someone or be invited by someone, let's have fun with summer anyway.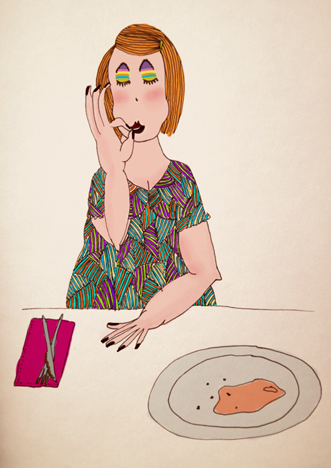 Franziska Virgili (Germany)
Franziska Virgili was born 1988 in Germany. After passing a 3 yearlong apprenticeship in an advertising agency she started in September 2011 to study communication design in Düsseldorf. She is into photography, illustration and architecture and loves to put a smile on peoples' faces by designing beautiful things.
Work description: Kunigunde has just eaten a very tasty chunk of meat and she really enjoyed it. Good food makes her happy and that's what the illustration is about: find your own little passion and enjoy it with all your senses and you will find out that it makes life more lovely.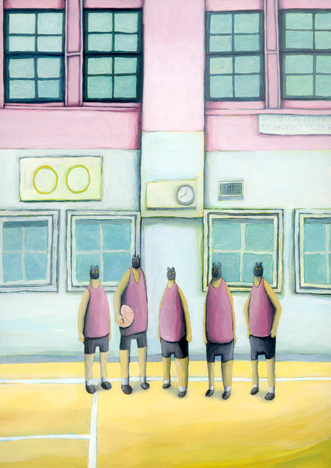 Masashi Tsunoda (Japan)
I was born in Niigata in 1984. My major was visual design at the Nagaoka Institute of Design. Since graduating, I've been working in Tokyo as a graphic designer while drawing.
Work description: This is the one of images I usually get in my head. I always have fun drawing, whether thinking hard or not.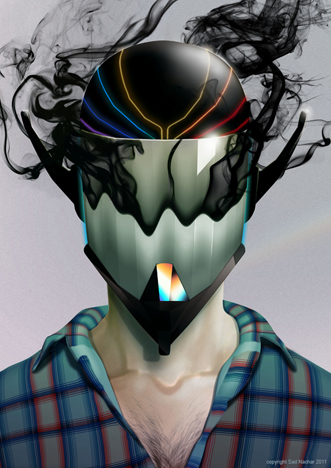 Sâd Nachar (France)
My name is Sad (no ! it's just my name, not my humor !) My face is decorated with a beard and a pair of glasses; I live in Paris and work for a music television company as a graphic designer. I spent my youth reading comics, and still do. I have an eclectic range of art influences, from music, photography, and video games etc, but my main occupation is drawing, it is also an old passion.
Work description: my present work contains a series of five illustrations. Each one represents a simple pictures with a "déjà-vu" impression, summing up with two body's part (head / shoulder) and as few accessories as possible (helmet / black smock ) both are associated with the strange and quirky mood.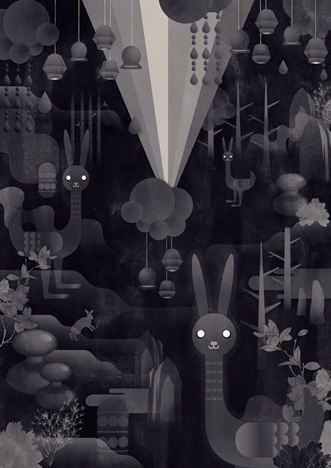 Driv Loo (Malaysia)
Driv is a multidisciplinary designer, art lover, and a big fan of indie music. He has been lucky enough to work with some recognizable agencies such as Kinetic Singapore and W+K Shanghai before. His works always consist of honest intentions, simple messages, and a little bit of humor. In early 2011, Driv is back in Kuala Lumpur and founded a graphic design studio, LIE.
Work Description: Taking inspiration from Pink Floyd's Dark Side of The Moon. Our world has ended, welcome to the planet of the rabbits.
SHIFT 2012 CALENDAR
Release: October 20th, 2011
Spec: All colour / 28p / 210 x 297mm
Price: 1,260 yen (tax included)
Produced by Shift Factory
Printed by Syoubunsya
It can be purchased at Shift Factory, etc.

If you know of any shops that might be interested in supporting this project, please e-mail us to staff@shift.jp.org.
[Help wanted]
Inviting volunteer staff / pro bono for contribution and translation. Please
e-mail
to us.