21_21 DESIGN SIGHT in Roppongi, Tokyo presented "THE SPIRIT OF TOHOKU: 'CLOTHING' BY ISSEY MIYAKE", a special program featuring attractions of culture and craftsmanship in the Tohoku region from July 26th to 31st.
Once Muneyoshi Yanagi described the region as "A country of craftsmanship that still cherishes plentiful things that can be seen only in Japan". You can witness their traditional handmade skills which have been backed up with their wisdoms and histories still now.
The Show comprises 2 sections. An introduction of textile techniques in the Tohoku region that shows their tools, its production process, and their daily necessities. In addition to that, it includes designs inspired by traditional cultures and skills in the Tohoku region as well as ISSEY MIYAKE's collections collaborated with studios in Tohoku.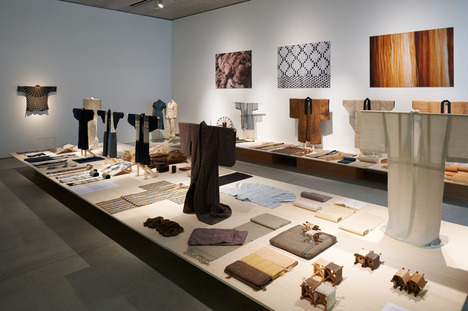 For example, kamiko is a garment made from washi currently manufactured only by Shiroishi Washi Kobo in Shiroishi, Miyagi. Tohoku has been known for Michinoku washi since Heian era and it had been selected for an official paper and a court noble's pocket paper for tea ceremony and people have inherited a long tradition of washi techniques. "shifuori" is woven of thin threads made by fine washi which is vertically cut and given a twist. Because of its durability and well water-repellent, it has been treasured to people. Shioishi Washi Kobo has established their high sophisticated techniques since Edo era and now they are in charge of kamiko for Shuni-e at Todai-ji (so called Water Ceremony). First-class Shifuori including one for the ceremony are available on view in the exhibit.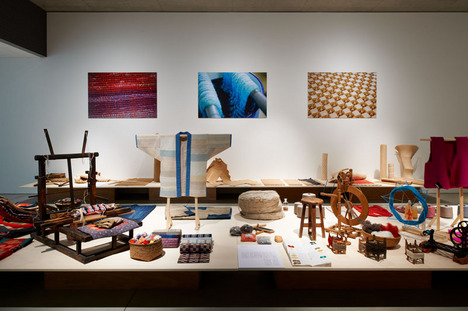 And also, the show displays sakiori, which has been produced as the wisdom of needy farmer in Tohoku. Since they cannot produce enough cottons due to the severe cold climate, they have devised a technique of weaving while applying old torn remnants of cloth. A collection of sakiori was brought for the show in cooperation with Nambu Sakiori Preservation Association in Towada, Aomori.
Furthermore, the exhibit introduces a pleat technology by Shiroishi Polytex Industry Co. ltd. who has supported an ISSEY MIYAKE's pleat quality, a homespun from Nakamura Kobo in Morioka, Iwate, well-known skills from Yamagata, Yamagata, a Yamagata knit from Kenland, shinafu, karamushi-ori, amasagi-zenmai-ori, kogin-zashi, as well as their tools and their production processes.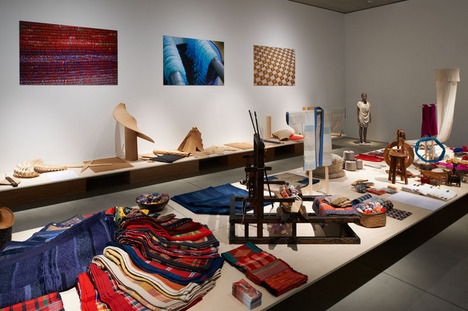 Since 1970s, Issey Miyake has drawn inspirations from hand-craftsmanship in Tohoku for his designs and he has been doing a collaboration for decades. The show also features 15 of his works with plenty of Tohoku's techniques. His amazing magic turns kamiko into a wool lined coat, brings a very thick pain woven vest with homespun, and forms a dress incorporating an essence of sakiori inspired by an external frame pack.
Things made only possible in Tohoku and their established handmade skills indicate the future standard of craftsmanship in Japan and we have to pass it on. Probably, it means a lot to have the program right after the natural disaster. It makes me think about what we hand down and convey to the next and also the great spirits of Tohoku.
THE SPIRIT OF TOHOKU: 'CLOTHING' BY ISSEY MIYAKE
Date: July 26th – 31st 2011
Place: 21_21 DESIGN SIGHT (@ Tokyo Midtown Garden)
Address: 9-7-6 Akasaka, Minato-ku, Tokyo
Tel: 03-3475-2121
http://www.2121designsight.jp
Text: Wakana Kawahito
Translation: Yoshitaka Futakawa
Photos: Masaya Yoshimura

[Help wanted]
Inviting volunteer staff / pro bono for contribution and translation. Please
e-mail
to us.