Born in 1980. Shintaro Uchinuma is a representative of *numabooks*. He displays books in unordinary and impressive way. His title is not only a book coordinator, also editor, producer and facilitator and so on. His recent activity in art world, such as a collaboration with a graphic arts collective *NAM* is fresh in our memories. When I talked to him, I could feel all the excitements similar to which something would come into the world. His way of thinking has an affinity to art. We interviewed him to approach the secret of his inspiration.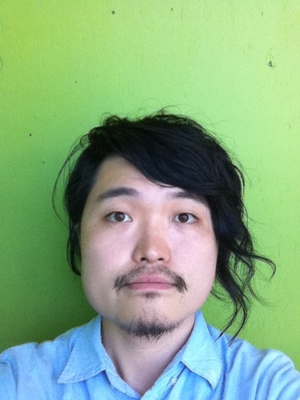 Please tell me about a beginning of your freelance job and your recent job.
When I was in college, I joined up a group where we created magazines, organized events and had media art exhibitions. I started to work after I graduated, but I quit the company in two months and ended up having some part-time jobs such as a long- distance truck driver and a call center agent. However, I wanted to do something related to books and I started to work as a part-time at Sendaki Ohraido Bookstore. It is a small bookstore in a small town but it is famous in the industry because of its uniqueness. Around the same time, I organized a secondhand book group called "Book Pick Orchestra". We made "paperbacked book postcards" which conceal the cover of the paperback. Also we opened a book store called "encounter.", where all the secondhand books are displayed in brawn craft bags. "Encounter." had an actual store for a year and half in Yokohama.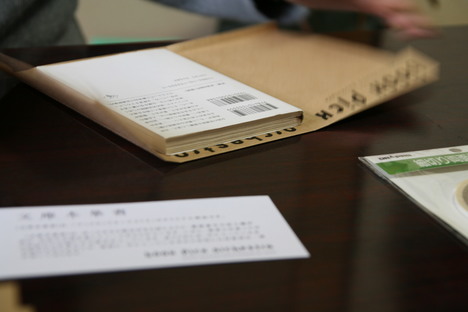 Around that time, I began to think about an idea; "the encounter of people and books". At night clubs and in contemporary art neighborhoods, I started to show the way of selling books in an unordinary style and the way of finding books. While I've been playing an active part in "Book Pick Orchestra", I myself started to receive some commissions. First opportunity was "TOKYO HIPSTERS CLUB" (closed on December 2010) which gave me a commission to select books for the store in Harajuku. I had worked for them for five years and half. It was a clothing store with a gallery and a cafe. They wanted to deal books in the clothing store and asked me for the book coordination. With this as a start, I met a lot of people and started to create a book counter in various types of industry; fashion, music, general stores and so on, running parallel with my own projects.
Then it is up to the present. Around this past 2-3 years, I've been receiving more consulting jobs from publishing companies. Publishing industry is different and unique compared to retail industry. The stance as a retail store is old-fashioned. By taking advantage of my flexibility and experience, I consult book distribution companies and local book stores.
Jobs related to e-books are increasing too. My theme about the encounter of people and books hasn't changed since the beginning, so I don't care whether the format is paper or digital. I just want to give opportunities to people to enjoy books. The kind of books which we can buy from our smart phones will increase more and more. But the easiness of accessing books will not give a chance to read to those who never read books. To do so, I am working on new projects to create actual digital book stores, direct the interfaces and the functions and create some contents to promote terminals.
Your business has an artistic approach. Was it your wish from the beginning?
I like art but I've never been to art school nor studied as a designer. However I had been creating culture magazines which collaborate with the website since I was in school. The magazine itself had a handmade feeling, but for the website, I created the contents and some games using Flash. Therefore I was able to write, design and code for the website even though I didn't have the special knowledge. Also, after I quit my first job, I had a part-time editing job at a publishing company and designing job at a cafe for the menu and website. Recently I merely design by myself. But when I need to direct a designer, my experience is very useful.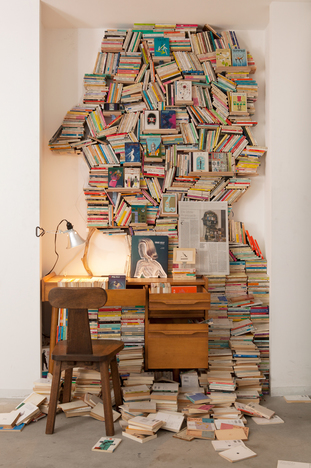 How did you start to collaborate with NAM?
I was fond of one of NAM's work called "BOOKFACE" which black books form a human face. I thought it was really cool. Then our common friend told me that they were planning to sell those books for next "BOOKFACE" installation and I was introduced to them to select the books. Of course I took the offer and we collaborated for NAM's solo exhibition at PUBLIC/IMAGE.3D in Ikejiri-Ohashi for first time. It was a start of "NUMABOOKFACE". We wanted to keep going and ended up for our current exhibition at IID Setagaya Monozukuri School.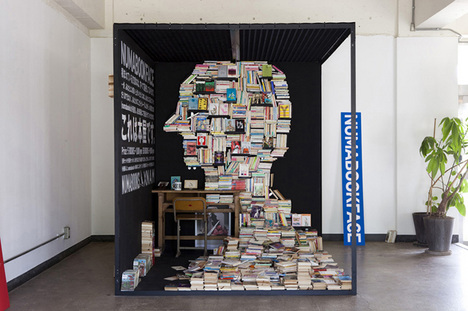 How do you want to involve in art?
In art and literature, artists and their time and place are closely related. Their artwork needs to represent them. From now on, Japanese contemporary literature, art and any other expressions will represent Japan after 3.11 whether we like it or not. Even a selection of books at a bookstore cannot escape from the consequences. In my case, 3.11 happened during NAM's solo exhibition. NAM added minor improvements to the installation after 3.11. I think I will keep working without turning my eyes away from the reality. I just want to tell people who live in different countries that Japanese art will change to be worth seeing in the future.
The collaboration work with NAM shows a relationship between humans and books, also it is an installation which uses books as materials. Even if I keep creating artwork by myself, I want to continue showing the relationship between humans and books — How books will remain in the existence in current Japan and abroad. How we want books to be. How we try to stick to paper books as a reaction to e-books. How we create twists from the contradiction. I want to express those things visually. If i can express them better in art than business, I want to go for it.
I'm amazed that how art and business progress together in your vision.
The word 'business" makes me feel awkward. Let's say profitable or non-profitable. I think we need to try anything whether it makes profit or non-profit. If you are unconscious in this capitalist society, making money tends to be your priority. For example, someone who likes writing writes a blog, makes zines and free papers for non-profit. But once he started to make money from writing , he would not write anymore for free. He got his priority wrong and lost what he really wanted to write. I think this is applicable to art and music too. I'm scared to be like that. Therefore I always try to do something without no thought of profit. It is hard to find something which is non-profit. Somehow most things are profitable in this world. In the reverse idea, if we ignore making a profit, we can create something new which never existed before. New things have more possibilities. To sum up, in general company, if you told your boss that you had a great idea and wrote a plan which would not make any profit, your plan might be rejected. But as a freelance, if you pay the budget to make the plan come true, you can do anything you want. If we forget about money, we will have more possibilities to create something new. That is why I'm trying to do something without no thought of profit.
I don't care if it is art or not. You just told me that my business has an artistic approach but some people say what I'm doing is art because it seems like I'm not making any money from. So what is a definition of art? Nobody knows the answer. So I don't care if my work belongs to either fields. However, I think over whether my work can function as an art when it is introduced in artistic media or art museums. I consider it carefully as one of appreciators of art.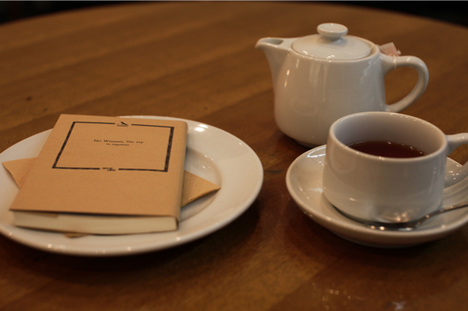 How do you come up with ideas and things you want to do?
I have lots of ideas in my mind. But most of them come up when somebody needs ideas.There are many things I'm doing because I personally want to. I am always busy because I am accepting all the requests I receive. I like to be needed and try something I haven't done. So it is half and half; somebody's request and things I want to do.
Idea man has to be a person who is full of ideas. There is nobody who comes up with brilliant idea once in a while. Idea is almost the same as a muscle training. It needs to be kept bringing up. As I come up with ideas, I always talk them to people. I don't care if somebody steals my idea. In this internet society, it is impossible to think that I am the only one who has that idea. I'm sure that more than 100 people come up with the same idea at the same time. It doesn't matter who comes up with an idea. A person who actually put it into practice matters. The numbers of ideas which I can actualize are limited. That's why I talk my ideas to people. Even though somebody put my ideas into reality, I have a confidence that I can do better. Also it would be great if somebody can take over things I can't finish because I want to experience it too.
99.9% of ideas we need in this world are ideas to solve problems. We don't need an idea from scratch any more. So it is great that somebody think about me when they want to solve problems because I'm always outputting ideas.
Who is your favorite artist?
I prefer contemporary artists from the same generation who can share the same problem consciousness and feeling of wrongness. I've been participating in an art group called "Mori (forest)" with Taihei from Yukari Art Contemporary and Ryuta Iida. Both of them create artwork using books as materials and motifs. I like their work. I also like NAM very much. With those artists, I am always connected spontaneously and we can agree with each other. As I said before, I think that art is actual. So I like artwork in which I can share those senses and something that is created from a connection between artists.
Tell me about your current project.
I've been producing a brand for book supplies such as book shelves, bookends, book jackets, cardboard book containers and products to read books while we are taking a bath. The brand will be launched soon.
Also I have another ongoing personal project about a book store which carries only books with handwritten notes. I'm asking various artists to add something to their favorite books. For example, an illustrator will draw illustrations in margins and a photographer will insert a picture which he/she photographed based on an inspiration from the book. Books are mass-produced in the beginning, but as soon as we draw a line or make notes on it, it will be the one and only in this world. I want to share this excitement and joy through this new brand. At first, I am planning to start with a pop-up store carrying books created by 20 artists and some secondhand books.
What is your upcoming plan?
I want to try radio. When Ustream started to grow in popularity, I had a radio channel called "Numabooks Talking Publishers" which I interviewed with various creators. Distributing the interview through Ustream is same as publishing in a broad sense. I was thinking what is the difference if I publish a book based on the interview I did on the radio. Then I ended up with an idea that visual image is not necessary. Radio is a perfect media that we can listen while doing something else. It is a future media for busy society of today. I want to create a radio program which my generations with same interests can enjoy.
Also I want to try to work overseas. I've thought that world didn't need me because it was much bigger than Japan. But there are problems waiting to be solved in all over the world and there might be a possibility that someone needs my ideas. For instance, some publishing company far away may want to change their business or some company might need to rebuild their branding to prevent bankrupt. I would like to try anything because it is possible to go anywhere by airplane and do anything using internet. If there are chances overseas, I would love to try it.
Text: Yuko Miyakoshi
Translation: Fumi Nakamura

[Help wanted]
Inviting volunteer staff / pro bono for contribution and translation. Please
e-mail
to us.