– 100 Days at Shinshokaku –
Obihiro Contemporary Art 2011 -100 Days at Shinshokaku-is held from May 28, 2011. Shinshokaku is a traditional Japanese-style house located in Manabe Garden, the largest in the nation. Built in the city center to commemorate a visit to the city of Obihiro by the Taisho emperor during his reign as crown prince in 1911, it was moved to the garden in 1969. 2011 is its 100th anniversary. 100 Days at Shinshokaku is an art festival with artists from not only Obihiro but also Kitami, Asahikawa, and Sapporo. The festival celebrates Shinshokaku's 100 years and showcase various contemporary arts of the times.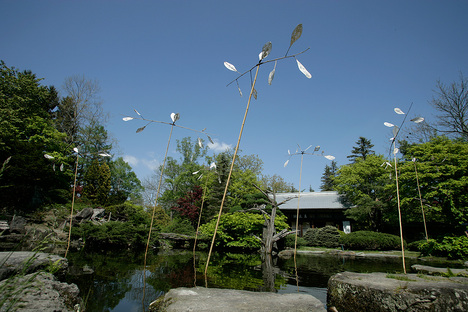 Obihiro plays a leading role in Hokkaido's art scene. It has produced talented artists such as Nissho Kanda and Go Yayanagi. Since the 70s, the local artists started various activities lead by Masano Sano. In 1997, the "Tokachi Art Society" was founded, aiming to achieve local development by means of contemporary art. "Tokachi International Art Exhibition: Demeter" in 2002 and Tokachi Millennium Forest in 2003 are among the projects carried out by the society. In 2006, "Tokachi Area Contemporary Art Party" was formed by environmental artists in order to establish Tokachi's proper culture and local development together with tourism, education and industry.
In 2008, the members of "Tokachi Area Contemporary Art Party" reunited and threw their first exhibition in Manabe Garden. An outdoor art exhibition and night garden were held. In the following year, "10 Days at Shinshokaku" was held and made a success. "100 Days at Shinshokaku" is an epoch-making exhibition to remember Obihiro's contemporary art stream.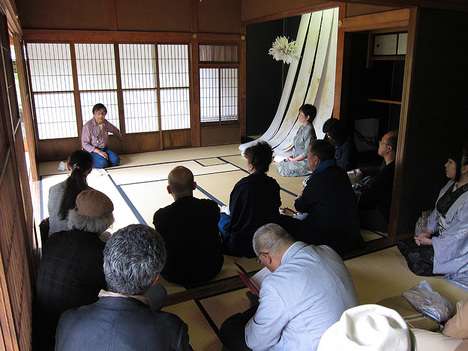 Tomoki Manabe, CEO of Manabe Garden Inc., "The Earth Art"
is for us a joy to be able to present our works where we live. We hope the visitors will enjoy the historic building in the green garden along with the contemporary art.", says Midori Ikeda, Director of the event. "The concept is very simple but still the contents have a whole range of variety throughout the 100 days. Please come to see your favorite artists."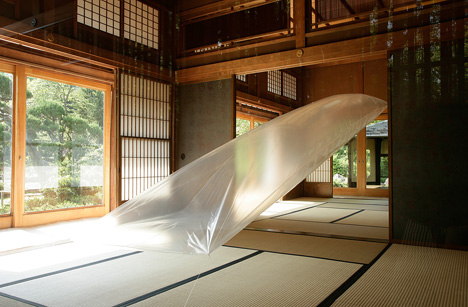 Masanori Umeda, "Transparent Path"
In the opening week, three obihiro-based artists exhibited. Masanori Umeda's "Transparent Path" confines something invisible and transparent to remind Japan hit by the quake of what awaits us in the future. In Tokonoma, a sculpture with kakejiku and duck feathers is exhibited, inspired by the oil spill in the Gulf of Mexico.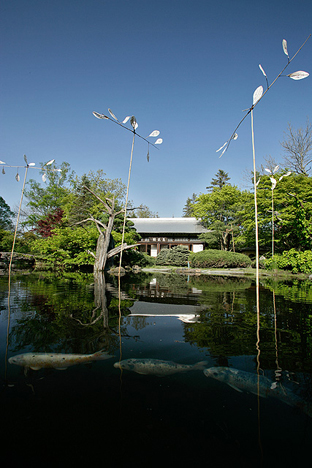 Manabu Hangai
Outside Shinshokaku on the water is Manabu Hangai's installation. Using hemp rope and scrap bamboo, he expresses the pure joy of creation. Leaves and feathers made of his chosen materials melt with the garden's scenery. Hangai says "Obihiro is open for free expressions."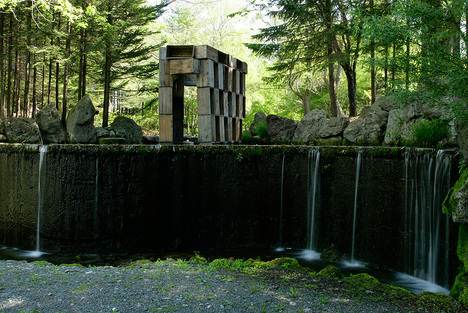 Takayuki Yoshino, "Shishokaku B"
Deeper in the garden is Takayuki Yoshino's "Shinshokaku B", made of 100 apple boxes collected from the pre-war Tohoku area. The work sealing the scenery of one's mind assimilates with the space containing Shinshokaku's 100 years of time to ignite the light and appeals to viewers. The work will be exhibited until the final day and can be a device to record 100 days' change.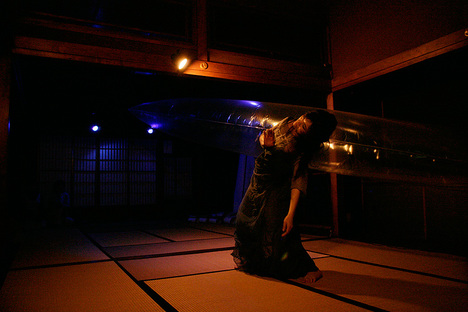 Naoko Yoriki, "blur"
Obihiro Contemporary Art 2011 will be held until September 4. Exhibitions will be switched weekly. On Sundays, performances such as modern dance and poetry readings will take place. In Blue Spruce Cafe in the garden, the BOX ART corner is installed to show visitors participating artists' portfolios and miniature works at one time. At the downtown cafe gallery FLOWMOTION. "Obihiro Contemporary Art Archive" will be held starting July 18.
Obihiro Contemporary Art 2011: 100 Days at Shinshokaku
Date: May 28th – September 4th, 2011
Opening Hours: 10:00 – 17:00 (Last admission 16:00)
Place: Manabe Garden
Address: Inda-cho Higashi 2-6, Obihiro
Admission: Adults 500 yen / Children 200 yen / Manabe Garden Passport (All 100 days admission) 1,200 yen
Tel: 0155-48-2120
Artists: Midori Ikeda, Akemi Kai, Keiko Kumazawa, Masano Sano (deceased), Takashi Suzuki, Eiso Takahashi (deceased), Manabu Hangai, Takayuki Yoshino, Mitsuhiro Takasaka, Keiko Takada, Chiasa Murakami, Akira Shiota, Kazuto Kashikura, Masami Aihara, Isamu Hashimoto, Masanori Umeda, Yoshinori Katsuno, Tohru Oda, Ten-ei Abe, Hiroshi Kakizaki, Toshiya Shimozawa, Yoshinori Arai, Akihiko Ito, Tadayuki Fujii, Hirotaka Hayashi, Tadashi Tamaru, Michi Ogawa, Junzaburo Ssuzuki, Junki Matsui
http://tokachiart.jp
Text: Ayako Ishii
Photos: Yoshihiko Tobari

[Help wanted]
Inviting volunteer staff / pro bono for contribution and translation. Please
e-mail
to us.