Anna Gray and Ryan Wilson Paulsen are artists. Their idea-based practice fuses history, fiction, autobiography and artistic commentary into a wide variety of material works: from poster projects, sculpture and multi-media installations, to publications, indexes and performative lectures. Their work has been shown and published nationally and internationally. The pair live and work in Portland, Oregon where they are represented by PDX Contemporary Art. They each hold a BFA in Intermedia from Pacific Northwest College of Art, and an MFA in Contemporary Art Practice from Portland State University.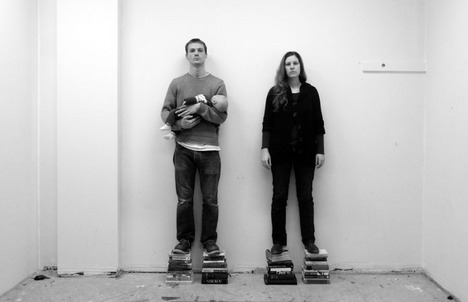 © Anna Gray & Ryan Wilson Paulsen
Tell me when you began making artwork together and how it all started.
We began working together pretty much from the moment we met in 2005. We were both in the same science class at Pacific Northwest College of Art (PNCA). I saw a leaflet that Ryan had made, a list I think, and it had his address on the bottom. I sent him a note and a book I had created, not completely realizing he was the guy from science class, and we started corresponding through the mail. Eventually, we started talking, and one day Ryan cornered me in front of a group of people and said, "So what time am I coming over for dinner tonight?" I didn't know what to say, so I just told him to come over at nine and he did and that was that. He never really left. He was living in a three-walled structure above a chicken coop and it was November, so I couldn't exactly make him sleep at home in that cold.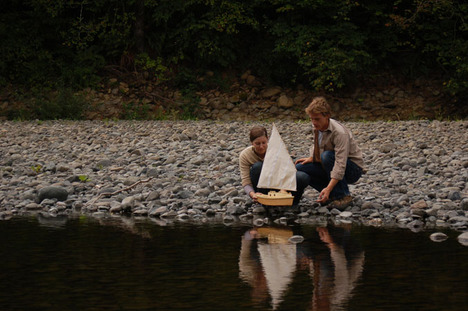 "every which way" Graphite, books, boat, sand, video, Dimensions variable
, 2007 © Anna Gray & Ryan Wilson Paulsen
What was the first project that you collaborated on?
The first real work we made and exhibited together was an installation called "every which way". It was about the act of searching, research, and discovery. It drew on the legacies of artists, thinkers, sailors, and explorers like Bas Jan Ader, Alain Bombard, Bernard Montessier, Donald Crowhurst, The Floating Neutrinos and others. It featured a large wall drawing of a word search, a map of the world's oceans with currents drawn using the words of various stories of sea exploration, and a handmade model boat beached on a ton of sand. The boat's cabin was illuminated by the light of a tiny video monitor, which showed footage of the moving sea. From that point on we worked together exclusively.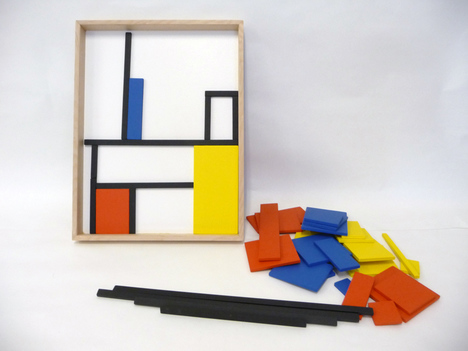 "Modular Mondrian Block Set" Painted wood, 18″x14″x2″, 2010 © Anna Gray & Ryan Wilson Paulsen
You two are married and you are collaborating together. What is that experience like?
It is a little crazy on the togetherness tip, but generally amazing and completely worth the risks. We have constructed a situation of total co-dependency where we live, work, and teach collaboratively, so our professional and artistic life is intimately entangled with our personal lives. It's rarely lonely. The benefit of this kind of continuous closeness is that we get more done and we don't compartmentalize. We never stop the conversation about art; because we are often doing the same thing we are a part of each other's ongoing cycle of experience and reaction to the world.
Tell me about one of the most memorable projects you've worked on together.
This is a hard question because each project teaches us something.
Possibly our first traditional exhibition together, "every which way", was the most memorable. While the project may not have been our best work, it revealed a lot to us about the politics of putting together an exhibition and it became clear that we were making a lot of assumptions about what and how our audience thinks. We learned that people are inevitably curious about collaboration and are not as accepting about ideas of multiple authorship. We experienced so many people trying to figure out how our division of labor worked rather than addressing the content of the work itself. We were able to confront some of that in conversation and ultimately we felt like it was that little project that cemented us together in people's brains, as much as they were curiously attempting to dissect the collaboration. With "every which way" we had evolved a very organic, comfortable and dynamic system for working together. And in the end, we were able to express that in the face of the myriad of semi-skeptical process questions.
The other project that quickly comes to mind is "A Classroom Reader", which was a small publication made up of transcripts from four lectures we hosted in conjunction with an exhibition. It became one of the most involved projects we had ever done. For the two of us, working together comes naturally, but working with others is not as easy. The process of negotiation and dealing with deadlines was difficult at times. We were working with great and reliable people, but there was still this sense that the project was out of our control.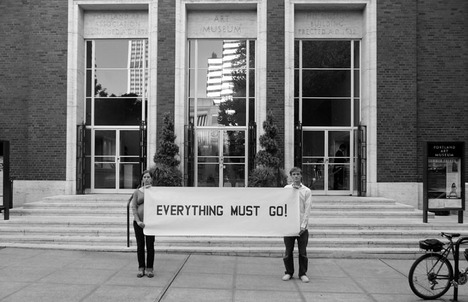 "100 Posterworks" Printed posters, 11″ x 17″, 2008-2010 © Anna Gray & Ryan Wilson Paulsen
Another project that has been really memorable is our "100 Posterworks", which began as a quick and spontaneous way for us to work through ideas, as well as include other people in that conversation. The process of bopping around town with a camera, scrolls of paper and ink, added the challenge of forcing whatever we were thinking about or reacting to, into the frame and format of the "Posterworks".
The short answer to this question is that the most memorable projects are those that are slightly harder to complete. The challenge makes them memorable; the sometimes not ideal situations where we actually grow become the greatest project memories.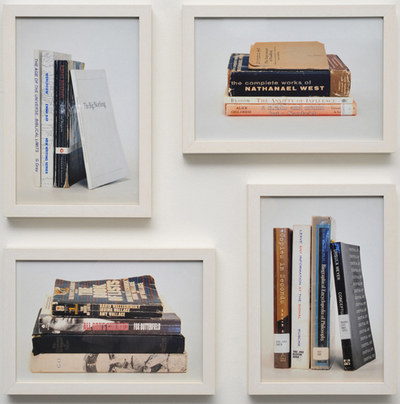 "Bookworks" Various Bookworks, 2009-2010 © Anna Gray & Ryan Wilson Paulsen. Courtesy of PDX Contemporary Art
"Idea-based" art may be difficult to explain to our grandparents, but that's the world we live in today. Until not too long ago, philosophy was the bridge between science and art, but now technology binds us to any and everything we want to access, whenever we want it. Anybody with an Internet connection, basically, has all of the same information at his or her fingertips that we, idea-based artists, have. However, what intrigues me about your work is that it levels the field between yourselves and anyone who may experience it. Can you talk about your strategies in regard to how you consider an audience?
The question of Audience is tricky, and it often came up in graduate school. It is important for us to remember that some of the best artwork addresses and exists within a particular dialogue. In many ways, we make work directed at particular individuals or in conversation with particular ideas, and hope other people will be able to enter into that conversation or at least be happy eavesdropping. In addition, many of our ideas come out of the two of us trying to impress one another; if one of us is impressed, we make the work. "100 Posterworks" came out of trying to start a conversation with the artist Tom Holmes (he never responded). "The Classroom" was an entire exhibition that came initially from strong reactions to our graduate school experience.
Most of our other projects come from a sense of excitement or enthusiasm about something we've recently learned. Maybe you're picking up on the fact that we are fans. That is, the content or the idea behind any of our projects comes from our love of the subjects we are addressing, and a love for the discourse of art. It may seem that because of this approach, we are in some ways making 'fan-art'. We think of ourselves as audience members or viewers more than we think of ourselves as creators of culture. We make work as a response, and a lot of our projects could be seen as models for other audience members to fill or re-enact. We present possibilities for strategies for being active viewers/fans.
There is this leveling of information we see with the Internet, although it seems to be slightly more a superficial leveling. For example, how do you know where to look on the Internet? Everything is there for anyone to download, recombine, and upload somewhere else. What about amazing projects like UbuWeb, which is an amazing non-narrated archive of the Avant-garde. It cannot be found in a Google search. So, how do we find that stuff? We have to be better researchers, more nuanced with search terms, and more discerning about content and peer-reviewed information.
There are super great things about leveling information. To look at scholarly articles about something along with looking at YouTube videos about it and fan-web sites, as well as information gathered from casual interviews with friends. There is also a tendency towards uncritical or all-inclusive discourse that we aren't interested in. We mention this because in the introduction to "The Classroom Reader" we wrote against the leveling of knowledge (and we wouldn't want to contradict ourselves) saying: "This equalizing effect, which seems freeing at first glance, is the product of a kind of relativism that has taken hold and forsakes the deep knowledge of our inherited cultural archive, assessing it as equivalent to the knowledge it takes to, for instance, make a sandwich."
What exhibitions, performances and/or publications are you working on right now?
We are working on a project for PICA's TBA festival, which is a gigantic redaction project including both publications and sculptural objects. We are indexing Gardner's "Art through the Ages" textbook for color. We are also working on a suite of drawings about the Swadesh list.
We are still doing occasional 'living room lectures,' where we ask the hosts to give us five or six subjects that we have to weave together through using a PowerPoint in their living room. Hopefully our next one will take place in Pioneer Square, which is dubbed "Portland's Living Room."
Text: Nat Andreini

[Help wanted]
Inviting volunteer staff / pro bono for contribution and translation. Please
e-mail
to us.