It is great to gain new inputs when different artistic disciplines found each other; in this particular case, it is the outcome of the design and toy symbiosis. British illustrator James Jarvis is, by no means, the most representative figure of this vinyl and plastic toy movement, since he and partners Sofia Prantera and Russell Waterman started to collaborate together back in the late nineties. Toy designer as a concept. Today, James has extended his profile with Amos Toys as unique and collectible items, among commissioned illustration work for mainstream companies of the likes of Nike, or more recently Coca-Cola and Marvel Comics. A living legend.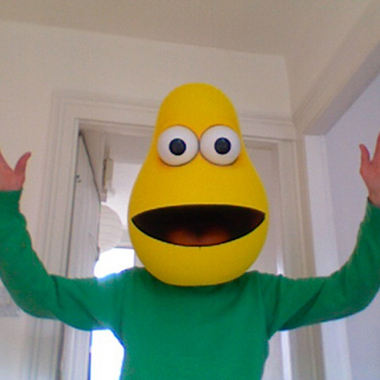 You studied in London at the Royal College of Art. How do you see it nowadays?
I had a great time at the RCA. It gave me an opportunity to really concentrate on developing a personal visual language, and I found the academic side of study very stimulating. My one criticism would be a felling that during my time vernacular imagery like cartoons and comics felt like it wasn't as valued as an intellectual commodity as it could be.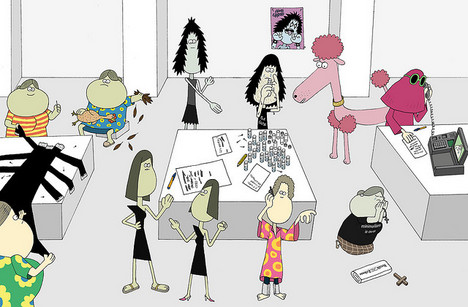 What is your advice for those who now decide to study Illustration or Graphic Design?
I don't know anything about studying Graphic Design, but regarding Illustration my advice would be: learn to draw everything; be open to any opportunity that comes your way.
You´ve showed your admiration for illustrators such as Hergé, Richard Scarry or Javier Mariscal. Is it any recent artist from the last decade that deserves a noteworthy mention to your opinion?
There are lots of contemporary artists and designers that I admire, though I'm not sure any one is more noteworthy than another: Geneviève Gauckler, KAWS, Geoff McFetridge, Leon Sadler, Will Sweeney, Yuichi Yokoyama are some contemporaries whose work I admire.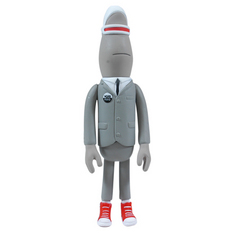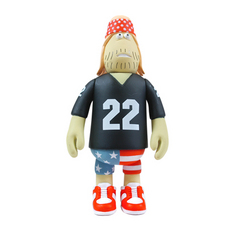 How did your approach to Japan start?
I wouldn't say that I have an 'approach' to Japan, but I suppose that it was the first place that seemed to engage completely with my work. That came about as a result of my association with a fashion brand that was particularly popular in Japan in the late 90s and early 00s and helped expand my profile there. Since that time I think the 'craze' element of interest in my work has disappeared and I have been left with a loyal fan-base that continues to support me there.
How often do you go there? Could you tell us a few things you really like when you´re there?
I went at least once a year from 1999 until 2004. Since I had children –in 2005– I haven't been able to travel so much, but I still visit when the opportunity arises. I was last there for the Amos Miniature Plastic Workshop in February –the week before the earthquake and tsunami.
The things I like there? Mostly the friends I have made there, but also Tokyu Hands, Tanbo, soba noodles, running in Yoyogi park and generally walking around.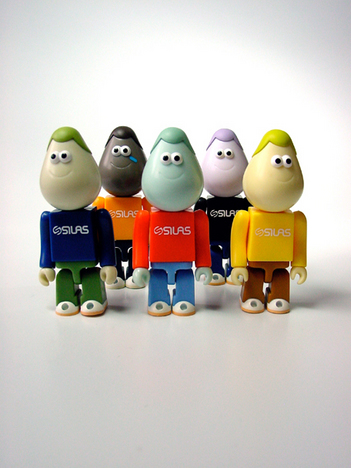 How was Medicom at the time you start to create characters for Silas ? Was Kubrick existing by then?
Kubrick was just starting around the first time I visited Tokyo. I remember going to the Project 1/6 shop and being really impressed – I had no idea that these kinds of toys existed. At the time there was no concept of 'designer' toys.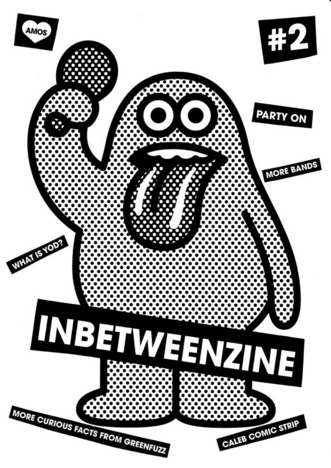 What is INBETWEENZINE?
The INBETWEENZINE was a series of 'zines AMOS made for the music festival we curated for ATP last December.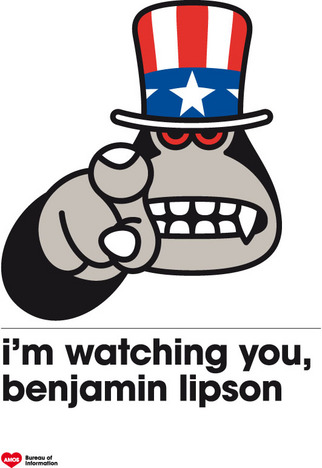 You designed some posters and artwork for a ATP festival in Tokyo and Barcelona. Did you attended yourself any festival?
AMOS did some posters for recent ATP festivals in the UK and in Tokyo. We also curated a music festival ourselves last December, In Between Days, which meant choosing the bands that played as well as creating an identity.
I attended both In Between Days in Minehead and I'll Be Your Mirror in Tokyo. It was great to see so many amazing bands. Highlights for me were Michael Rother, Connan Mockasin and Yob in the UK and Boredoms and Boris in Tokyo.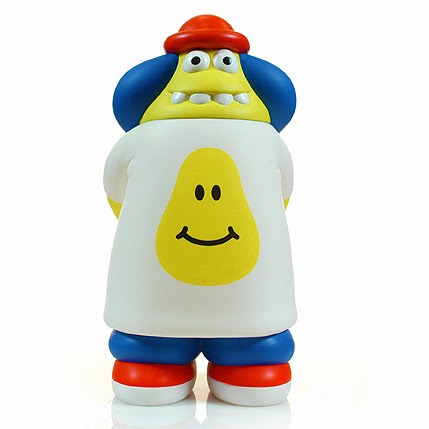 What kind of bands are you interested in?
All kinds, Here's a list of some artists I like: The Animals, Bach, The Beach Boys, The Beatles, Chuck Berry, Black Sabbath, Boredoms, Boris, Butthole Surfers, Can, Drunks with Guns, Glenn Branca, The Byrds, Carter Family, Debussy, Khanate, The Mamas and the Papas, Minor Threat, Neu, Plasticman, The Pretty Things, Slayer, Sonic Youth, Stupids, Thirteenth Floor Elevators, XTC, Yob, Neil Young, The Zombies.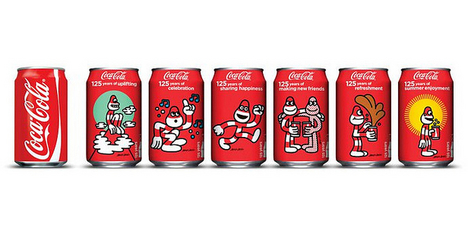 That list is priceless. Actually I got the collection "Age of Metal" but still can´t catch up who is Terry inspired by?
Kerry King from Slayer.
Oh, right! I knew it haha, that red star indeed… Are any other characters necessary inspired by real people around you?
Not really. Just from looking at the world around me.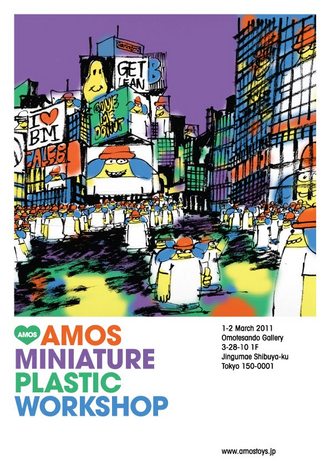 Recently you did a workshop for miniature plastic character in Tokyo. How did it go?
It went brilliantly. It was a great opportunity to meet lots of long time supporters in Tokyo. I really enjoyed the experience of making cartoons with an audience. We just opened the London workshop last night.
Yeah, please tell me about it.
Amos was invited by KK Outlet to take over their shop and exhibition space for the month of May this year. The event is an opportunity to showcase a selection of favourite Amos projects we have worked on, plus a small exhibition of drawings for sale. We will also be doing a couple of workshops where Russell and I will be available to talk about our work.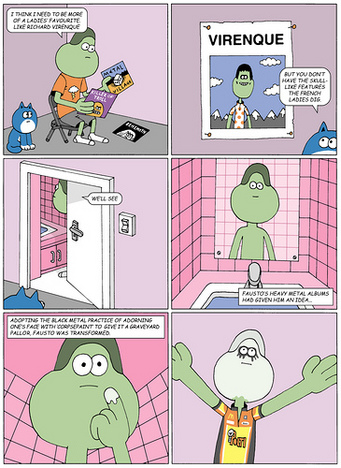 Comic strip from Cycling Today magazine
You did some contributions with brands such Stüssy or the Onwards video for Nike… Could you be so kind to explain us briefly how a project like that begun and worked for you?
The Onwards film was a great project because I think it worked as a true collaboration. Rather than making a film as a commission, I approached Nike myself with the idea of making something that reflected my obsession with running, and I produced the project myself. Nike were fantastic in that they allowed me complete freedom to make whatever I wanted. I think that given that I was a serious runner myself, they trusted me to make something that really represented the spirit of running. In a way it has made subsequent collaborations more difficult because with Onwards I had complete control and wrote the brief myself and it is still hard to persuade people to allow an artist that kind of leeway. I think Stüssy is another good example of a collaborator who is able to trust an artist's instincts rather than push them in a particular direction. I do feel that that way of working is a much more sustainable direction for the way an artist can collaborate with a brand and come up with something that has some kind of integrity.
Regarding the co-lab between Stüssy and Marvel, how does it feel to work with such characters?
I was invited by Stüssy to take part in a project wherein invited artists were asked to reinterpret their favourite Marvel characters. I immediately chose the Thing. Although I grew up more interested in British comics like 2000AD, I had always like Jack Kirby's drawings of the Fantastic Four, so it was an easy choice.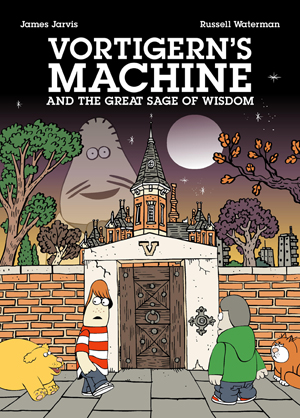 Have you ever thought about run your own animated tv series?
I've been in talks to make a series of Vortigern's Machine for several years and we have a deal in place…
Exciting. At last, but not least, please describe a bit how's your studio in London.
I share a studio with Will Sweeney and Sofia Prantera (ex-Silas designer) near the Barbican. It's just the three of us. My desk is very messy and Will's is tidy. It's about 10km from my home so I enjoy taking a bike ride or walking to get there. Sometimes I take a diversion and ride in via Richmond Park. It's near to a good fish and chip shop, which is important.
Text: Victor Moreno

[Help wanted]
Inviting volunteer staff / pro bono for contribution and translation. Please
e-mail
to us.