A new fair of photo books and prints 'The Photo / Books Hub Tokyo 2011' was held in a special occasion. Tohoku earthquake happened on March 11th and the fair happened 22 days after the digester. Right after the earthquake, lots of different information flew around on TV and Internet. A few days later, photos by photographers in Tokyo were posted on their websites. Glasses that fell down on asphalts, streets that were crowded with people, TV screens that showed breaking news and people who were staring at shaking buildings. People's face could look like surprised or scared. On the day, so many people could not accept the real situation. Since then, photographers have been asking themselves a question again, "what photos can do to people?"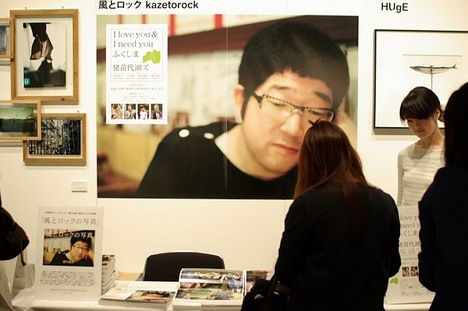 Photo: Naoko Iida
A director of this fair, Shigeo Goto, made a statement that "this fair is been held under the huge painful feelings" at the opening ceremony. While many scheduled art fair has been canceled after the disaster, Goto decided to make the fair happen with his strong belief that this fair would be a great help to Japan's revival by stimulating expenditure to make economy better and gathering people to show the power of art culture including photography. Around the same time, many charity events were organized at various places in Tokyo. On the day of the fair, tables were set up to show the art books made by twenty two groups that had panels with prints in a basement space of Omotesando Hills, and the place was filled with excitements of participants. Half of admission-by-donation will be donated to Japan Red Cross Society and Shiogama Photo Festival which will be happening in north east of Japan.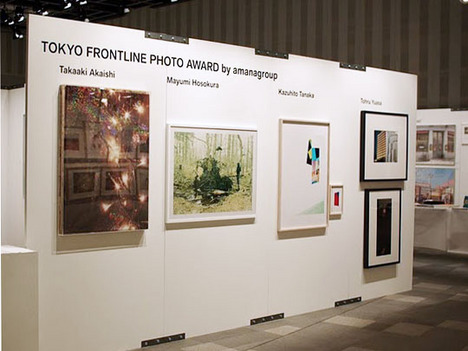 Takaaki Akashi, Mayumi Hosokura, Kazuhito Takana, Tohru Yuasa
The pieces displayed at the main entrance were the prize winners of 'Tokyo Frontline Photo Award by amana group' that happened in February 2011. A photographer Kishin Shinoyama and Takashi Homma choose the winners with the theme 'Photos as contemporary art.'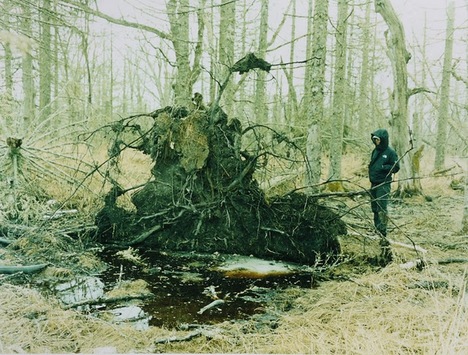 'Volcano Lover' Mayumi Hosokura
Mayumi Hosokura's eyes can tear off the outer layer of the world that people see in a dry texture environment and show the bare essential part. A picture of in the middle of woods shows people the power of the artist inspired by her wild sensitivity.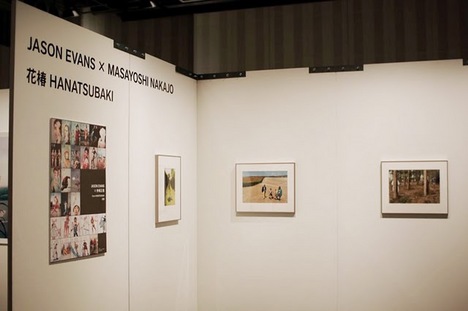 A booth done by an art director, Masayoshi Nakajou, who has worked on the visual work for Shiseido products 'Hanatsubaki' had pieces by Jason Evans who is well known for fashion photography and music projects such as Four Tet. People were surprised of the power of Jason Evans to make an image come true with multiple motifs. This exhibit included not only his famous vivid pieces but also nostalgic and quiet pieces and turned out amazing.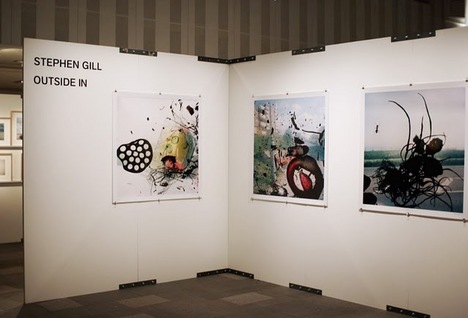 On the corner where had the latest pieces by Stephen Gill 'OUTSIDE IN' was filled with comfortable airily moods. Gill put 'stuff' from Brighton inside of his camera and made a layer of the 'stuff' over the scenery of Brighton. There, people feel refreshed as if they are seeing their daily routine from higher places. Gill had an experience of staying in Japan and creating a photo book. Therefore, Gill has a special feeling towards Tohoku and is planning on making a charity book in the near future.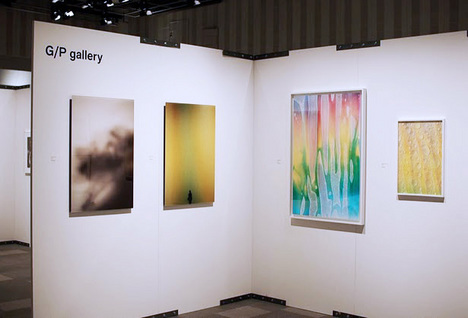 Ryo Fukujimoto, Taisuke Koyama
Taisuke Koyama from G/P gallery who leaves a strong impact of neutral coloring. If people keep focusing on the world with no creature, they eventually start seeing the color that does not have much of human feelings as the color that has warmth and humor. This type of cool expression might be a new sense. The artist made a quick reaction and put his new PDF photo book 'SANDWICH Textures PDF' for sale after the earthquake. The book is available on his official website for a limited time and all proceeds will be donated.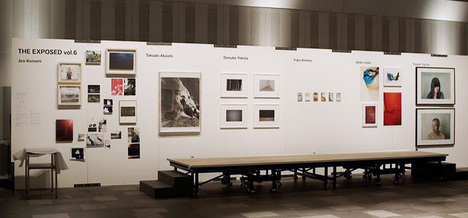 A booth of the young photographers' showcase 'THE EXPOSED' that has been held at a gallery 'CASO' in Osaka since 2006 introduced Akaishi Takaak, Yuko Amano, Yosuke Yajima, Jiro Konami, Daisuke Nakajima, Masara Nakayama, Akiko Isobe and Daisuke Yokota. Most of photographers were born in 80's and filled with hidden talents. There are not many released pieces yet, however, their pieces make people want to check out more stuffs.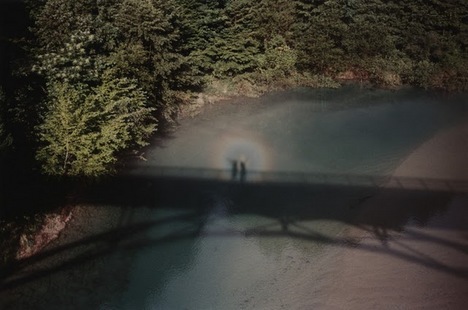 'Here Come' Yuko Amano
Yuko Amano who took pictures of nature with her unique view. The pictures of neighborhood nature and creatures that were from the area give people the feeling of being close to the nature along with the feeling of field working while they keep a certain distance between them and the nature. The relation is well thought that remained in people's heart.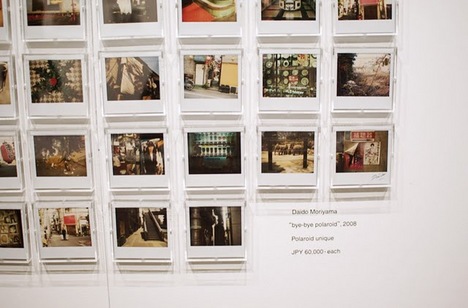 Polaroid photos by Daido Moriyama were displayed at Taka Ishii Gallery. They might be the ones that stimulate the collectors' heart the most at this fair. Polaroid provides this excitement of being able to see the photos as soon as they are taken. However, there will be only one copy available. Therefore, all the photos at this booth were all the-only-one stuff. This is also a rare occasion of being able to see the artist's color photos since he usually takes monochrome photos.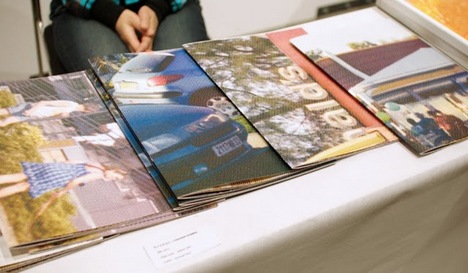 The Gallery 360 degrees was showing a featured silkscreen series 'M' by Takashi Homma. His photos are all silkscreen printed and had a different touch compared to regular prints. His new photo book that was sold at the fair uses misprints from the production process of 'M' on a cover. This is a very unique idea. Since its cover is made of actual misprints, there are several different patterns and limited to 500 copies. Moreover, since all the productions were finished a day before the fair, all books had the unique silkscreen prints' smell. Being able to find such productions is one of charms of the fair.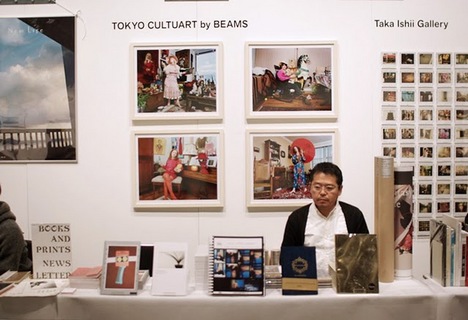 'TOKYO CULTUART by BEAMS' is a place where introduces art, design and culture from Tokyo. They had an interesting looking book 'saji' at their booth. At first sight, it looks like an art book or a picture book. However, it is a recipe book with a message that "today's meal creates my body ten years later." A photographer, Miho, took care of all photos and art direction of the book. There are also cute Illustrations from contributors. All recipes only have a few paragraphs and show the importance of meals.
Other than these pieces, following publishers were introducing great stuffs at the fair: 'Guardian Garden' that has been taking part of discovering young artists at '1_WALL' exhibit, 'SUPERLABO' that had a great selection of famous books, 'PHOTO GRAPHICA' that represents Japanese photo magazines and Seigensha that is well known for great quality publications.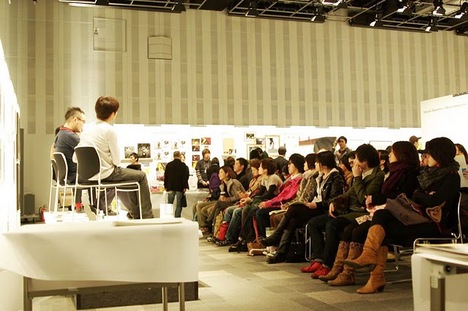 On the day of the fair, a talk-show with photographers, Taisuke Koyama and Ryudai Takano, and a writer, Hiroyasu Yamauchi, a public symposium about a Japanese edition of 'Words Without Pictures' and a book signing that audiences could communicate with artists directly were also organized. It was very worthwhile that such opportunity that photographers, publishers, editors and audiences could communicate were provided. The thing that people could understand and thought it was good honestly through this fair was that artists still continue to create as usual while they are holding the nervous feeling after the earthquake. During the talk show, people talked about the role of photography since the earthquake hit the society and its relation to the revival. If communications and discussions about photography keep happening within communities, the power of photography will be stronger. Everyone was thankful about a new photography community was born at the fair. Then, they made their way home obtaining something like mental nourishment.
The Photo / Books Hub Tokyo 2011
Date: 2nd and 3rd April 2011
Place: Space O, Omotesando Hills
Participate: ASHU, artbeat publishers+ G/P gallery, between the books, Bueno! Books, Gallery 360°, Guardian Garden, Heuristic, HUgE, Kaze to Rock, littlemore, NADiff, Photo Gallery International, PHOTO BOOKS UNION, PHOTO GRAPHICA, photographers' gallery, RAT HOLE GALLERY, SEIGENSHA, SHIBUYA PUBLISHING BOOKSELLERS, SUPERLABO, Taka Ishii Gallery, TOKYO CULTUART by BEAMS, Youngtree press Ltd.
http://www.photobookshubtokyo.com
Text: Yuko Miyakoshi
Translation: Yumiko Miyagawa
Photos: Yuko Miyakoshi

[Help wanted]
Inviting volunteer staff / pro bono for contribution and translation. Please
e-mail
to us.