Spike Jonze's short film, "I'm Here" is a bittersweet robot love story. It was made following after the previous piece "Where The Wild Things Are" released in 2009, and premiered at the 2010 Sundance Festival. "THERE ARE MANY OF US – I'M HERE", an exhibition of the sketches and making-of the movie is on display from February 19th to May 15th, 2011, at the DIESEL ART GALLERY in Shibuya, Tokyo.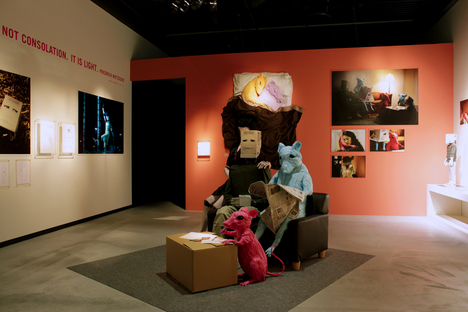 "I'm Here" is a story about Sheldon, a nice but socially awkward robot that works in a library, and meets the cheerful, clumsy robot, Francesca. Although robots, the film conveys them as human through the character's subtle expressions of the highs and lows of love, and smoothness of their movements as they run and dance around. Despite the use of visual effects, the analog nature of robot visuals and the soft lightning effect signature of a Spike Jonze's movie leave the film with a handmade impression.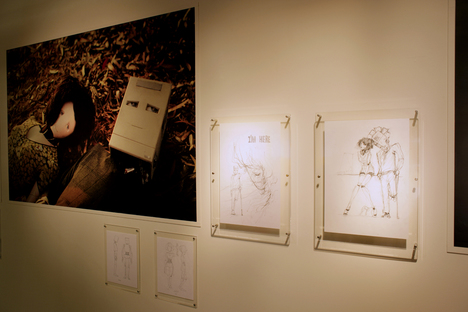 The exhibition is adorned with the sketches of the characters and scenes from the movie, in addition to pictures of the making-of. Visitors can also see up close the actual robots and mice characters constructed by two artists.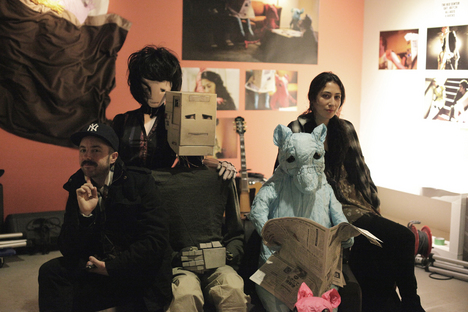 Sonny Gerasimowicz, also in charge of character design for "Where The Wild Things Are", designed the robots. These robots were characters that despite being machines, kept imperfectly making mistakes and took on human weaknesses. The mice that enter into the film are creations of the young New York artist, Meryl Smith. Although the mice were created out of thin, weak paper, they hold a mysterious balance of the body and are so life-like that it seems they would begin moving and speaking.
"One day, I suddenly got a call from Spike asking, 'Can you come here now?' The next day I was on a plane, and for four straight days and nights I worked on production", Smith recalled of the time spent working on the film.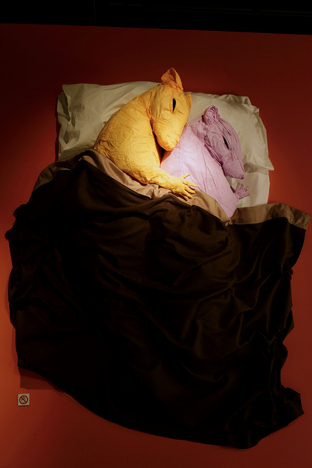 "It was such a great experience to work with Spike and the production team together, and so fun that I hoped to keep working on it forever. It was as if my hands became Francesca's hands, and I created it keeping in mind what she would do. The animal I love the most is mice, and I once owned it. That could be one of the reason why I got so excited about working on this project. I contribute my current work to the influence of that film. My work had always been under the motif of animals, but now in accordance with the film, I have started to create animals that resemble humans."
In the back room of the exhibition, visitors can view not only the entire volume of "I'm Here", but also seven unreleased making-of movies (Japanese text included). You will be glad that you can view the whole movie (Japanese text not included) on the website. Being a Spike Jonze film, the music is always exceptional, and this time it again resonates. Aska Matsumiya's melodic theme music matches perfectly with the heartrending, warm love story. Aska Matsumiya also performed at the opening party.
Official goods, such as Japanese edition of the DVD+CD+BOOK, "There Are Many of Us", are available for sale at the exhibit. As this is the first time Sonny Gerasimowicz and Meryl Smith's works are on display in Japan, we invite even those who have seen the film to take advantage of this unique opportunity.
"Spike Jonze There Are Many of Us – I'm Here"
Date: February 19th – May 15th, 2011
Opening hours: 11:30 – 21:00
Holidays: Non-regular holiday
Place: DIESEL ART GALLERY (DIESEL SHIBUYA B1F)
Address: cocoti B1F, 1-23-16, Shibuya, Shibuya-ku, Tokyo
Tel: 03-6427-5955
Curator: Taka and Daisuke Nakanishi (ASHU)
Supported by: ABSOLUT / GOODSMILECOMPANY.co.ltd / ARTFREAK
Cooperated by: contrarede / AHAHA
http://www.diesel.co.jp/art/index_en.html
Text: Wakana Kawahito
Translation: Amanda Shockley
Photos: TAKAMURADAISUKE

[Help wanted]
Inviting volunteer staff / pro bono for contribution and translation. Please
e-mail
to us.