A visual artist who equivalently combines light, sound, and the human body.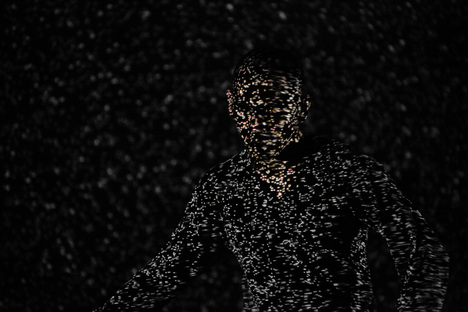 "Holistic Strata" making view (2011, YCAM)
Hiroaki Umeda is a choreographer who has been attracting attention in Japan and overseas with his "visual performances", blending imagery, sound, and dance. Through his residency at Yamaguchi Center for Art and Media [YCAM], his new dance piece has been developed with the YCAM InterLab team of media art specialists to challenge and break new ground, integrating media technology with physical expression. When it is revealed, it will show an integrated space with light, sound, and dance. The interview with the artist will unveil how his performance controls viewer's perception.
Please introduce yourself including your past activities.
Hiroaki Umeda. Choreographer, dancer, visual artist. Born 1977 in Tokyo.
Commenced my creative activities in 2000, when I launched the "S20" dance company. In 2002, the piece "while going to a condition" was staged at the festival in France. I unveiled "Finore" in Montreal in 2003, and "Duo" in Rio de Janeiro in 2004. Following a residency with French leading choreographer Philippe Decoufle's studio, in 2007 I presented "Accumulated Layout", a co-production with the Theatre National de Chaillot (France) that was subsequently invited to the Kunsten Festival des Arts (Belgium), London's Barbican, the Romaeuropa Festival, the Centre Pompidou (Paris), and other prime festivals and venues around the world. In 2008, I presented "Haptic" and "Adapting for Distortion", two co-productions with the Festival d'Automne (Paris) and Romaeuropa Festival respectively. I began to work as a choreographer in 2009, and showed "1. centrifugal", my first piece for a group of dancers, in Japan and Finland. In 2010, I was awarded a Honorary Mention at the international media art festival Ars Electronica (Linz, Austria). At the "Aichi Triennale 2010" international art festival, I showed a dance performance and an interactive installation incorporating light and sound.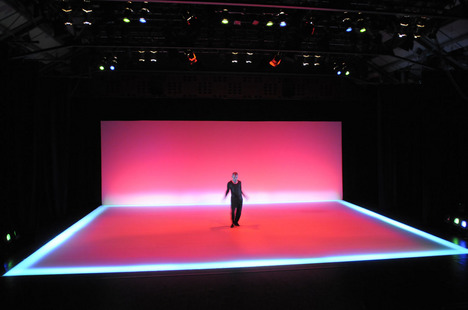 "Haptic" choreographed and performed by Hiroaki Umeda (2008) photo: Shin Yamagata
I heard that you have studied photography at the university. How did you originally get interested in dance and choreograph?
The fact that I was doing "photography" actually plays quite an important role in this. While you need to place a certain distance between yourself and the scenery you are about to capture, taking a photograph requires at the same time an objective attitude. Like, taking one step out of that particular environment. That was the point that I felt increasingly frustrated about. What I was after was a form of expression that allowed me to dive into, rather than step out of the environment I want to depict. To this day, I'm getting more inspiration from the photographs of Daido Moriyama or Gerhard Richter's abstract paintings than from other choreographers.
As you define your works as "visual performance", you also approach lighting, sound, and imagery as important elements for stages. Especially for lighting, you take consider not only lighting for lighting a stage, but also for its diverse design. Please tell us about the basic concept and idea you have in mind.
Frankly speaking I hadn't seen many stage performances when I started. As I was focusing more on photography, I think visual art has the greatest influence on my work. Back when I was still taking photographs, I frequently had experiences that made me realize how the world could look when looking at it from a certain perspective, and that's still a rule that affects my work today. Another idea that played an important part was to present dance as a form of visual art. For the
production of a stage piece I first place myself in the audience and imagine the scenery on stage from an objective point of view.
It seems you equivalently combine elements of light, sound, and the human body in your works. How do you map out your ideas when you make a work?

I usually begin with an abstract spatial image, which becomes the "score" for the piece. No one particular aspect, sound, light or choreography, is dominant, but used equally for composing a piece according to that abstract image the respective piece is based on. I have an idea of this and that, and according my idea, I combine this kind of sound, light or dance with that kind of sound, light or dance… I place so much importance on the piece's overall composition and balance that it's impossible to find the last piece of the puzzle if the first one doesn't fit.
Plus my choreography is focuses on the "texture" of dance not on its form. That's why the dance itself changes with every performance. It may look the same to the viewer, but to me it's something completely different each time.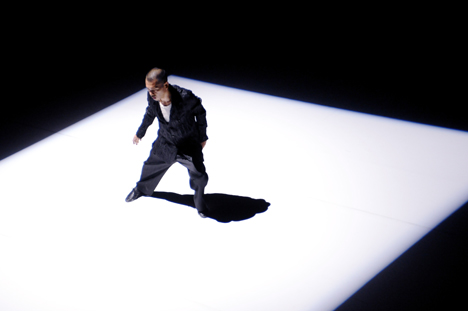 "Accumulated Layout" choreographed and performed by Hiroaki Umeda (2007) photo: Shin Yamagata
Your works have been touring abroad as well. When and how did you start to perform abroad? How do you think about the feedback on your work in overseas?

In 2002 I performed "while going to a condition" for the first time overseas. It was selected by a director of the French festival "Rencontres Choregraphiques Internationales", and ever since then I have continued to perform abroad. It felt casual–I didn't feel it was that inferior to other works- – which helped me a lot. This might be a kind of generational thought.
First of all, I think the reason I get opportunities to perform abroad is because my piece is very portable and easy to tour. Another thing is that it's said to be very "Japanese". Maybe because they think it feels minimal and a bit "technology-esque". Many of them say my piece is more like installation and visual art rather than a dance piece.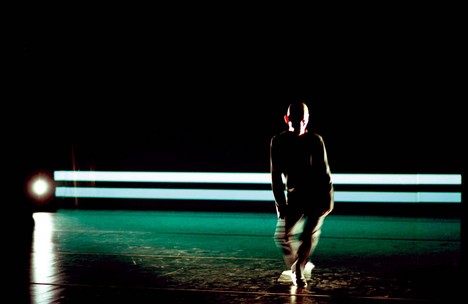 "while going to a condition" (2002) photo: Shin Yamagata
In 2010 you were awarded for "Adapting for Distortion" in the digital music / sound art category of Ares Electronica. You also showed a dance piece and installation at the Aichi Triennale 2010. What do you think about your approach crossing different genres such as dance, sound art, and installation?
I have been working in a way that places me outside all existing definitions. This is necessary because otherwise I'd end up obeying the rule that a choreographer doesn't do lighting, which again means that I wouldn't have arrived at my present style. Considering the prizes and opportunities to show my work that I'm receiving, I feel people appreciate that I steer clear of ready-made definitions. I'm very happy about that. I'm definitely going to do a lot more installations in the future. Of course, I'll continue working as a choreographer as well.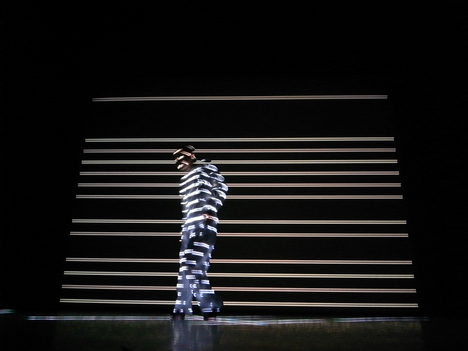 "Adapting for Distortion" (2008) photo: Alex
What do you challenge on your new work "Holistic Strata" which was made during your residency at YCAM?
Compared to my past pieces, I have been thinking about bringing dance and visual closer. The process of working with several different types of staff, such as engineers and programmers, is drastically different from my usual process. I usually think about everything, including the technical parts, but for my new work I can just focus on the artistic part because I can pass the technical solutions to other people. But it will be difficult to realize my image if lose too much control, so I always want to think about balance during the creation process.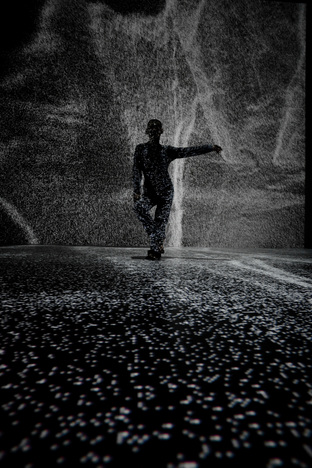 "Holistic Strata" making view (2011, YCAM)
Please tell us about your upcoming plan.
After performing the world premiere at the YCAM, Holistic Strata will be performed in the Festival VIA which will be held at Le Manege in France (Maubeuge), and at a theater Maison des Arts in the suburbs of Paris. And I will then show the installation piece "Holistic Strata Installation" at Morishita Studio (Tokyo) from March 4 to 13.
Hiroaki Umeda "Holistic Strata"
Date: February 19th and 20th, 2011
Time: Starting at 19:00 on 19th, 14:00 on 20th
* The program also includes a performance of Accumulated Layout.
Place: Yamaguchi Center for Art and Media [YCAM]
Address: 7-7 Nakazono-cho, Yamaguchi
Tel: +81-83-901-2222
Admission: Advanced tickets 2,800 yen / "any" members & special discounts 2,500 yen / Under 26 2,000 yenTickets at the door 3,300 yenTickets Information (YCAM): +81-83-920-6111
http://holistic-strata.ycam.jp
Text: Mariko Takei

[Help wanted]
Inviting volunteer staff / pro bono for contribution and translation. Please
e-mail
to us.