Known for their initiative to bring art into the fashion industry, Louis Vuitton opened "Espace Louis Vuitton Tokyo" in Omotesando Tokyo in January 15th 2011, as its second art space in the world following Espace Culturel Louis Vuitton that is located in the Maison Louis Vuitton in Paris. And a French contemporary artist Xavier Veilhan was selected for the first honor exhibitor at the new space.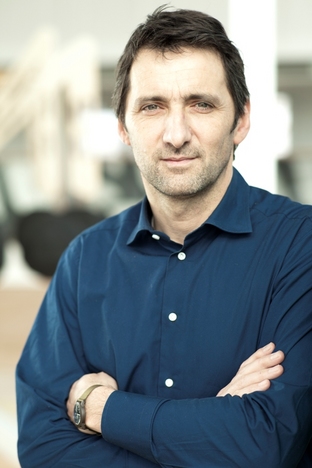 © Keibun Miyamoto
Shown his exhibition at Palace of Versailles in 2009, Veilhan makes artworks by incorporating the relationship between human and urban areas. It seems it is very natural that Espace Louis Vuitton Tokyo as one of the most leading cultural landmarks in Tokyo has selected the artist, who has a style of works from which the viewers can capture own selves over urban cities.

© Sebastian Mayer
First as you go inside, you will be welcomed with the overwhelming dynamism of an installation piece of "Regulator". As high as the ceiling of the space, it sits there by casting shadows in the space full of sunlight. The white framework is made with the material which is similar to that of the structure of the building, and it seems as if the space and piece as a whole is an architectural work.
At the bottom of the frame piece, there sets 11 articulated timber-made legs, and a three dimensional black polyhedron hangs from the each leg. As it's turned on, the mysterious polyhedronal pieces start to turn slowly by a wind coming from a fan above. With a mechanical sound, it creates centrifugal force and each of the legs turns fully with stretched joints.
Veilhan explains that this piece is an experience to hypostatize something uncommon to see even you know in your head.
It is like a hypostatization of a memory of playing as a child, who then never knew about "centrifugal force", which reminds you of a drawing by Da Vinci.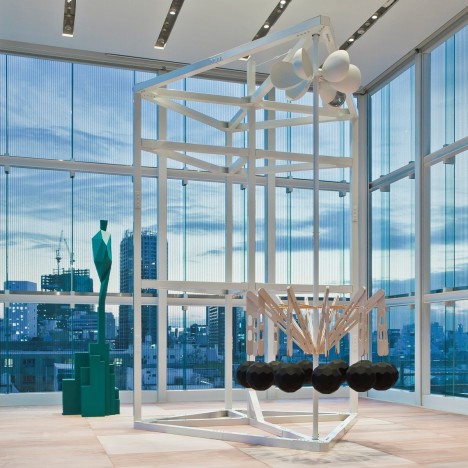 © Sebastian Mayer
A sculpture piece "Tokyo Statue" is installed as if it watches over the city of Tokyo from the space with large glass window. It makes you feel his concept of the relationship between cities from this work. With this work not only you can feel something from the piece itself, but you also will be able to enjoy to think about yourself and the relationship between yourself and the city by sitting on a part of the piece.

© Sebastian Mayer
Centrifugal force and pressure. Consciousness and unconscious. Veilhan consciously approaches something very common, which you usually don't wonder about, and confronts it as an engaging motif. He mentioned that he felt silence in Tokyo. For him, who doesn't understand the Japanese language, the chaotic atmosphere with a full of information seemed like a still-life picture. And the Japanese minimal design that is regarded as an aesthetic essence from the old time is also an important factor for him. Made extremely and mathematically, Veilan's works are quite architectural pieces of art, with a refined minimal style. Please visit to feel the space and his works as a whole. Each piece will provide you a great time to think about quite many things.
Xavier Veilhan "FREE FALL"
Date: January 15th – May 8th, 2011
Open: 12:00-20:00 (Admission free)
Place: Espace Culturel Louis Vuitton, Tokyo
Address: 7th floor of Louis Vuitton Omotesando building, 5-7-5 Jingumae, Shibuya-Ku, Tokyo
Tel: 03-5766-1088
http://www.louisvuitton.com
Text: Memi Mizukami

[Help wanted]
Inviting volunteer staff / pro bono for contribution and translation. Please
e-mail
to us.