The 14th Japan Media Arts Festival was held at The National Art Center, Tokyo as a main venue from 2 February until the 13th, exhibiting 24 award-winning works and one Special Achievement Prize winning work. These works were applied selected from the total of 2,645 entries from 49 countries, which recorded the largest number of submissions. This festival is very significant as the number of entries has been increasing every year, and works and projects of the age are showcased to explore the uniqueness of media art, including categories such as manga and animation.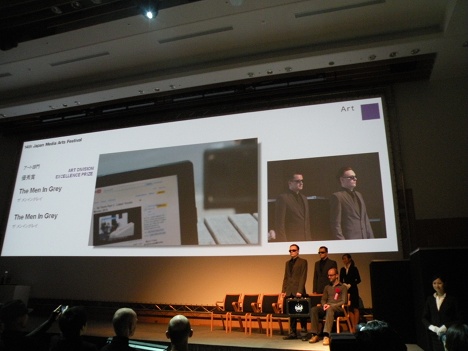 Besides the Art Division Grand Prize work "Cycloid-E" was installed in the Tokyo Midtown, all other works were exhibited at The National Art Center, Tokyo, where visitors could enjoy the show in a more spacious space, comparing to the space last year. As for the Art Division Grand Prize winning piece "Cycloid-E" by Decosterd brothers work, an miniature of the actual piece was also showcased in The National Art Center, Tokyo, which seemed like a small creature with movable arms.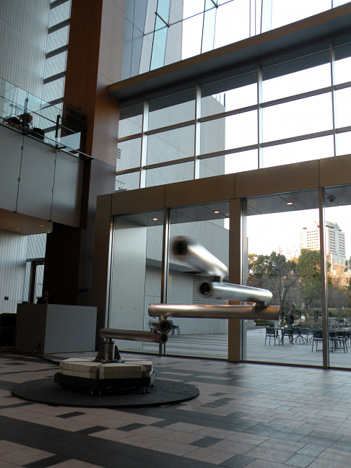 Michel DÉCOSTERD / André DÉCOSTERD (Cod.Act) "Cycloïd-E"
Exhibited at the Tokyo Midtown, the actual piece of the Cycloid-E was a beautiful piece, which reaches 10 meters in its diameter. This work attracts people with the artificial aspects of its motion, sound and appearance, as it is similar to that there are physical attractions in the nature such as a centrifugal force and gravity. I could receive a lot of information from this work, comparing to other intangible pieces.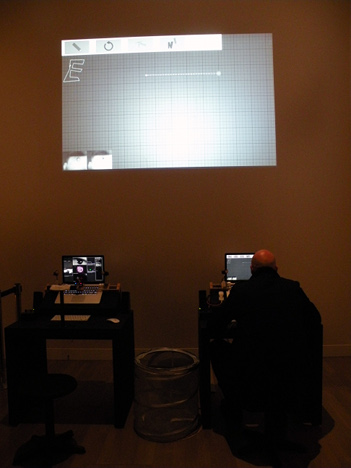 Zach LIEBERMAN / Evan ROTH /James POWDERLY / Theo WATSON / Chris SUGRUE / Tony TEMPT1 "The EyeWriter"
Next piece was "The EyeWriter", which I was personally looking forward to see since it was selected for the Excellence Prize of the Art Division. The actual piece was installed and viewers could enjoy to draw by using own eyes. It was developed as an interactive interface tool to draw by eyes for physically disabled. As it is an open source, many people can use it. This piece was continuously maintained and developed to make it more useful.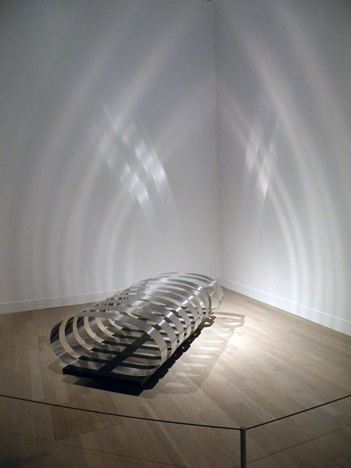 Peter TILG "Succubus"
Among other experimental pieces, a sculptural piece "Succubus" by Peter Tilg attracted my attention. Selected for the Encouragement Prize of Art Division, it fascinated us by showing its unpredictable motion.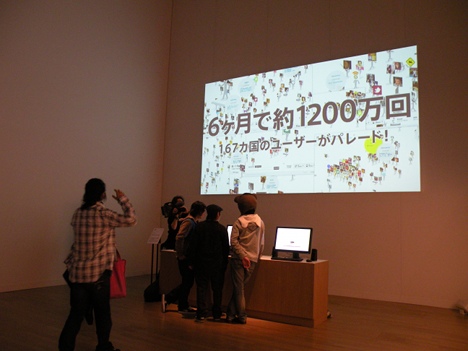 HAYASHI Tomohiko / SENBO Kensuke / KOYAMA Tomohiko "IS Parade"
The prize winning piece for the Entertainment Division was something you can feel the time. The Grand Prize winning work "IS Parade" was made utilized by a social network tool "Twitter", and there were other selected works using iPad and iPhone. In front of these works, you would be able to feel as you are living in the world of media art, and as you are participated in this age.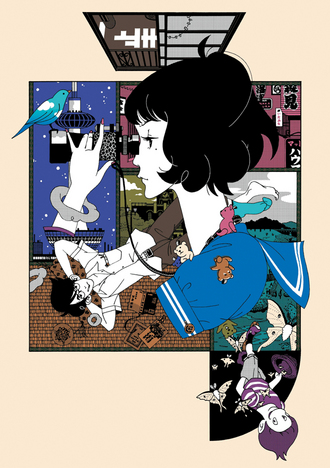 Animation Division Grand Prize "The Tatami Galaxy" Masaaki Yuasa ©The Tatami Galaxy Committee
Masaaki Yuasa's "The Tatami Galaxy" received the Grand Prize of the Animation Division. As the first Grand Prize given to a TV animation, the fast-talking monologue helps to invite viewers deep into the story. Probably you will be surprised by the high quality of this TV animation.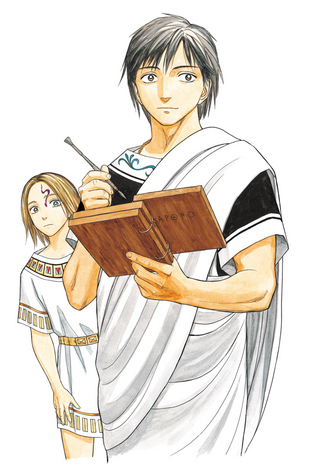 Manga Division Grand Prize "HISTORIE" Hitoshi Iwaaki ©HITOSHI IWAAKI / Kodansha
What you think new changes as the time goes by. The Manga Division Grand Prize piece "HISTORIE" by Hitoshi Iwaaki is about an ancient story and is still unfinished piece. It is a piece selected for a media art festival. Thinking about it, I assume there needs to have something trend, something very "present times". I think while the realm of media art and entertainment seek something future and technically developed, the realm of manga explores the old times to seek something futuristic.
Lastly, Yoshiyuki Kurihara who received a Special Achievement Prize, provided a great speech for us at the ceremony. Known as a great editor, he promoted Manga as a culture. " Manga consists of 2 frames. 2 interesting frames are the starting point to create thousands of frames of manga," mentioned Kurihara. His comment can explain everything in the media art. As the festival ended on 13th February, please get ready for the next festival for the creation of 2011.
The 14th Japan Media Festival
Date: February 2nd – 13th, 2011
Place: The National Art Center, Tokyo & Tokyo Midtown
Organizer: Japan Media Arts Festival Executive Committee (Agency for Cultural Affairs / The National Art Center, Tokyo / CG-ARTS Society)
http://plaza.bunka.go.jp
Text: Memi Mizukami

[Help wanted]
Inviting volunteer staff / pro bono for contribution and translation. Please
e-mail
to us.