Roland is a considerate chap with many years of experience within the fashion arena. As founder and creative director of Whyred, he contributes to the Swedish fashion hit machine with, yet straight forms and sharp looks, a twist to the unexpected; timeless garments with resemblance to the cubism, the beatnik movement, the mod generation and pop culture. He keeps the firm close to art and music, both essential sources of Whyred´s inspiration. Whyred Art Projects originates to enhance this fact. The brand also likes to be playful with fabrics, such oil-coated and other textures. Whyred shoes have been outstanding items in every collection for men and women. All in all, through a steady philosophy and eager of new perspectives, the brand represents one of the most innovative faces within the European fashion scenario of the last decade. We wanted Roland to get himself into detail about it.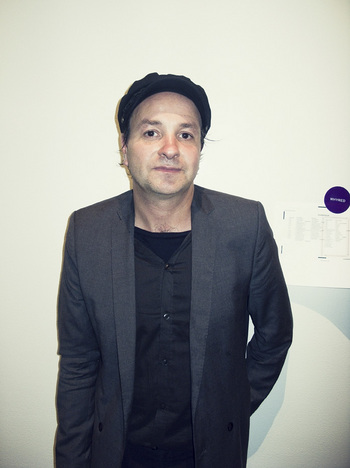 Photo: Victor Moreno
How do you see the Scandinavian brands within the international fashion arena? How do you see yourself compare with other designers from France or UK.
I think Swedish brands in general have a typical Scandinavian clean and casual touch which are easy to identify in Europe. At Whyred we try to identify ourselves with the influence of more international brands such as YSL, Balenciaga and Jil Sander for the more luxurious experience of the brand. We are expanding in Europe right now and we're hoping for an interest from the international market and that we will be compared as an international brand rather than that Scandinavian brand.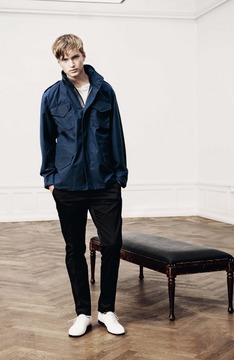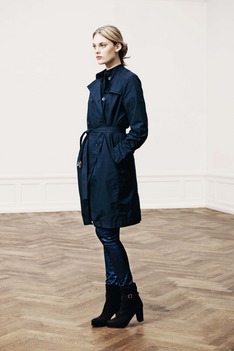 Whyred SS 2011 collection
Have you presented your last collection "Aspiration" in New York or Paris?
Our press agency had a pop up show room in Paris in November and our collection was appreciated for its prints and color palette. We currently work only with the Scandinavian market but will expand our press market to a international market as soon as we sell there as well.
How is the U.S market for you?
We do not sell in the US.
How does the Asian market work for you?
We have wholesale in Korea and in Australia.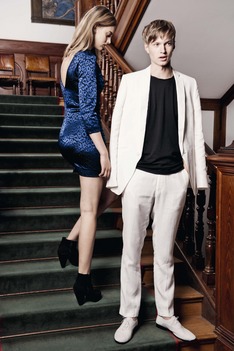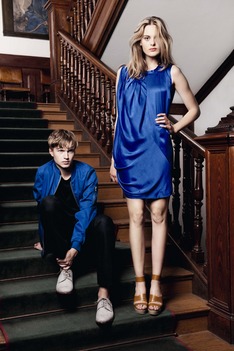 Whyred SS 2011 collection
Regarding the quality of the product itself, how important is brand´s functionality for you?
The balance is always of importance.
What are you currently working with?
We just finished the fall collection of 2011; soon it will be introduced for the fashion week.
As a designer, do you have inspirational muses?
Paul Weller for his way of expressing the mod philosophy. A roughness with boots, military knit and a parka together with a sharp tailored suit. David Bowie, Lou Reed for the street smart classic yet modern styling and Alain Delon for always dressing sharp. The women's muses are Jennifer O´ Connelly, Sofia Coppola and Bianca Jagger fused with the more androgen Tilda Swinton and Patti Smith. It's more about their "air" than specific styles they are wearing. They are the muses we would like to dress.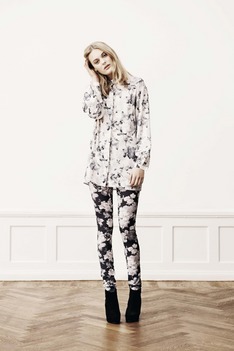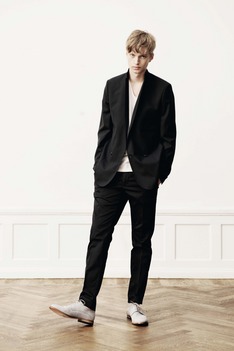 Whyred SS 2011 collection
Please tell me about Whyred Art Projects and next collaborations.
My interest in art has emerged in a series of collaborations with friends of mine which we call "Art Projects". Jockum Nordström has designed a pattern for our underwear line, Roger Andersson made a print for our leather bags and Jonas Nobel designed an umbrella and a scarf. We are now working on a larger collaboration with the Art Museum Liljevalchs and will connect several new upcoming and old gem artists. We are in the process of it so I'm not able to tell more than this…
Music is an important factor for the brand. Tell me about it. Has any band performed at any of your shows?
Yes, music is an major inspiration and lots of our muses and ambassadors are musicians. We have special selected playlists streamed in our stores to identify our inspiration and every show has a careful selected musical theme. We have never had a live gig at our show but we made the Swedish artist Markus Krunegård and Viktoria Bergsman (Taken by Trees/The Concretes) record exclusive covers of The Dead Boys song "Ain't it fun", John Cale "1999" and Caetano Veloso "Maria Bethania" for our AW09 collection and we are planning a collaboration with Johan Hinders (Audionom/ Fé) for our upcoming AW11 show.
What do you enjoy more, listen to classic bands, the new bands or it is generally just a mix of both?
A mix of both! Classics as David Bowie, Silverbullit, The Smiths, Television Personalities and Velvet Underground are always present but new bands I'm fond of are Audionom, Soft Moon, The Horrors, Sun Araw, White Fence, Chromatics, Hype Williams and Salem.
At Whyred stores you can find nice books as decorative items, from interesting artists or just great visual compilations.
Our books in our stores are duplicates of my own library and works as inspiration for our customers to understand the design process, styling and attitude we want to express through our collections. They are books I always have in near reach. It can be Cindy Sherman, Helmut Newton, Olafur Eliasson or a book about the Hitchcock styling or the life of Paul Weller.
Text: Victor Moreno

[Help wanted]
Inviting volunteer staff / pro bono for contribution and translation. Please
e-mail
to us.