"Cloud Forest" is Fujiko Nakaya and Shiro Takatani's attempt at art as an environmental realm.

Fujiko Nakaya + Shiro Takatani "CLOUD FOREST – Patio A, Patio B"
Like a pair Like a pair of folding screen paintings, the collaboration of Fujiko Nakaya's "Fog Sculptures" and Shiro Takatani's illuminations and acoustic work, are juxtaposed in "CLOUD FOREST Patio A" and "CLOUD FOREST Patio B." They are part of 4 original installations displayed in the large exhibition spaces inside and outside of Yamaguchi Center for Arts and Media (YCAM) where the 2 artists resided and worked specifically for this exhibition.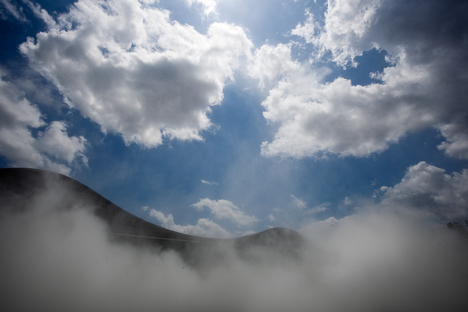 Fujiko Nakaya + Shiro Takatami "CLOUD FOREST – Fog Installation #47784"
While "the environment" is the theme of "CLOUD FOREST," here, environment refers not only to the natural setting, but it also encompasses the nuance of the larger social, psychological, and informational spheres. By combining man-made fog, sunlight, and sound, a dialogue between the natural and the artificial environments transpires, as well as the ambiguity that exists between these two realms.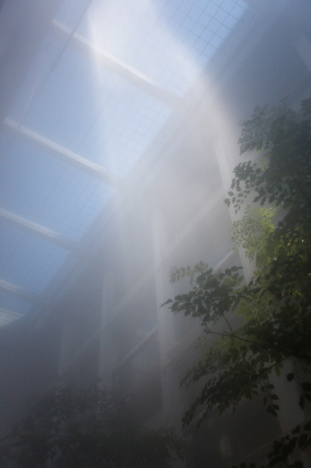 Fujiko Nakaya + Shiro Takatani "CLOUD FOREST – Patio A, Patio B"
Surrounded by glass, allowing sunlight and rain to pour into the rectangular structure, "CLOUD FOREST Patio A" and "CLOUD FOREST Patio B" are exhibited in the courtyard. In this space, fog, light, and sound are the three elements that produce altering environmental situations that appear fleetingly, as the weather and the milieu within the venue influence the entire installation. Exhibits A and B continuously display different expressions depending on the placement and timing of the fog dispenser and the angle of the light.
At one moment, the vision in front of you suddenly turns white as the mist swallows the person standing next to you, and you feel as if you have wandered into the fog. At another moment, the reflections of the light rays shining through the fog gives a fantastic spectacle. And yet another time, thick fog collects below while the space above remains wide and clear, reminiscent of an ink painting.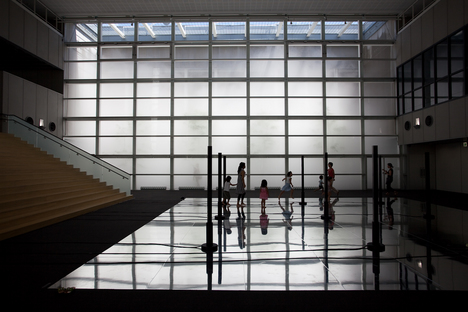 Fujiko Nakaya + Shiro Takatani "CLOUD FOREST – Foyer"
"CLOUD FOREST – Foyer" is an exhibit that reacts to the position and distance of visitors standing inside the foyer by emitting sounds at various speeds and directions through superdirective speakers placed at equal intervals throughout the exhibition space. Inspired by David Tudor's soundscapes that respond to the environment, this work utilizes 9 acoustic machines and mirror-like floors that reflect light and reverberate sound in complex combinations. By transmitting noise from a different part of the YCAM facility in real time, along with various field recordings from Yamaguchi and other areas, this exhibit merges natural and artificial environments. It allows visitors to sense the layers of sound and the gaps between sounds that are often unobserved. Moreover, after standing in this space for a while, you begin to identify new sounds, as if standing in the middle of a forest of sound.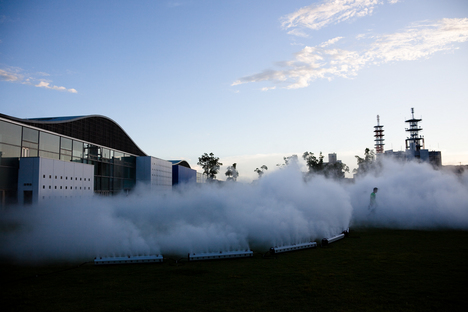 Fujiko Nakaya + Shiro Takatani "CLOUD FOREST– Fog Installation #47784"

The exhibit, "CLOUD FOREST – Fog Installation #47784," displayed in the Central Park in front of YCAM is a collaboration between Takatani's structural design and Nakaya's "Fog Sculptures." On a different scale from the exhibit in the courtyard, the fog in this installation alters its flow and thickness, adapting to the strength and direction of the wind. By incorporating unexpected factors and adjusting to conditions, this work is continuously changing, constantly revealing new expressions. The familiar sight of the park suddenly reveals a different face, and ordinary scenes become part of the exhibit.

Fog, light, sound, vapors, and wind stimulate one's senses of vision, sound, touch, and smell, allowing visitors to experience feelings that are not easily sensed and to enter a world that is not readily visible.By experiencing "CLOUD FOREST," hopefully, you will be able to see new connections between art, information, and environment.

Fujiko Nakaya + Shiro Takatani New Installation "CLOUD FOREST"
Date: August 7th – October 17th, 2010
Open: 10:00-19:00 (Central Park open till 17:00)
Closed on Tuesdays (Next day, if Tuesday is a holiday)
Place: Yamaguchi Center for Arts and Media[YCAM], Studio B/Foyer/Courtyard/Central Park
Admission: Free
http://www.ycam.jp

Text: Wakana Kawahito
Translation: Makiko Arima
Photos: Ryuichi Maruo (YCAM), Courtesy by Yamaguchi Center for Arts and Media [YCAM]


<!- Rubicon OS Player -->