The universe spreads from a myriad of tiny daily events.
Works by printmaking artist Arinori Ichihara, who is reaching 100 years old this year, features otherwordly landscapes. Born in 1910 and living in Otaru Hokkaido, Arinori Ichihara's solo exhibition "Arinori Ichihara's print show" was held at Collection Gallery in the Hokkaido Museum of Modern Art until June 20th.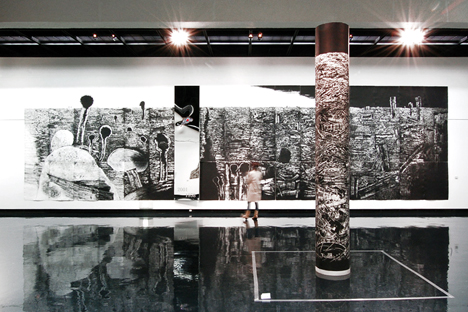 «HMMA» (2001) , exhibition view of Arinori Ichihara's print show at Hokkaido Museum of Modern Art
By encountering haiku (a form of Japanese poetry) as a pre-teen, climbing at the beginning of his 20's, and printmaking at the end of his 40's, Ichihara has worked on diverse creations. These various works were showcased at the exhibition where you could follow the track of his longstanding creative process.
Ichihara first started to work on the form of printmaking called monotyping, which allows the artist to produce a print once. While working at the Otaru Saving Bureau of the Ministry of Posts and Telecommunications, Ichihara was already known as a haiku poet and alpinist, and started to oil-paint when he was around 40. One day when he was painting, he accidentally found the trace of a palette knife which appeared on a lithographic stone. His printmaking creations originate as traces that are transferred to a print, while gaining inspiration from the process.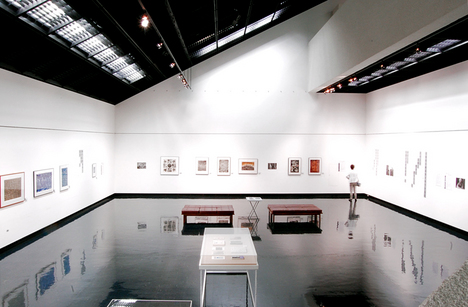 Exhibition view of Arinori Ichihara's print show at Hokkaido Museum of Modern Art
For the "Arinori Ichihara's print show", a wide range of his works were brought together showcasing various prints such as his earlier monotyping pieces, etchings, and 3D art pieces as well as his haiku poems, documentary photos of mountain climbing, and actually used etching plates. Through these exhibited pieces, I could see his explorative mind toward the "unknown" in which Ichihara challenged to experience by his various activities as a poet, alpinist, and printmaker.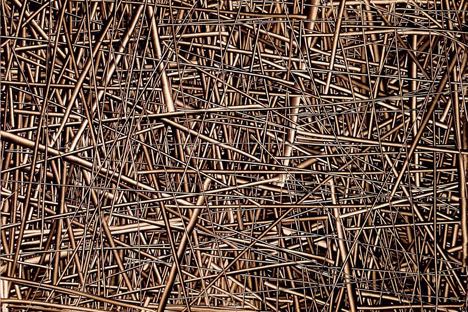 «LEN» (1978) , Collection of Hokkaido Museum of Modern Art
On the monotyping work, Ichihara first took me to the representational magnified world of microbial forms expressed at the beginning, and gradually moved to the chaotic world of futuristic cities and planets in the cosmic space. The same thing can be seen in the title of his works: titles at the beginning were named after something that can be visualized and shaped such as "Gu" and "Metamorphose" (both pieces were completed n 1958-1959), and gradually changed to something meaningless and symbolic that combines alphabets and numbers such as "RON 15" (1975) and "LEN" (1978).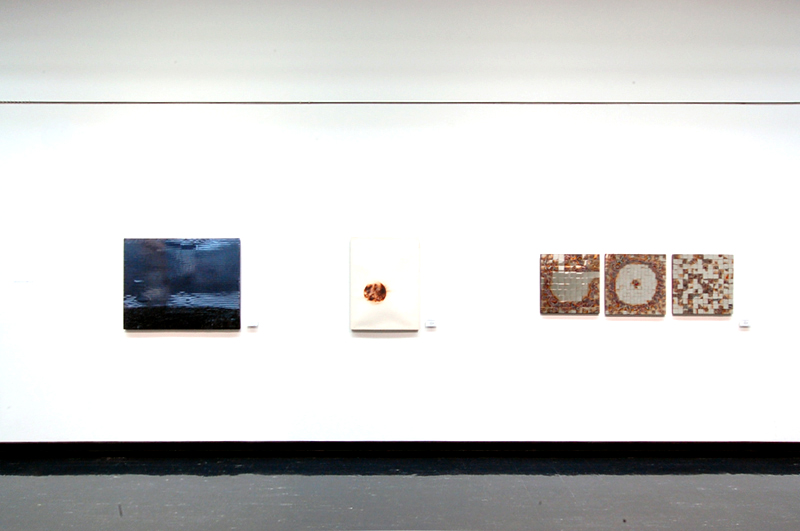 Exhibition view of Arinori Ichihara's print show at Hokkaido Museum of Modern Art
Besides monotyping pieces, Ichihara worked with various techniques; using a variety of materials including grains of rice and wheat, metal mesh and thread for press printing on aluminum plates and etching using mordant to cut into the metal plate and print it through a printing-press. He has also actively challenged on new techniques such as Branding which leaves burn mark on the metal. His interest toward something "unknown" was depicted not only on things appeared on his expression, but also on the techniques.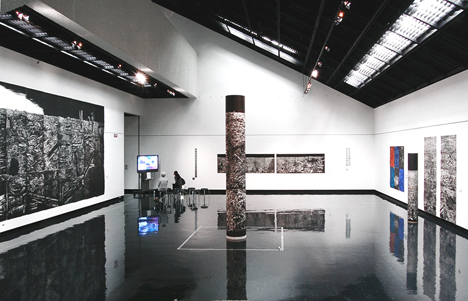 Exhibition view of Arinori Ichihara's print show at Hokkaido Museum of Modern Art
One of the highlights of the exhibition was the series of big pieces that have conspicuous presence among other exhibited works. "SON ZON" (1960-1979) was a combination of a number of printmaking pieces patched together and pasted pieces together on a cylindrical pillar. The biggest piece was called "HMMA" (2001), a combination of 48 large printmaking sheets and partly burned stainless plate. About these dynamic installation, Koji Mitsuoka, a curator at the Hokkaido Museum of Modern Art as well as an author of "Arinori Ichihara" the museum book series, says "these are ambitious works by Arinori Ichihara who tried to expand the conventional concept of printmaking." It is notable to mention that his cosmic dynamism is also present in his haiku poems as well.
This exhibition showcased about 40 pieces of Ichihara's printmaking work. As he is based in Otaru, his works are exhibited publically there such as a monumental piece installed in the Otaru city and copper plate pieces installed at Sapporo Dome Art Glove. In April 2011, an Arinori Ichihara permanent exhibition space is planned to be opened in the Otaru Municipal Art Museum, where they will exhibit their collection of Ichihara's works.
Arinori Ichihara's print show
Date: April 17th – June 20th, 2010
Place: Collection Gallery, Hokkaido Museum of Modern Art
Address: North 1 West 17, Chuo-ku, Sapporo
Tel: 011-644-6881
http://www.aurora-net.or.jp/art/dokinbi
Text: Mariko Takei

[Help wanted]
Inviting volunteer staff / pro bono for contribution and translation. Please
e-mail
to us.