PECHA KUCHA NIGHT, MONTEVIDEO VOL.3
There are events in Montevideo that I like, and there are those that I love. My favorite of late is Pecha Kucha Night (PKN), which is a cultural event devised originally in Tokyo in February 2003 as an event for young designers to meet, network, and show their work in public. The main objective of Pecha Kucha (which means "buzz" or "sound of conversation" in Japanese) is to promote interchange, creativity, the meeting of disciplines.

Miguel Ángel Dobrich. Presentador del PKN vol.3
PKN gathers creatives and entrepreneurs of different disciplines to present their ideas in a unique format. Each presenter has 6 minutes and 40 seconds to present their varying experiences, projects, and designs in 20 images, projected for 20 seconds each. As stated by the friend with whom I went, "the great thing about PKN is that even if you don't like a presenter's topic or style, it will only last 6 minutes, and you can always just look at the photos."
Since its inception in Tokyo in 2003, the event has rapidly expanded. There were over 610 PKN in 2009, in over 300 cities worldwide; an average of 50 events each month!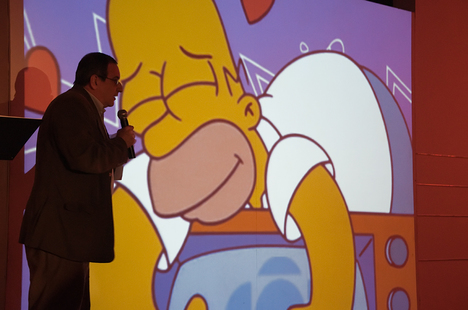 Álvaro Ahunchain (publicidad). Speaker PKN. vol.3
On April 28th, the third Uruguayan edition of PKN took place in Montevideo's Alianza Francesa (which, by the way, has an excellent french cafe if you are ever in Montevideo and are craving a croque monsieur. Find it at: Bulevard Artigas 1229) .
The twelve presenters for the third edition were Rodolfo Fuentes (design), Nicolás Jodal (technology), Jacqueline Lacasa (visual arts), Marcelo Gualano (architecture), Gabriel Galli and Brian Mackern (transdisciplinary), Gabriel Calderón (theater), Natalia Mardero (literature), Álvaro Ahunchain (advertising), Marcos Umpierrez (performance artist), Florencia Martinelli (dance) and Rocío Ramírez (science).

Marcos Umpiérrez (performance). Speaker PKN. vol.3
As always, the themes presented were varied and captivating: Gabriel Galli and Brian Mackern started the event off with a visual tour de force entitled "The supremacy of Uruguay", charting history's momentary fascinations with Uruguay, and the absurdity/splendor of the idea of Uruguay taking over the world. Álvaro Ahunchain, who comes from the advertising sector, told of a recent collaboration with Uruguayan musician and composer, Jaime Roos. Breaking down their design process revealed the complexities of creating from nothing; how a blank page is just as scary as it seems, and must be approached with reverence and bravery. Natalia Mardero's "The spaces of creation," was reminicient of Virginia Woolf's 1929 essay, A Room of One's Own, which argued that for an artist to create, they must have their own creative space. Mardero showed images of local and international writers' creative spaces.
Entrance was free. Seats were limited and were given in the order of arrival, beginning at 20:20 (8:20pm). Fortunately I arrived early, and was able to procure an actual seat for the first half. With over 1,000 people in attendance, most of the audience watched the presentations through simultaneous projection from the house gardens. The night was lovely, and for half of the second half, I too perched on the outside stairwell watching the presentations on the big screen. Whether one was inside or out, there certainly was a buzz in the air.
Pecha Kucha Night Montevideo is organized by the cultural studio, Metroveinte. For more information, interested parties can contact Silvana Bergson For more information in English about PKN, check out its original website For more information about the upcoming PKN events in Montevideo (currently slated for August), check out: pechakuchamontevideo.org.
Pecha Kucha Night Montevideo Vol.3
Date: April 28th 2010
Place: Alianza Francesa
Address: Bvr. Artigas 1271, Montevideo, Uruguay
http://www.pechakuchamontevideo.org
Text: Christina Maria DesVaux
Photos: Leandro Hernández

[Help wanted]
Inviting volunteer staff / pro bono for contribution and translation. Please
e-mail
to us.