Contact Gonzo is a performance group that has been gaining a great deal of national and international attentions by performing martial-art-like dynamic body expression. Since 2006 when they formed the group, contact Gonzo, as a group and also as a performing method, transforms to explore "improvisational contact" of the body in various spaces worldwide. SHIFT interviewed one of the member of the group, Yuya Tsukahara, prior to their performance for YCAM Performance Lounge held at Yamaguchi Center for Arts [YCAM] on May 15-16.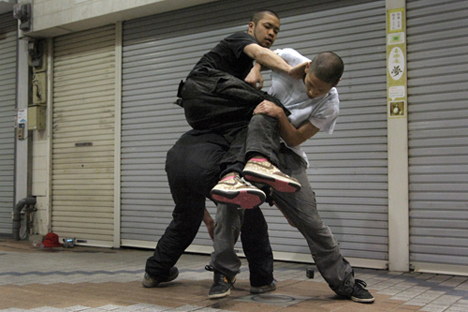 Photo: Toda Yoichi
Please tell us your activitiy with introducing members of the group.
contact Gonzo. Currently we have 4 members: Keigo Mikajiri, Itaru Kato, Yu Kanai, and Yuya Tsukahara. Focusing on the performance to bump against bodies, we play around with the shot videos and photos too.
We started in 2006 with me (Tsukahara) and Masaru Kakio who is currently a freelance dancer. Until we start something very close to contact Gonzo as a method, we both did many things like rolling down the huge hill, shooting us catching falling leaves, climbing up the sheer rocks of Rokko Mountain where we came close to be lost. We recently fall down concrete slopes like this. Our activity as contact Gonzo so far is introduced briefly on our website.
Your unique performance made a buzz recently, as it seems like a fighting performance. What have you done in the past?
We do very improvisational activity. We do anything such as jumping down from the phone booth, javelin training in the snow mountain, and also playing a little joke.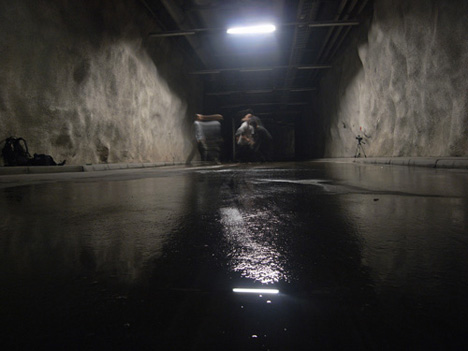 How did you start to explore the body perfomance "contact gonzo"?
It was started when Masaru Kakio invited me to "try contact at the park". I have played football for a long time and was interested in bumping and flying over. Kakio used to try things inspired by the martial arts magazine called "Monthly Hiden" which he read at the book store. At that time, I heard about the Russian martial art "Systema", and used to report what I researched on it to Kakio in the midnight park. And then we named something came out from our attempt as contact Gonzo. My interest in the body performance itself lies on the idea "nobody can obtain".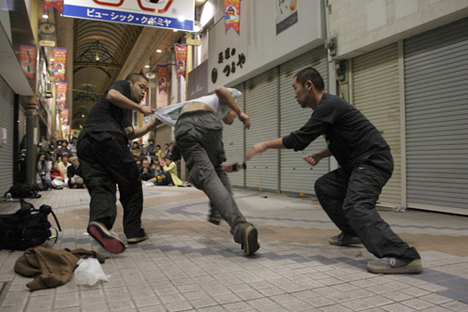 Photo: Toda Yoichi
Do you improvise all performances? Do you have any rules? Why did you start to perform in the fighting-like form through body contact?
We improvise all the performances. Basically we think after we started. We wait acting like stretching until we get an idea. In any case, once we bump into someone, a wave is automatically formed. The rule could be "not to punch in the face with fist", if we have any. We hope to have "a quick brain" which can recognize the fact when something unexpected happened.
I now came across a question to myself that the point might be "what is expected/unexpected". I want to research more on the way "to create a mistake" and the role of error in revolution. It could be clarifying the structure how people recognize an event as it is. A physical phenomenon is originally very cool to humans. An event is an event only for humans. I think there is an answer to the question, but it will take a bit more time to mention in words.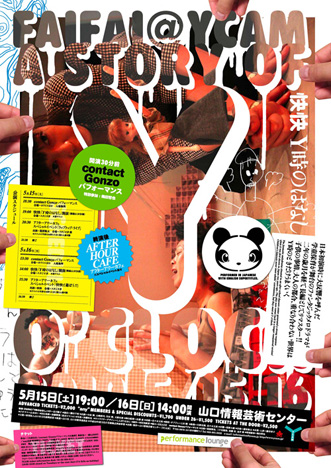 AD: Kensaku Kato (TOKYO PISTOL)
You will perform at YCAM for 2 days in collaboration with a sound/space installation artist Tetsuya Umeda. Could you reveal something more about the performance?
We went on a tour during holidays in May playing with firecrackers and smoke candles. I only heard Umeda said he will do hammer throw.
Recently you have been performing in collaboration with sound artists/musicians such as Muneteru Ujino. What genres of artists do you collaborate with? Depending on collaborated artists, do you have any different/common ideas behind the performance?
Actually we started to collaborate with various people recently. It's because contact Gonzo itself is under development as a method, and I think in the meantime we need to build our framework. For the past 3 years, we have determined very simple understandings, and pass along them to new members.
We recently started to think we could link it with other artist's work. I believe anything can be realized if you fall in love with the artist no matter who they are and what they do. The example is the case of Sayaka Himeno of Nisennenmondai. Through their videos on YouTube, we were impressed by her compelling drum act/movement, and asked to do a session with us. For the session performed on the stage, we asked her to play drum showing her back to the audience, as we wanted audience to see her move. What made difference from usual performance was an inevitable requirement of "what you want to show".
We also ask a carpenter Taruto Shirafuji to design and build the structure for the performance at Roppongi Crossing. He works on shop design in Osaka using old materials taken from demolished Nagaya buildings. His work is very idyllic in his way and stance, and because of that, it sometimes seems like rebellion in the urban context.
Besides performance, we also made the contact Gonzo magazine with a support by Kenji Kai. We asked him since he has ideas with regarding "editing" which we could relate to. He did editorial work in Osaka for the free paper called "Interviews" (published by Osaka Senpu Project), which he introduced the contact Gonzo interview. The editorial work was very contemporary and "bokutotsu-ness" (naivete-ness) added to it, which was awesome.
The common thing between our collaborators would be they all "like something good", I feel. I guess they all know where something good can be found.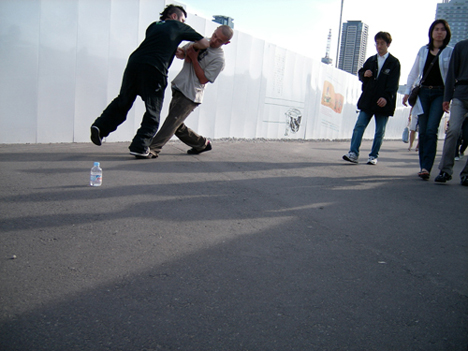 Do you have any necessary tools, materials, or elements other than your bodies when performing?
We don't set "must-have" things, but we do use disposal cameras and PET bottles. Recently we throw the package of disposal cameras during performances, and it heals me a moment as it waft in the air. Soon I get punched though.
Oh, but what we need the most is maybe a good sleep (…zzz).
The performance work touring around the world "project-MINIMA MORALIA" was awarded the grand prize for the Yoshihara Jiro Memorial Art Project 2008. Could you tell us more about your activity as an artist? Does other members work individually?
(…getting up suddenly,) I have worked in the field of "contemporary dance", but I thought we could be more flexible working in the current genre, and decided to apply to the Yoshihara Jiro Memorial Art Project 2008. For us it doesn't matter what genre we are working in, but the area of our activity spread widely.
For the project entitled as "project-MINIMA MORALIA", with a keyword "shelter" we first went to Finland, and did shooting in the fallout shelter which stretches out underground space of Helsinki, and then went to the Arctic area camping in the natural wood shelter to do shooting. These images shot there has been used for art exhibitions.
Later, we participated in events such as Nanjing Triennial and Platform Soul and did shooting films at various sites. Including the fallout shelter film, we incorporated those films into the exhibition for Roppongi Crossing. We now aim for sites where get many people's common fantasy involved in, including subway station in Russia (each radially-located subway station from the center is known for the luxurious decoration) and a group of buildings designed by Oscar Niemeyer located in Brasilia.
Our members, Kato and Kanai, do their own activities, as each studied dyeing and ceramic art at Kyoto Seika University.
Please tell us about your work exhibited for Roppongi Crossing at Mori Art Museum.
That's our perception of the "city" in the contact Gonzo methodology. It is the overall prologue of the vision for us to live in the "city".
Could you tell us your inspirations?
Walking around, and weather phenomenon. Also look, smell, clothes, posture, body, behavior of people waling down the street. Lastly a nice….ah…well.. let's go on the the next one.
Who would you like to collaborate with? Any musicians and artists?
We want to work out something unexpectedly mysterious with anybody. We want to get involved in a landscape of something very huge falling down. We want to be itself.
What would you like to challenge in the future?
Drifting. You know like when you drive a car?
The faifai "A Story of Y O'Clock"+ contact Gonzo's Performance
Date: May 15th- 16th, 2010
Place: Yamaguchi Center for Arts and Media
Address: 7-7 Nakazono-cho, Yamaguchi
Tel: +81-83-901-2222
http://www.ycam.jp
Text: Mariko Takei

[Help wanted]
Inviting volunteer staff / pro bono for contribution and translation. Please
e-mail
to us.