YIN XIUZHEN "SECOND SKIN"
Gender and identity in Chinese contemporary art realm.
March 18th 2010, Yin Xiuzhen's latest work is set on display at Pace Wildenstien Gallery in Beijin. Just a month prior to the opening at Pace Beijin, Yin's other recent work – "Collected Subconscious", is also on display at the Project 92 Exhibition in MOMA New York.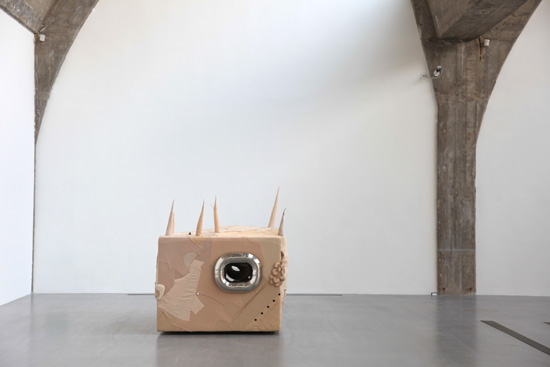 Skin Cube, 2009. Clothes, lights, stainless steel, 174 x 207 x 158 cm
In Chinese contemporary art realm, gender and identity has been major driven forces in ways how an artist develops and how its work of art evolves. In 1980s, the Chinese art realm underwent cultural evolution which reexamines current social awareness on the ideology of change in retrospect to Western culture influx and to modification in Chinese tradition, leading Chinese artist of that era to become more experimental in terms of self-development and multi-diversity. Consequently, social and cultural inflicted art became a common topic discoursed within contemporary art realm even to today.
At the Beijin Ullens Center for Contemporary Art's 2008 exhibition "Our Future", we saw Yin Xiuzhen's latest work, "Introspective chamber", an art installation comprised of colorful fabric of used garments sewn together to frame an enclosed space, allowing viewers to travel freely and to experience growth and birth – as if one is in mother's womb, back in the origin of breeding ground of human body. The creation of such work is Yin's reflection upon chaos of daily life – the lack of ease and stillness from modern lifestyle; with unruiliness of the the contemporary lifestyle, people become vulnerable and reluctant to the life and its repetitive pattern, as a result, the "introspective chamber" is purposed to build a short-term comfort and calmness that diminishes tensions one may have towards modern lifestyle that the work is about the returning to 'original', in which the experience of the chamber renews every modern man's mind to its most pristine state.
Used garments has always been Yin most popular material to work with because the medium itself convey the subliminal meaning such as time, memory and social perception. For Yin, the texture of old clothing symbolizes feminism, and remembrance; in specific, used clothing can be viewed as a common object which carries and cumulates experience from one's journey, that it is the physical representation of recollection of remembrance to daily life.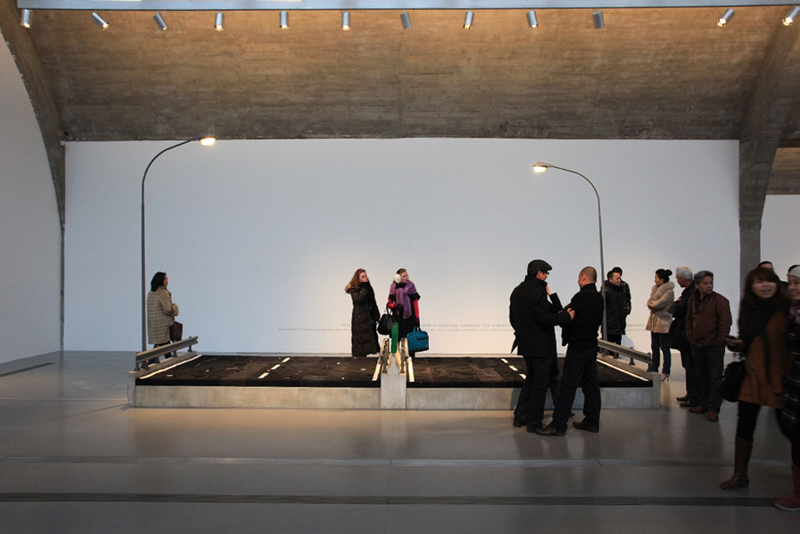 Highway, 2009. Clothes, stainless steel, aluminum panel, wood panel, and lamp. 329 x 654 x 200 cm
Yin's solo exhibition held at Pace Beijing, "Second Skin", is her newest and most comprehensive work of art. The artist uses old clothing as a human "second skin", as new agent to our body that captures common experience of daily life. Her other work, "Highway", also deals with the issue of pertaining memory, in which captures how our living environment can also works as an agent to capture one's daily experience. Yin's refabrication of the highway within a gallery space highlights the relationship shared between living environment and memory; the application of used clothing as part of the installation, the artist underscores the connection our daily life experience has to the development of modern world – how people build sentimental attachment to life and its existing environment despite the tediousness of our current living lifestyle.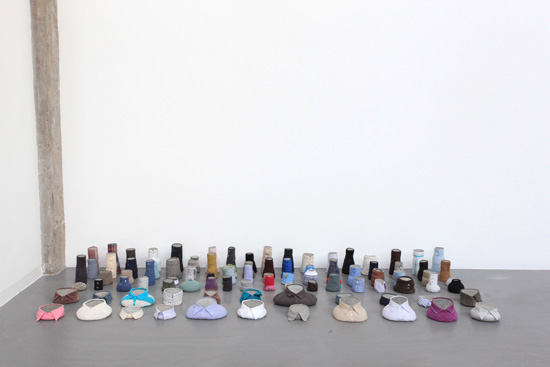 Leader, 2009-10. Clothes and concretes. 94 elements in total (72 cuffs + 22 collars, size varies per element)
Working with colour, in "Heart View", Yin's work reflects people's attitude towards life. With impacts build by our modern environment, often we rebuild oneself to fit the scene; through such experience, our attitude towards life becomes more complex, in which one may say our stance to life becomes more colourful. In a way, the colourful clothing assemblage of the "Heart View" exemplifies general perspective to the convolution of life and the indescribable attitude one may have towards the chaos and multi complexity that we live in.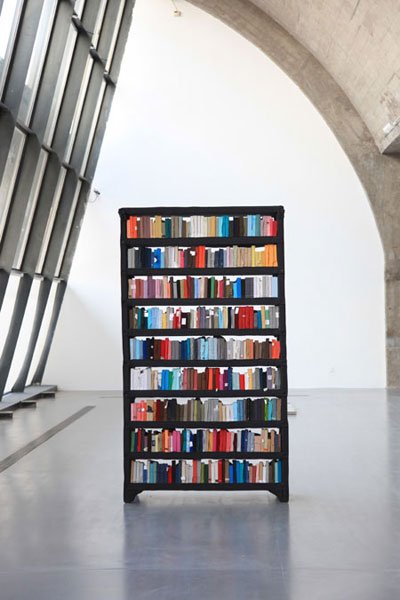 Bookshelf No. 1, 2009. Clothes, wood, and bookshelf, 226 x 126 x 43 cm
"Bookshelf" is Yin's other installation that infuses colour and used clothing fabric once again. The sculpted bookshelf and its collection of books works as an analogy to life and experience in which life is like a bookshelf that collects and carries on stories of our experience like books on a shelf, building up a collection of narratives and remembrance for others to see and to tell. In addition, with contrasting finishes on the either end of the shelves and books, Yin allows audience to experience the concept of directly, to understand better the analogy of bookshelf and life plus experience.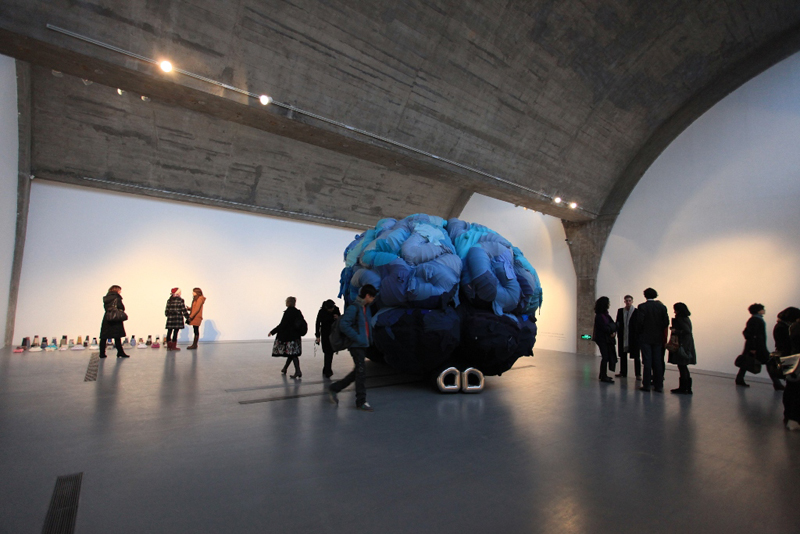 Center: Thought, 2009. Clothes and steel. 340 x 510 x 370 cm
"Thought" is a formalistic representation of human thought – with the layering of colour and used garments, the installation is sculptured in the shape of human brain, recreating similar visual experience as to "introspective chamber". The layering of used garments reminds us that memory and thoughts is a process of built up from experiences, like "Thought", our thoughts are complex in form like Yin's sculptural brain.
Like the colourful juxtaposition of the used garments, Yin signifies that life as colourful and complex through her latest works. On the whole, Yin attempts to reidentifies herself to femininity – how a woman approaches language of art with sensuality and sensibility, but at same time, with strength and vitality, like her work, fill with warmth and love towards the concept of life.
Yin Xiuzhen "Second skin"
Date: 18th March – 8th May 2010
Open: 10:00 – 18:00
Place: Pace Wildenstien Gallery
Address: 798 Art District, No.2 Jiuxianqiao Road, Chaoyang District, Beijing
Tel: +86 10 5978 9781
info@pacebeijing.com
http://www.pacebeijing.com
Text: Ralph Yuu
Translation: Ariel Yen-ju Hsieh
Photos: Zhou Yang (Pace Beijing)

[Help wanted]
Inviting volunteer staff / pro bono for contribution and translation. Please
e-mail
to us.