The Snack Age artist!
Koshi Kawachi is an artist who has been creating some hilarious works using things he focuses on, such as manga comics and snacks which are familiar to the Japanese. While he made a cover work for SHIFT April issue, he will exhibit a solo show "Tasty Buddha – The Snack Age" showcasing works using one of famous Japanese snacks Umaibo and some other works from the past to the latest ones.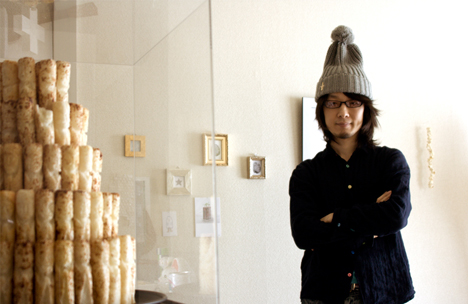 Please introduce yourself.
Koshi Kawachi. My first name sounds the same as Confucious in Japanese as well as Koshi Inaba from the Japanese famous rock band B'z. I was born and raised in Tajimi, Gifu, and now live in Tokyo.
How did you start to work as an artist?
I studied figurative experimentation course in Nagoya University of Arts. The course is under school of design, but teaches more contemporary art related studies. My thesis project was "Administrative Headquater for the Thesis Exhibition at Nagoya University of Arts", which I exhibited desolate administrative office, displaying tents, long tables with teas and ashtrays on top of them, and steal pipe chairs, (which were typically used for school events in Japan) and placing handouts about thesis works, all installed at the exhibition space.
After school, I started to work at a design office in Tokyo for 3 months, and then did some illustration for WIRED JAPAN (currently discontinued) while I was finding next job. Then I got a job at Yukimura Okumasa's office, THE STUDIO Tokyo Japan (currently known as TSTJ), which was known for the art direction of YMO. My first work there was flyer design for Takashi Murakami's solo exhibition.
After few years working at the office, I started my own office, working busy for graphic art direction, design, and illustration for books, CDs, and advertisement. In the middle of these days, my grandfather passed away about 3 years ago. Through the death to people who were close to me, I realized for the first time that 'people have an end'. Right after this experience, I made Tasty Buddha, carving Umaibo as an statue of the Buddha. I used to make art pieces when I had a spare time, but after my grandfather's death I started to focus on working as a contemporary artist.
You make pieces using ordinary goods. Could you introduce some of them?
I make pieces using things that I am accessible, because I think I could make more convincing works. So 'ordinary goods' are actually not true. In Africa or South Pole for example, the ordinary goods could be different from ordinary goods in Japan.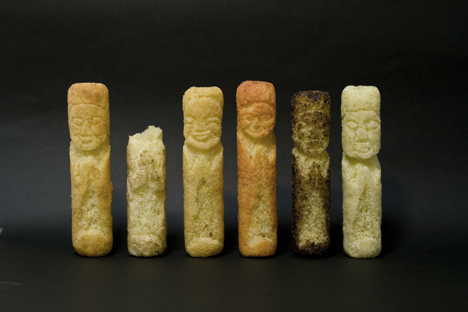 Tasty Buddha
Sculptural pieces using Umaibo in Enku's style of the Buddha.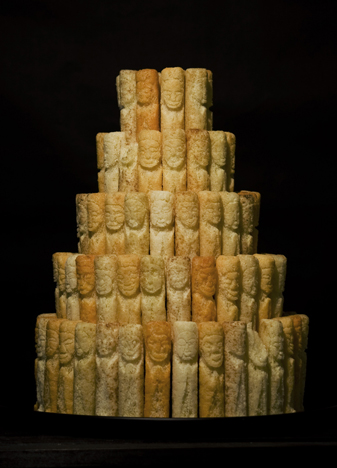 107 Tasty Buddha
In Buddhist beliefs, it is said that we as humans have 108 earthly desires. This work is a collective piece of 107 Buddha statues, lacking one to reach 108 earthly desires.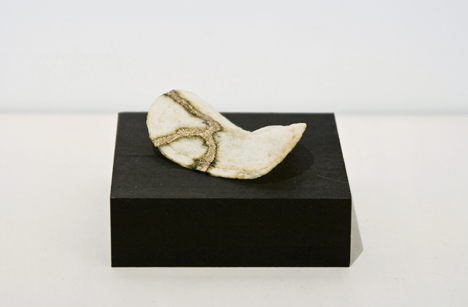 Embalming -Potato Chip-
Cracked pieces of a potato chip is "embalmed" to be restored by a traditional technique Kintsugi.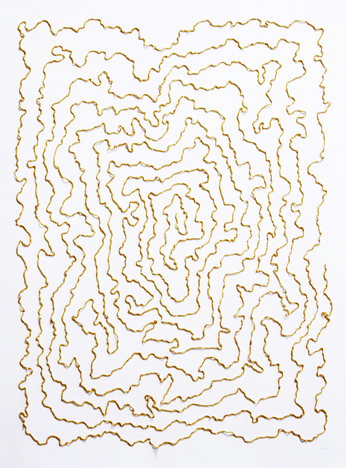 Embalming -Baby Star-
This work was connected all the pieces of noodles in a pack of Baby Star Crispy Noodle Snack. It is a same series of the Potato Chip one mentioned above. The piece is framed, so you can hang it on the wall.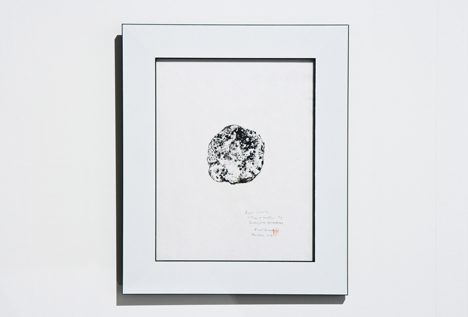 Top of the world (Pote-taku)
This piece was made to record the biggest chip in a Potato Chip pack as Pote-taku instead of Gyo-taku, which means 'fish rubbing' that is a traditional form of fish printing to record the biggest catch. Potato chips used for this work is chosen from a range of sliced potato chips, not extruded ones. It is recored with manufacturer name, store name, size, weight, and date.
You will exhibit a solo exhibition "Tasty Buddha -THE SNACK AGE-" at pARa:siTe in G-WING'S gallery. Please tell us what you will show at the exhibition.
The title THE SNACK AGE represents as it means, and reflects how I felt "this age is fribble, flimsy, and unhealthy, just like snacks are." For the exhibition, I will showcase 15 works from past and new pieces using snacks, including the works introduced above, 3-year-passed 107 Tasty Buddha, and performance film of Tasty Buddha.
How did you come up with the idea to use Umaibo for creating the Buddha statue?
I made the piece right after my grandfather died. Through the first time experience to get involved in his funeral as a relative, I was strongly influenced by Buddhism and something religious.
Enku Buddha is statue of the Buddha carved by Enku who is a Buddhist monk in the Edo era. During his travel for training, Enku carved statue of the Buddha in appreciation for people who helped him. Many of Enku Buddha were usually used as kids' toys, instead of putting up at the alter, and get crumbled. I was quite more impressed by such friendly Buddha statue than other ones. While Enku carved statue of the Buddha using 'wooden sticks', which became a toy for kids, I carved statue of the Buddha using 'tasty sticks' (Umaibo) which are favorite snacks for kids.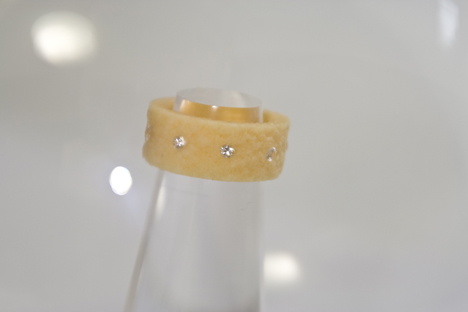 New work "Snack Diamond Ring – For the Love of Now" / pARa:siTe / a ring of Poteko with 8 diamonds
Why did you focus on snacks? Is there any specific reason why you chose 3 kings of snacks: potato chips, Baby Star and Umaibo? Do you have another snack that you are currently keeping an eye on?
For the reason using snacks, I had an idea that I might be able to express as "friendly" as possible rather than using materials like stones, woods, and metals. I was also intrigued by its cheer and spontaneous nature. The reason I chose potato chips, Baby Star, and Umaibo was they were kings as you mentioned. It was important they should be regarded as a synonym with snacks.
I am currently keeping my eyes on Happy Turn, one of the most popular rice crackers in Japan. I believe it has quite lots of potential.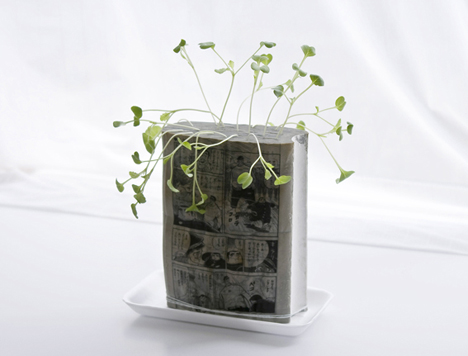 "MANGA Farming" 2009 / Comic book, Seeds (Radish sprout), Water, Sun, Air
Could you introduce another work using comic books, MANGA Farming?
As I am an artist, I tried to grow vegetables with comic books and water. I made a seedbed with a comic book poured enough water, and put germinated seedling between favorite pages.
I tried to grow various vegetables such as spinach and carrots, but radish sprout is the only vegetable that has rooted and grown. I think the best look vegetable on comic books was spindly grown radish sprout, after all.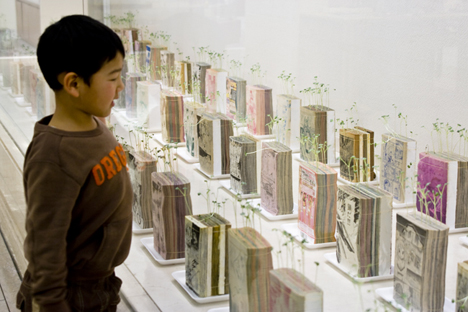 "MANGA Farming" 2009 / Nagoya Matsuzakaya / Comic book, Seeds (Radish sprout), Water, Sun, Air
MANGA Farming became a charming piece as it seems that the vegetable is growing absorbing the content of comic books, and that the vegetable falls over because of its own weight. For my creation including this piece, I would like to make "something nice for some reason".
What do you get influenced by when creating works?
Things and happenings that surround me, such as dust at the corner of room, smell of dinner, and feel of cat's pads.
Could you discuss about the idea for the cover art of SHIFT?
The title is OASIS, made for the SHIFT cover. It is made with a piece of Potato Chips nori & salt, collecting flakes of aonori (green laver) in one area. I gave a message to environmental conservation and limited green.
What would you like to explore in the future?
I would like to try making "Happy Turn" pieces (laughs).
As I used vegetables for MANGA Farming, I would like to challenge creating pieces incorporating other natural elements.
Tasty Buddha – The Snack Age
Date: April 1st – 16th, 2010
Open: 9:00-17:00
Opening reception: April 3rd 18:00-20:00
Place: pARa:siTe
Address: Ne 24-1 Matudera-cho, Kanazawa
Tel: 076-238-0788 (G-WING'S gallery)
http://shiryokuen.com/parasite.htm
Text: Mariko Takei

[Help wanted]
Inviting volunteer staff / pro bono for contribution and translation. Please
e-mail
to us.