Walking down stairs to the gallery CAI02, you will hear the sound of harmonious birds singing coming from inside the gallery. And you will be welcomed into the ambient space created by Junichi Oguro for his solo art exhibition "Sound Art Exhibition" starting from March 6.
A Sapporo-based sound media artist, Junichi Oguro held his first solo exhibition showcasing a sound installation that creates a space using invisible sound lines with special speakers to combine inaudible low-frequency sound with his own produced sound.
The exhibition space consists of 3 different sound installation works. Two works use the vibration of low-frequency sound. The first piece "Phase +/-", installed in the center of the space, is a twin speaker made with 4 strings each connected from the ceiling to the speaker device on the floor. The vibrating sound is delivered through speakers to the the vertically extended strings which you can then see vibrating. The second work is "Sound shadow", which consists of 4 sound installation pieces that project reflections of light by resonating low-frequency noise with a mirror. On these 2 installations, you can see the subtle fluctuation of inaudible sound come to life.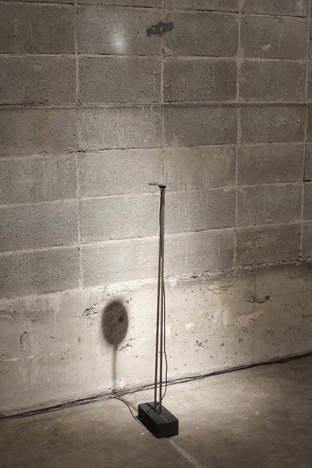 Sound shadow. Photo: Yoshisato Komaki
The last piece "Sonic line" is a special speaker with which you can feel the "form of sound" as it is delivered linearly. Sonic line is a unique sound piece which will take you to another dimension, as the singing of field-recorded birds stimulates your senses. A thin rectangle panel mounted with special speakers, is hanging from the ceiling, and you can hear the linear sound of field-recordings from Otaru and Europe remixed. As the panel moves, the sound reaches different points of the area. Also, as you move around the space, you will be hearing the sound from different directions as the sound moves around and hits the wall and audience.
Oguro has been in the field of music performing live and making CDs. Since then, he had the idea for an exhibittion "to put sound into form" for a long time. While he is active in creating music works, he also works commercially, including TV commercial music for Marlboro and Playstation 3, outside Japan. He mentioned that he has been into music since his childhood, first starting to learn music as a kindergarten kid on an electronic organ and later joining a band as a teenager. Since then, he has grown with music. SHIFT had a chance to talk to the artist about his creative activity involved in the music field.
How did you get involved in music work such as producing music for foreign TV spots, and recent work for Adidas in the 2009 Olympic Games?
Since I launched the audio/visual techno label called "aerostitch" in 1998, I have been involved in making audio visual works. One of those works was once selected for the digital movie festival "onedotzero" in 2003. I had in mind that I always wanted to make a work by adding something extra with sound. While I work on these, I have worked at the company specialized for acoustic vibration measuring equipments for 10 years. So, I always looked on sound from 2 different perspective of producing music and working at the acoustic company. And I started to work on sound designing since I got offered jobs after being selected for onedotzero.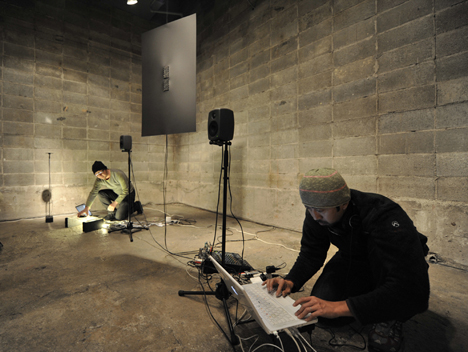 Opening Live Performance with Koss a.k.a Kuniyuki. Photo: Motohiro Sunouchi
You work on sound designing for film and space, sound-scape and media art. Could you discuss about your work in detail?
As for sound designing for space, I recently work on transforming film visuals into sound and expressing visible senses in ambient-like sound on computer programming. Basically I want people to feel my sense through objective things like sound.
As for sound-scape, I used to visit forests and beaches to field-record all sorts of sounds of nature while visiting abroad. Once I stayed in Belfast, North Ireland for a residency program making works of sound art for 2 months. I made a remix of the sound of a harbor and a crowded city, to rebuild the sound-scape of the city.
You will launch a new project "43d" in this spring. What is the project about?
It's an ambient label project to make the sound-space of the world by mixing city sounds which were field-recored in each city and uploaded on the site. The project name "43d" is originated from the northern latitude of 43 degree which is the location of Sapporo city. As you enter into the site, you can select your favorite sounds among various areas in the world and remix them. For example, you can mix sounds of crowds in NY and river stream in Amazon forest. By doing so, you can offer never-heard sound and new ways of listening to music. With the project we'd like to offer such new ways of sound expression through the internet by using elements such as sound-scape and ambient. And then, we are planning to release them making iPhone apps and CDs.
Junich Oguro created a "space where you see with ears" in the exhibition. Constantly releasing music for iTunes, he recently joined in the new release of a techno compilation album coming out this spring as well. Keep track on his future activity of sound design, sound-scape and sound art which will broaden the horizons of both people who deliver music and audience.
Junichi Oguro "Sound Art Exhibition"
Date: March 6th – 24th, 2010
Open: 13:00-23:00 (Closed on Sundays and holidays)
Place+ CAI02 raum1
Address+ B2F Showa bld, Odori West 5, Chuo-ku, Sapporo
Tel: +81-11-802-6438
Organizer: CAI
Support: Tamagawa kasei Co., Ltd / TriState Co., Ltd / Sound Project Co., Ltd / 43d
http://cai-net.jp
Text: Mariko Takei

[Help wanted]
Inviting volunteer staff / pro bono for contribution and translation. Please
e-mail
to us.