A bag is a very personal space which you can take along with you. Yusuke Kagari is a bag designer who have special consideration over the texture of bag, as rebuilding the mobile space and separating the personal space as a wall. He also manages a a gallery "p2g". What's his idea of bags? What's his focus?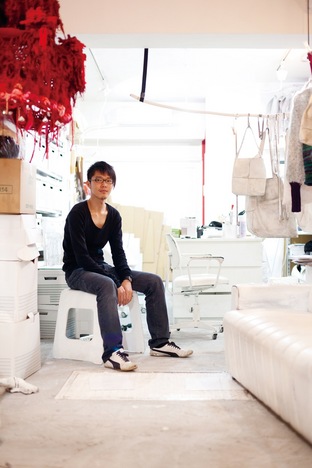 Photo: Osamu Kurihara
Please introduce yourself.
Yusuke Kagari. I'm 25, born in Osaka. I make bags. At the end of 2005, my brother asked me to share a room together, and I decided live and work in Tokyo as a bag designer. My father is a washi (Japanese rice paper) artist, so I think I got influence from him. I went to Osaka Designers' College where I studied the stylist course. Then, I decided to make bags selected from other products like clothes and shoes, as there are many rules for these productions.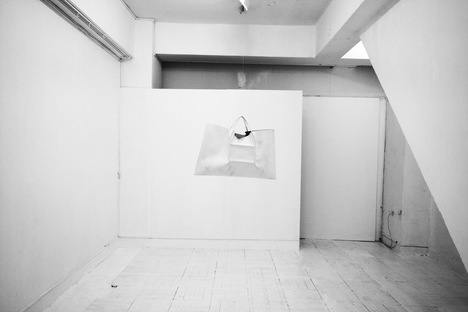 Did you set up any design concept? Did you get self-taught for making bags?
I got self-taught. At that time, I was looking for unique materials, and one of my close friends at the fabric wholesale store informed me that there were many white nonwoven fabric left. The nonwoven fabric looked pretty as it looked like kitchen paper. After making things with paper over a year and half, I started to use leather. Then, I got into making not just "things" but products like bags. For me, bags are special among other fashion items. Then, I started to make bags based on the theme of bag itself. I also take photos. The college I graduated has better association with photography than fashion, and is a sister school to the college where Daido Moriyama studied. Anyway, I am into photography and take photos which are used for catalogs.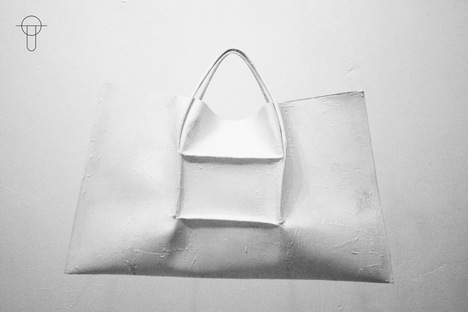 Please introduce features of your bag.
What you put in your bag is different from others. It's like your own room. It's very personal. Inspired by rooms for kids, I got an idea to paint bag surface with putty like finishing with putty on the exterior wall. I like the texture of putty. You can make the surface bumpy, or hide perforations. It's very useful. With putty, I color, make a mess, and do little things with adjusting colors. I've been through trial and error.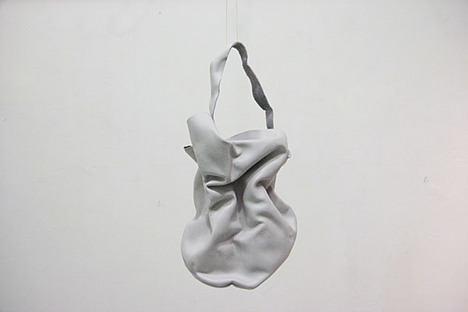 Please tell us the making process of a bag?
Occasionally I start to draw roughs of the design, but I normally make it with feeling the material with hands. I paint putty on the flat surface of the material first. Using putty is good at making thickness, while paint is good at painting nicely flat. As putty is originally used to fill holes, it's effective to form three dimensional, which is similar to resin. It takes a long time to dry out, as the thickness of putty reaches 1.2 mm to 1.3 mm at most. After putting rest for 2 weeks, I put together to form a bag and putting putty again to hide perforations, and varnish it last.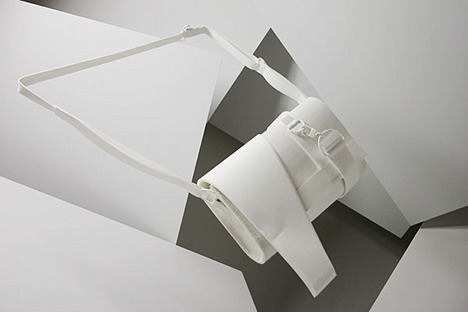 How do you get idea of the form of bags?
I'm intentionally trying to explore the form of bags from the next solo exhibition. Starting with a rectangle shape, it is something about the smallest unit like "one dot" which is expressed as a computer term. When I make a space of bag, I think rectangle is the shape that is derived from human's invention, and I want to take that idea into my bag design. For example, haney-bees make their space with the honey comb structure, while human basically makes a space rectangular. The design concept for my bag is based on such fundamental way to make a space. That's why I start making it with rectangle shape. So starting with rectangle, the shape goes to square and it will be folded down to triangle shape. I think it's interesting to have transition in the design. With such vision, I started to make my new work, which turned out to be a backpack.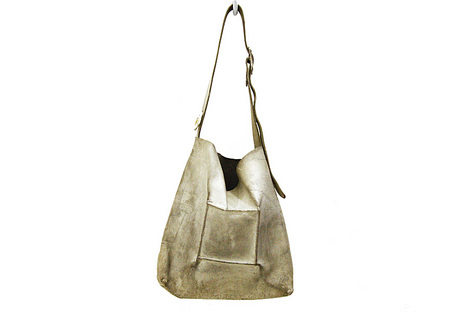 The Wall Series is a bag series which I tried to remove organic feature of leather. For this series, I pursued to recreate a kind of concrete texture, but it resulted quite organic, which I am actually enjoying. Also, I think a great deal of texture. As for color, I enjoyed the process to get smudged on the white surface. I do that because I have an idea of beauty of deterioration.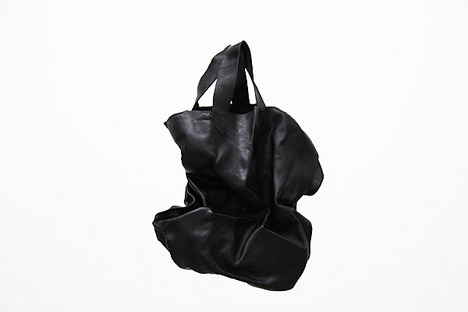 The Skin Series is a series which have a wrinkle finish entirely. I love visiting zoo. At the Adventure World located in Wakayama, you can actually tough elephants. And seeing animals there, I can find out that the skin of animals look dirty and grotesque, but once it is processed into leather, it looks very beautiful, as it is tanned, painted and cleaned. But I think it's more beautiful with grotesque texture. So this series is the work exploring organic texture with wrinkle finish to give it more natural taste.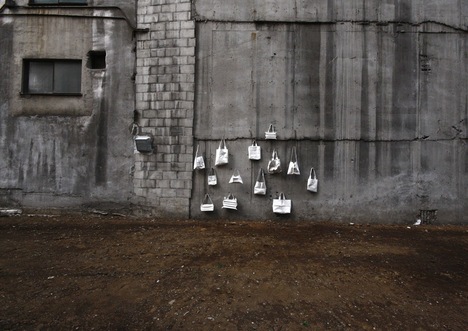 Where do you get inspiration when making bags?
I get inspiration from concrete-made structure like bridges. I'm not sure, but I think so (laughs). I also aspire to the street culture in a way. And I have some maniac biker around me, so I get interested in the Netherlands, as there are many bikers there. So, I have some ideas for the form of bags for bikers. Sometimes I set up the overall design to make a bag, buy usually I shape a bag, and later make a decision of the use when putting handles. I design the shape of the bag independently, but I usually decide the relationship with handles and users.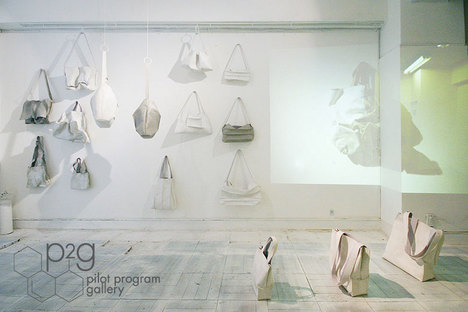 Yusuke Kagari mentions that it's fun to experience playing around with making bags as if playing with lego blocks like a kid. His original bags are available at his website as well as a shop called "caprice" in Nakameguro and a museum shop at The National Art Center, Tokyo among other shops. His new collection entitled as "2.5g" will be showcased at p2g from March 20.
p2g
Address: 1F 1-3-5 Higashi-Kanda, Chiyoda-ku, Tokyo
Tel: +81-3-3861-6031 (by appointment only)
info@p-2-g.com
http://www.p-2-g.com
Text: mina
Translation: Mariko Takei

[Help wanted]
Inviting volunteer staff / pro bono for contribution and translation. Please
e-mail
to us.