What is fashion? What can we do with fashion?
A fashion designer, Yoshikazu Yamagata works to emotionally expand the concept of fashion, tackling big questions like those above. He stirred controversy with his past JFW (Japan Fashion Week) collections such as "A Naked Kingdom" which questioned what fashion was about, "Graduate Fashion Show 0 point" which showcased the strength of starting from zero in fashion, and "The Fashion Show of The Gods", his Spring/Summer 2010 collection which examined the origins of creation, presented in October 2009. SHIFT interviews the man, who also started a new educational hub called "coconogacco" last year, to foster young creative talent.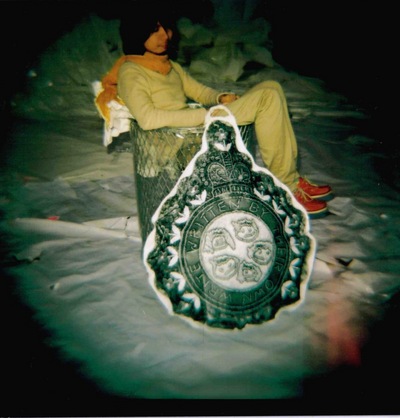 Photo: Haruko Uefuji
I think your approach to the many possibilities of fashion is quite individualistic. When and how did you start to come up with your ideas for fashion? Were you inspired by philosopher and fashion authority, Kiyokazu Washida?
I got interested in fashion when I started dressing myself up as a teenager. I started to ponder a lot of questions like, 'what is the definition of fashion?' In those days, I came across books written by Kiyokazu Washida. In clearing up many concepts which were once hazy to me, the fashion-related ideas they discussed really struck a chord within me. I've realized that the definition of fashion is ambiguous, but one thing I can clearly say is that fashion isn't just about the garment itself. Through following trends and choosing clothes, fashion is the phenomenon of adorning yourself. I believe we should understand fashion in the nuanced terms of 'style'. We can start to grasp the real meaning of fashion through this, combined with the social element of how it mirrors popular fads, for example.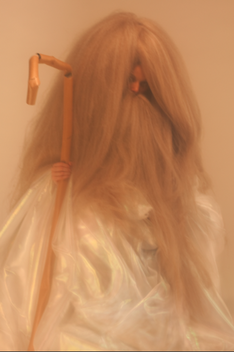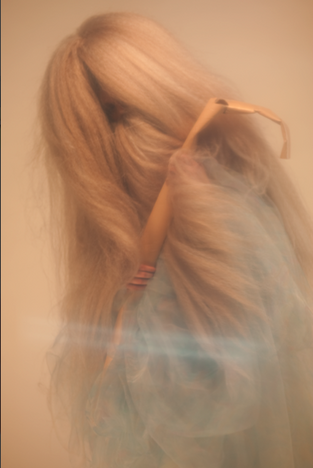 Photo: Daniel Sannwald
You discussed the various possibilities of fashion in the collection "A Naked Kingdom", and expressed the strength of 'borderless' fashion as well as the strength of 'point zero' in the "Graduate Fashion Show 0 point" collection. Through consumption and economic patterns, what seems to draw public attention in fashion these days is 'fast fashion'. And in the latest collection "The Fashion Show of The Gods", you took that concept of 'fast fashion' and presented a collection of 'fast clothes'. Could you tell us a bit more about "The Fashion Show of The Gods"?
Since the beginning, my collections have always been concerned with going back to the most basic point of creation, zero. The reason why I wanted to do "The Fashion Show of The Gods" was that I wanted to express the process of creation, or the way '0' changes wholly to the number '1', which would work as a sequel to the previous collection. In exploring the origins of creation, the idea that the "Creator=God" came to my mind. With that, I got inspired by thinking about what the Creator would wear, which further led me to question, "What if gods were doing fashion shows?", and I proceeded from there.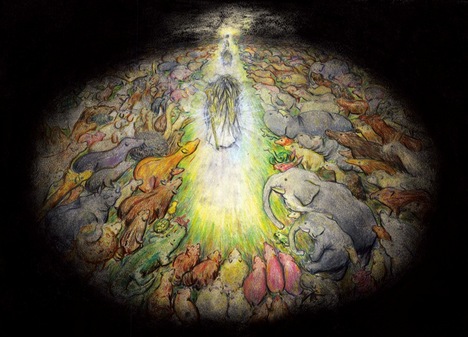 © Yoshikazu Yamagata
In the process of creation, what do you concentrate on the most? Please tell us about your points of focus.
Most importantly, regardless of the form, I focus on originality and creation. Creation is of prime importance to me, even though for every simple product I come up with, there are also instances I come up with extremely complicated or abstract products difficult to understand. It's difficult to understand the creativity behind "The Fashion Show of The Gods" unless you approach it from an unconventional point of view. I've been told that draping someone in cloth isn't that creative, since it's been done for thousands of years. I understand that completely. But through that, I got the idea that no one thought to wrap just an entire roll of cloth (measuring roughly 10.6m by 30cm) around each model before. And nobody had ever thought to push the idea far enough to dress them up like gods that way, and then fashion scepters from scrap cardboard for them. Besides, I think that each fashion show, in the exceedingly limited number of days you have to put everything together, all the way from start to finish, could also in a way be 'creation'. I thought that there hadn't yet been an approach to show and explore the fashion show as a performance stage for fashion.
I think what I most want to do in my work is to set myself as far apart as possible from other designers in terms of how I perceive fashion. What I want to express is fashion as a phenomenon. I am most interested in the personal manner of dressing up and social trends that might be related to fashion. I see it as a form of human communication, and I always think about how to express the relationship between the two. I want to be a fashion designer who can express 'fashion' itself. Therefore I wanted to present the nature of fashion itself in "A Naked Kingdom". Being naked might itself unexpectedly become a popular 'fashion' trend.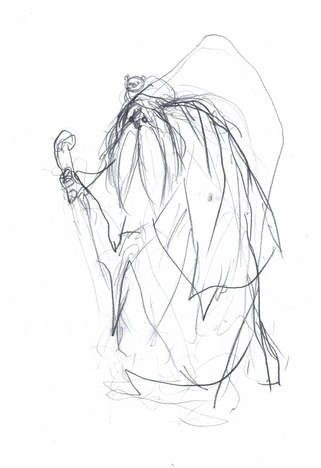 © Yoshikazu Yamagata
How would you define yourself? I heard your storybook-like perspective on the world is inspired by picture books you read. But are you also made up of your past experiences and memories?
I think I just developed that way really naturally. Since my childhood, I have been creating stories in my head through the visual images I get, and I still use that process for my work. I also drew a lot as a child. Yes, I like picture books, which give me comfort. It's pretty good for me when I feel I am losing myself.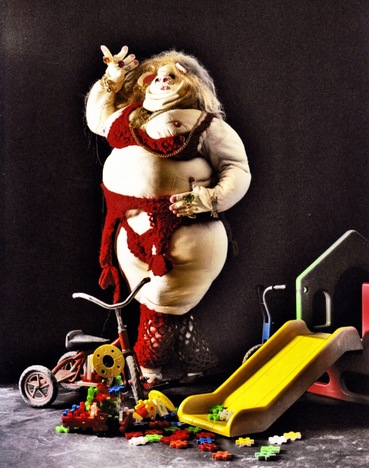 "the everyones new clothes" © Yoshikazu Yamagata
Fashion is very fluid, and spreads quickly. In the public arena, there has been support as well as backlash for your collections. How do you feel about this?
It might sound odd, but I feel I'm beyond that. On a personal level, I might still dislike receiving criticism, but for my work, which is performative, I want to remove myself from personal feelings of support or criticism, and just affirm my presentation as best as I can. While I personally don't have a sense of the antithetical, I do have a passion to judge what's right and wrong. And I'd rather turn something being denied into something that can be affirmed. Without denying what's bad, I want to increase the number of things that can be affirmed. However, the most important thing is to have modernity in my vision. It is important to be socially relevant in this modern age. Taking these ideas into account, I can turn something garbage-like to god-like in fashion.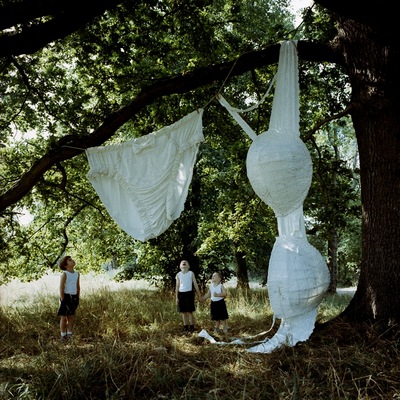 Photo: Koomi Kim
You made a work of bras called "A LONG STORY" when you were at Central Saint Martins.
I made it during my temporary absence from school after the second year. It was a collection of 8 people each wearing different clothes in a remote village. Digressing just a bit, I signed off 'written by yoshikazu yamagata' for 'A LONG STORY', because I'm inspired by the structure of narratives in my designs, and often sign off with the phrase 'written by ~'. With that I started to develop a brand that was based on that concept.
I designed for this collection with some stories in mind, such as that of a witch, homeless people and a country girl aiming to be a fashion designer. Through drawing inspiration from the image of the girl, I came up with a design process for the finished product. For me, it can be easier to come up with images by thinking about stories first. For this, the story was about a mischievous boy stealing clothes from a big monster who lives near a remote forest. Later, the boy steals bras, with a pink piglet who accompanies him afterwards. I first consider the overarching story, the setting and then finally, the design of the clothes.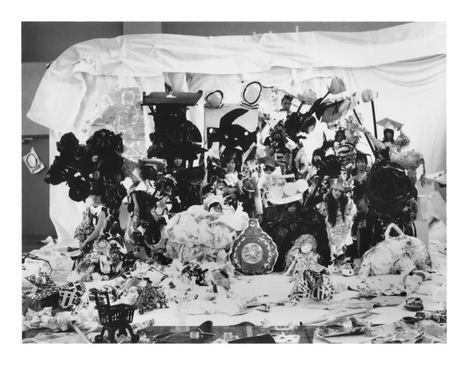 "coconogacco collaboration project"
Please tell us about the focus of the 'original' fashion studies offered at "coconogacco".
Last year, I started to think about creating an unconventional learning place. I wanted to create a place where, in my own special way, I could work on collaborating with students to create something. For example, we sometimes switch between the roles of teachers and students, as I wanted to change the traditional relationship between teachers and students. We have to show that teachers are not always right, and young people can also have right answers. The significance of the project is to express such an idea.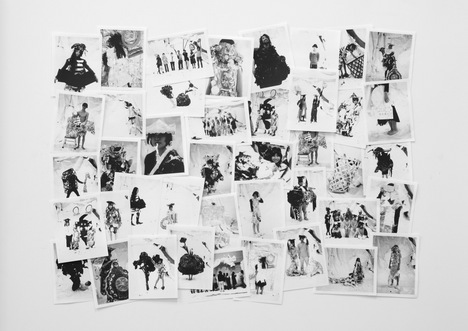 "coconogacco collaboration project"
What sort of lectures have been given so far?
The students are not told what the teachers will lecture on until the appointed day itself. We normally ask them to freely give a lecture on anything fashion-related. For example, one teacher brought his own old clothes to class, and gave a lecture on his favourite components of the clothes. Another gave a lecture of the interpretation of fashion theories through theories in physics. The age group is also diverse.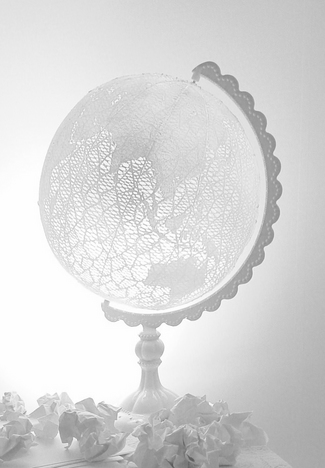 "the lace glove"
What aspect of fashion do you see yourself concerned with in the near future?
Fashion itself. Just what can I do with fashion?
Since fashion is natural and necessary to our lives, it is my personal mission to go back to the basics once more and try to discover fashion's true meaning and power. Until the 20th century, fashion was very important in influencing social standing. But fashion has now 'flattened out', and we can freely wear anything we want without prejudices or difficulties. So I am interested in the myriad possibilities of future fashion and I'd like to work on that somehow.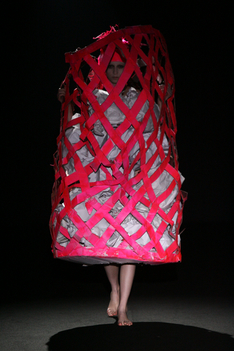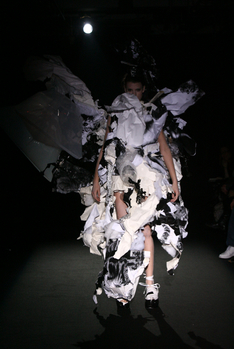 "Graduate Fashion Show"
What is your current answer to the question, 'what is fashion'?
Fashion used to be at the forefront of setting trends, but I feel it is regressing now. The industry is classic and fashion itself has become classic as well. Nowadays, we have new ways of communication, such as on the internet, by mobile phones, emails, SMS, Twitter and so on. These are one the 21st-century ways to link with people. We have more options to communicate with people without seeing them, which doesn't mean it's no longer important to have face-to-face conversation. In fact, it will be more essential. And it would be good to explore such primitive methods of communication through fashion. Interpreting fashion this way may just be the cure for modern people, and inculcate a sense of social awareness in them, since it's a united mental effort.
"coconogacco" will hold a workshop for fashion photography by guest lecturer, up-and-coming photographer Daniel Sannwald from Germany, starting February 20th. Please check out the webiste for more information.
Yoshikazu Yamagata
A fashion designer for fashion brand "writtenafterwords", established after graduating from Central Saint Martins and working as an assistant to John Galliano. He believes that while fashion is shedding its classes and boundaries in a rapidly capitalistic world, designers remain too grounded to keep up with the times. With this in mind, he designs fashion that also considers the effects of cultural and social phenomena, coupled with humour and a narrative element.
Text: mina
Translation: Akihiko Hamada

[Help wanted]
Inviting volunteer staff / pro bono for contribution and translation. Please
e-mail
to us.