THE SADDEST PLACE ON EARTH VISITS MACAU
On October 1st, the streets of Largo do Senado in Macao was bustling with people who congregated for a double-celebration, the Chinese National Day and Mid-Autumn Festival. But above the ocean of photo snapping tourists and patriotic residents, a different celebration occured at Pinto Musica: the warmly lit CD shop that nestles on the 3rd story of no. 31 Veng Heng hosted an intimate tea party that marked the opening of "The Saddest place on Earth visits Macau".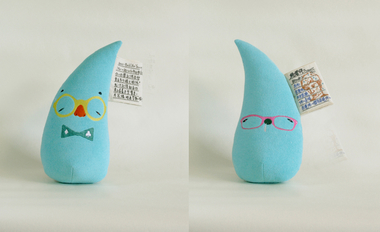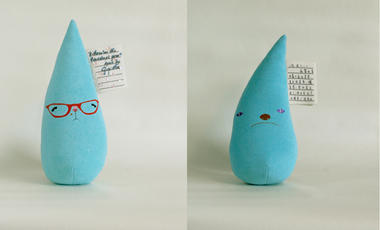 Clockwise from top left, Bubi Au Yeung, Danny Yeo, Sonia Lao and Gigi Lee.
This exhibition is a collaborative effort involving Pinto Musica, Mimipong and 25 different creative professionals from Macau, Hong Kong and Singapore. The participants – selected from a diverse range of backgrounds – features luminaries such as acclaimed Hong Kong's indie songstress Dejay Pancakes, toy designer of popular Treeson vinyl figures Bubi Au Yeung as well as Singapore's theatre director Danny Yeo and illustrator Tye Sokkuan. On the homegrown front, Pinto Musica had personally invited Macau's Fine Artist Bianca Lei, writer of travel guide Macau Nohohon's Misa Kawata, Sonia Lao from dream-pop band Evade and many more.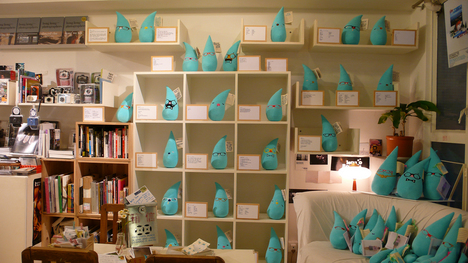 The participants were to pen their unique interpretations of sadness on the dolls' cloth tags which has been translated into traditional Chinese from the original english tag. The submitted content varies from the perils of commercialisation on a city's infrastructure to more personal entries that touches on heartaches and unfulfilled promises.


Pedro Ascensao, a Kindergarten headmaster turned Bar Owner of Cheche Cafe, listing down cities with a painful past.



The perils of commercialisation on a City's infrastructure by architect Ryan Leong.
Introduced for the first time in this second installation of "The Saddest Place on Earth" is a photography exhibition that finds its form in postcards snail-mailed from Singapore to Pinto Musica. Titled "Hello from Singapore", these postcards are the results when photographers Joanne Lim and George Lee were each tasked to shoot a palm size doll against different locations in Singapore. Their images, which mostly tie back to themes of childhood and nostalgia, were then reinterpreted by chinese journalist mr Capricorn who penned a short prose at the back of each postcards.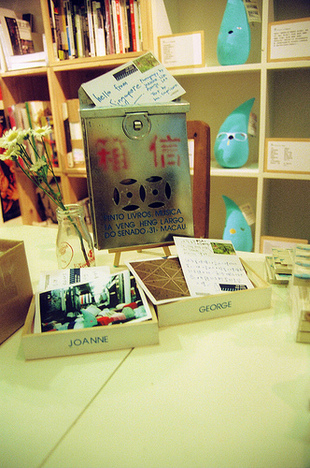 Whether you are a patron of pure cuteness or in time of melancholy, "The Saddest Place on Earth visits Macau" is for everyone and any reason. As the philosophy of the show holds, the act of sadness affords you a moment of reflection and eventual realization of a certain beauty-that happiness is inextricable married to sorrow, so visitors may leave with a little seed of joy.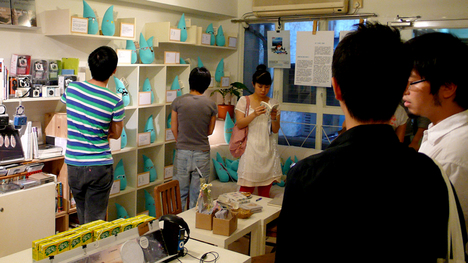 List of participants in no particular order;
Clara Brito (Macau), Anna Kozaki (Macau), Winter Chiang (Macau), Misa Kawata (Macau), Staci Chio (Macau), Tyr Cheang Macau), Weng Qiao(Macau), Tong Chong (Macau), Soap Kan (Macau), Gigi Lei (Macau), Bianca Lei (Macau), +Big Lam (Macau), Ryan Leong (Macau), Joey Ho (Macau), Pedro (CheChe Cafe) (Macau), Jess Chan (Macau), Pedro Miguel (Macau), Sonia Lao (Macau), Cheong Kin Han (Macau), Ricky Lam (Hong Kong), The Pancakes (Hong Kong), Bubi AuYueng (Hong Kong), Joelle Teo (Singapore), Sokkuan Tye (Singapore), Danny Yeo (Singapore)
The Saddest place on Earth visits Macau
Date: 1st – 31st Oct 2009
Place: Pinto Livros . Musica
Address: 2B, Veng Heng Largo do Senado, 31, Macao
Tel: (853) 28330909 
http://www.mimipong.com/macau
Text: Minnie Pommiegranate
Photos: All images by Mimipong otherwise credited accordingly

[Help wanted]
Inviting volunteer staff / pro bono for contribution and translation. Please
e-mail
to us.