An outdoor festival for music and art, Magical Camp 2009.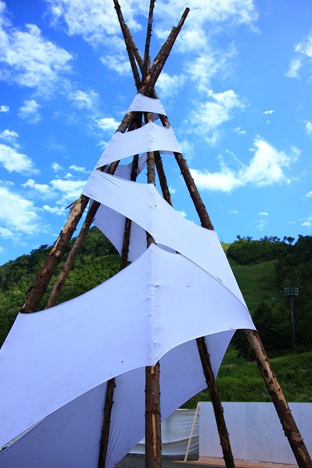 Photo: Naoko Hirose
Magical Camp 2009 was held in Sapporo on August 29 and 30. The site was a ski run located in Sapporo Teine High-Land. The autumn ski run has no snow, but fresh greenery and a great view. At this place, the festival of music and art has started.
The 1st day's morning, had beautiful weather. We had high expectations for that "Magical" 2 day event.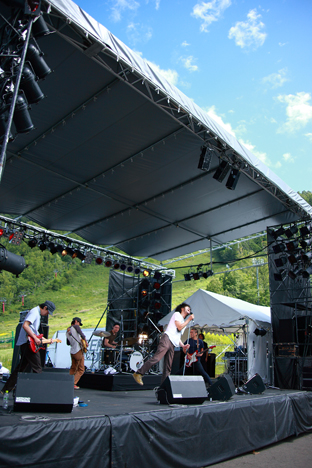 Photo: Naoko Hirose
This year's Camp has 4 stages. Every stage had different attractions and originality. The main stage was Came Rain, Come Shine Stage, where Discharming man started their performance. From that time on, the music didn't stop until the next morning.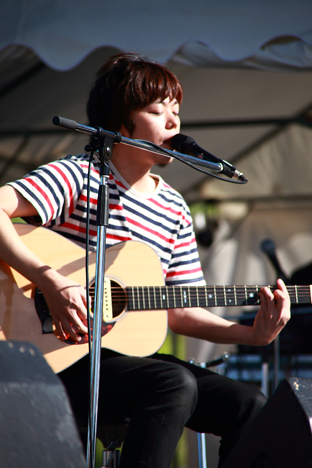 Photo: Naoko Hirose
The sleepy.ac played an acoustic version of their tracks. Audiences sat on the ground and listened closely. The sky was pure blue and the leaves on the trees were shining. This stage was really the main one and we could feel reassured of how good it is to enjoy music outdoors.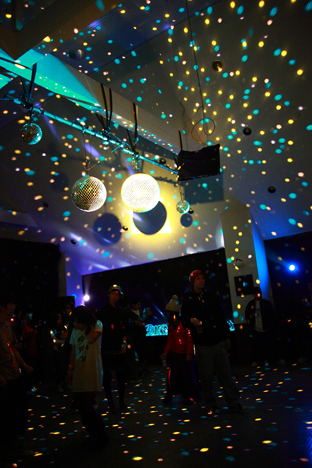 Photo: Naoko Hirose
In the Center House, which was located in the rest house we found "Magical Party Box". In side of this black cloth made room, there were mirror balls hanging on the ceiling, illuminations around the room and a DJ booth. We could listen to music sitting in the box while having a meal or chatting with friends.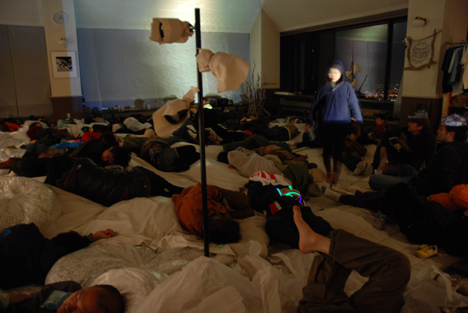 Photo: Sachiko Sekiguchi
On the other side of that box there was a "Snow lounge". This lounge was filled with shredded paper to chill out as if you laid out on the snow mountain. The snow rider who created the space said "No More Hot"as their message. This Mt. Teine would be covered with snow in winter. This lounge made us to remember that snow is a blessing from nature.

Photo: Naoko Hirose
As you went through the Center House, there was a tent site. We could easily find a white Tipi among a lot of other tents. This little Tipi in the middle of the site was a "Mount Garden Stage". This stage was a very cozy space to experience the performances, and the audience could feel closer to the musicians. The warm light lit up softly and the music sounded very gentle.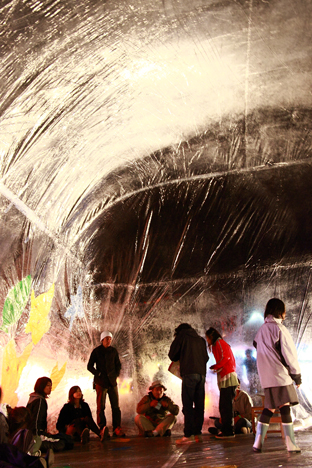 Photo: Naoko Hirose
We could listen to the rhythm from each stage and also see art works in this year's Magical Camp.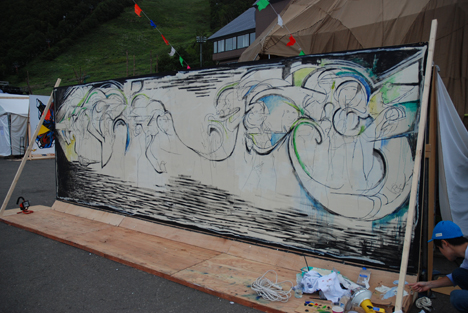 Photo: Sachiko Sekiguchi
"The IMAGIKAL"- a Magical Camp Art Project was held vol.001 in April, vol.002 in August and vol.003 was explored at Magical Camp. They showed us artists' art works everywhere. Around the main stage, many live-paintings were worked on. The artists expressed their works on a huge canvas. There were some 3D works and live-paintings in the Center House, and the audience enjoyed it in their own style.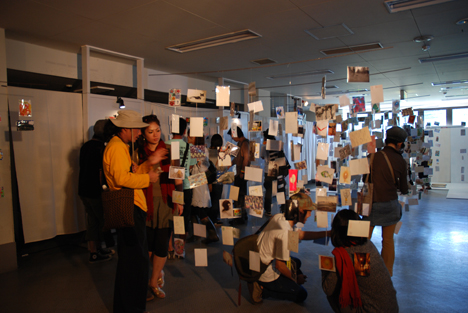 Photo: Sachiko Sekiguchi
Magical Camp this year stated a new project "Magical Post Network". This one day post office aimed to spread the goodness of writing letters. The organizer, Tobiu Art Community, called on the public to submit their postcard designs to be sold later. The sale will contribute to Nakatani Kouichi's project "Walk earth, Plant tree". Inside of this, postcards were hung from the ceiling, where you can find your favorite one from the selections. They prepared a mailbox and we could actually send a postcard from here.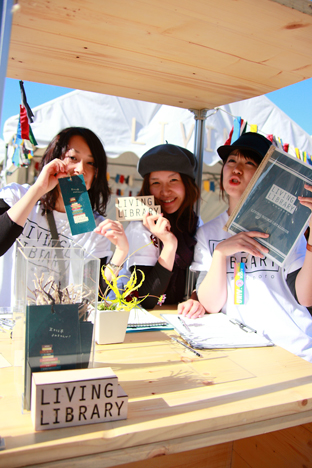 Photo: Naoko Hirose
Another new approach was "MAGICAL ART OF UNIV". This project was challenged by 4 universities (Sapporo City University, Douto University, Hokkaido University of Education Iwamizawa Campus and Junior College of Sapporo Otani). Students did decorations and planned workshops and projects. Art school students' invention and energy increased the power of Magical Camp. A totem pole of Douto University became a permanent work in the rest house.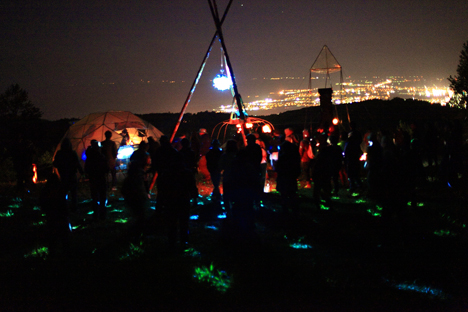 Photo: Naoko Hirose
At night, we went to "Panorama Disco". It was located up above from the "Mount Garden Stage", which was at the top of the ski run. "Panorama Disco had very few lights and hard walk uphill but that disco's mirror balls and night view were waiting for us at the top. While listening to the rhythm from a dome-shaped DJ booth, we enjoyed dancing at the hill top with a great night view.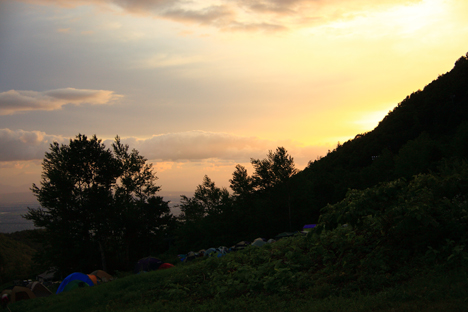 Photo: Naoko Hirose
As the night ended and the morning came. The 2nd day was cloudy. The gentle sun which peeped through the clouds let us know the Magical Camp's end.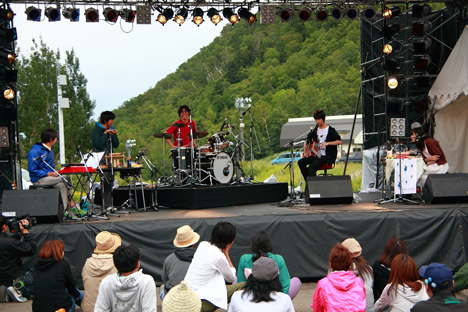 Photo: Naoko Hirose
Live-paintings were completed, adding colors to the outdoor shining space. The final performance was Tokumaru Shugo on the main stage. His pop music made us smile.
The Magical Camp 2009, a festival for music and art, truly gave us a "Magical" experience. We are excited for next year.
Magical Camp 2009
Date: August 29th – 30th, 2009
Place: Sapporo Teine High-Land
http://www.magicalcamp.com
Text: Sachiko Sekiguchi
Translation: Haruka Kibata
Photos: Naoko Hirose, Sachiko Sekiguchi

[Help wanted]
Inviting volunteer staff / pro bono for contribution and translation. Please
e-mail
to us.