In March 2008, one of the pioneering graffiti art collector, Alain Dominique Gallizia made an exhibition "TAG" from his own collections in Grand Palais. It attracted over 80,000 people in 5 weeks, and introduced them with a new notion that once people labeled as scrawls or the simbol of unruly city environment. People started to recognize graffiti as one of art movements.
With the growing awareness to graffiti as a movement, the exhibition, Né dans la rue – Graffiti (Born in the Streets – Graffiti), is open to public at the Cartier Foundation.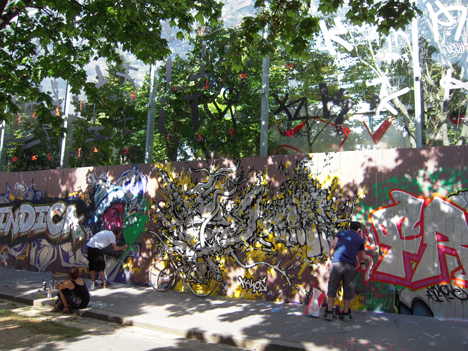 The street side of windows of the exhibition space in the glass-wall building designed by Jean Nouvel was filled with gray spray paints which keeps out sunlight from the street, and the garden side of windows are sprinkled with faces drawn with dots and curve lines, and the exhibition space between the 2 sides of window is taken over by works of invited artists from San Francisco, Sao Paulo, Amsterdam among other countries in the world. These works, however, are created in the nicely air-conditioned comfortable place with staffs from the Cartier Foundation, watching for their progress. Do those works worth as graffiti? Do they have a place to be a part of this graffiti exhibition? If you feel so, be hurry to visit downstairs to the basement floor.
The exhibition space on the basement floor was covered with big mural works made by over-40-year-old street artists of P.h.a.s.e.2 , Part 1 and Seen who are said to be leading figures of graffiti art. Since these works are so powerful yet delicate, you will forget what you just saw on the upstairs of the show. Recognized by the key figure of pop art Andy Warhol from earlier time and now recognized as one of those artists who create the highest estimated value works in the world, works of Jean-Michel Basquiat and Keith Haring are exhibited as well. Besides works done on canvas, there showcasing the documentary video that follows Basquiat and Haring who has left behind their own expression on the "street" which was as risky as they might had been arrested back in those days.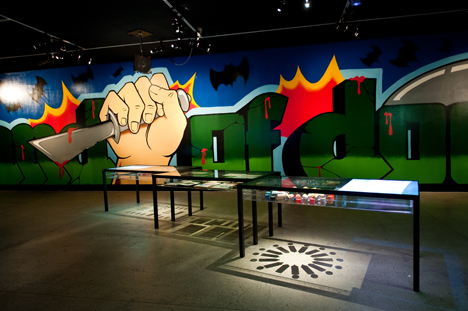 Photo © Olivier Ouadah. Courtesy of Fondation Cartier pour l'art contemporain.
Created by artists who were know as "writers" instead of "painters", the diversity and development of graffiti letters was explained precisely by showing photography, sketches, videos and sprays practically used by the artist at that time, which overall creates quite interesting exhibition as one of art movements and also as a social phenomena.
Born in New York in the 70's, graffiti was regarded as an illegal thing at first and there still has a strong tendency to regard it as an destructive act for the city environment. Currently you can see walls in the public in New York that are installed exclusively for graffiti use. We come across a question that regardless of classes, races and having or not having interest with art, the illegally-made creation that can be seen at unexpected area in the city, and the action and its risk, all that things together could represent how graffiti should be, as it increases the social statement. The tendency to regard graffiti as "art movement" is highly interesting and important consideration, and at the same time, it it true that graffiti has now been displayed in museums and art centers as a resource for "art" instead of "society", that can be viewed only paid with the admission fee. It could be said the same thing to the Christian art like sculpture and paintings – that should have been originally existed for believers to pray and to teach them – are actually existed as subject for photo-shooting to be displayed in the plexiglas showcase in the museum.
The graffiti used to be something "we see in the town". These exhibitions are the first attempt to consider something "we show graffiti", and there will be a great deal of discussion how to approach graffiti in the future.
Like Cartier Foundation, LVMH is one of the contemporary art mecenat in France. There is another exhibition that focuses graffiti is going on at the top floor of Louis Vuitton, Espace Culturel Louis Vuitton, located on Avenue des Champs-Élysées, presenting "Ecritures Siencieuses", an exhibition showing works of a Paris-based graffiti artist Sun7, who is now in parallel with established contemporary artists such as Giuseppe Penone, Tracy Emin, Barbara Kruger, Ernesto Neto among others in the Louis Vuitton store where could be the top of capitalism and consumer society, but not in the folksy town.
Oddly enough, those mecenat's interest in graffiti has an influence on the general collectors of course. Back on June 20th, there were 290 graffiti works were auctioned at an auction house Cornette de Saint-Cyr. Prior to the auction, the works were introduced at the rock concert "le Cigale" and 70% of the works were sold, which made a gross sales of 48,000 euros. Another auction exclusively for graffiti works was held on June 26 at Artcurial, starting graffiti only auction since 2007 and archiving success like making a world record.
Né dans la rue – Graffiti
Date: July 7th – November 29th, 2009
Place: Fondation Cartier
Address: 261 boulevard Raspail 75014 Paris
Open: 11:00-20:00 (Close on Mondays)
Admission: General 5.50 €
Tel: 33 (0)1 42 18 56 50
Text: Kana Sunayama
Translation: Masanori Sugiura, Mariko Takei
Photos: Kana Sunayama

[Help wanted]
Inviting volunteer staff / pro bono for contribution and translation. Please
e-mail
to us.