Stockholm has an strong background within high education in art, crafts and fashion design. Perhaps Konsfack (The University College of Arts, Crafts and Design) and Beckmans School are the most representative ones into art and fashion design respectively. During the academic season you can find different workshops and events where get the opportunity to get a sneak preview of new talents and new proposals around.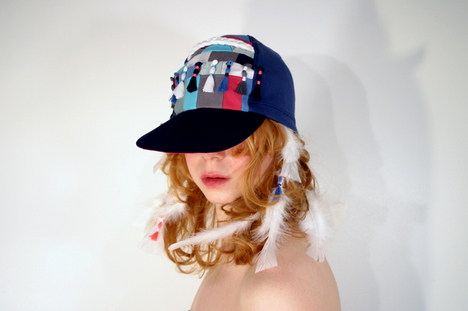 The Christmas market of Konstfack for instance is a classic meeting point during those dates.
Recently a new event was held in the heart of the City. With an aim of introduce a new generation of fashion creators, between 25th – 30th of August 2009 Fashion Play brings the opportunity to different students basically 50-50 from the schools already mentioned to exhibit their creations here.
A perfect venue, throughout different rooms separate in 2 floors and a charming environment embrace an event that confirms that Stockholm don't turn its face to the junior arty happenings.
In the organization´s own words –"Fashionplay is a non-profit organization that was founded to seek out new paths and methods in fashion. We intend to stimulate a balanced discussion on the functions of fashion by working on boundary-defying projects that challenge and question related normative notions".
We got a chance to talk a little bit closer to the one of the exhibitors. Few minutes with ARIAH to let us understand the whole think quite better. She´s an artist into art and fashion. Central to it, is craftsmanship as a means to find something unique.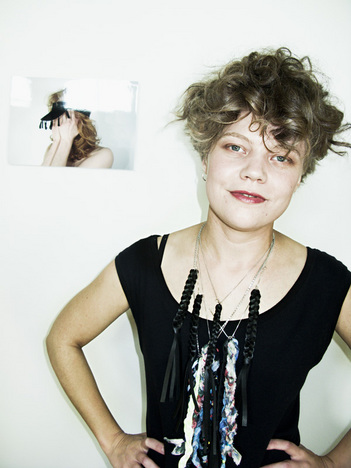 What does it mean Fashion Play for you?
Fashion Play is the organisation that did the exhibition. I know its an important platform for creators like me. To get a place to show fashion that becomes art or art that becomes fashion. When your art is between the catwalk and the gallery.
Konsfact or Beckmans?
Konsfack it is for me! That's the school I went to. And I also like the idea about the possibility to not decide, art or fashion, at Konstfack you can do both.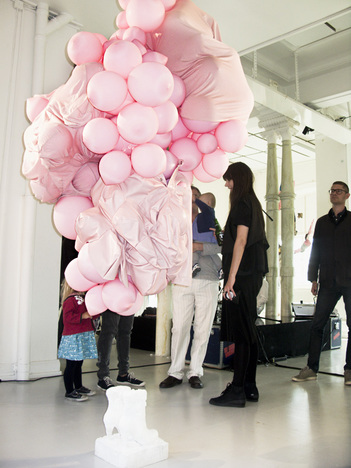 Regarding art schools in Stockholm. Which aspects do you thing are the most interesting?
After being in art schools for a couple of years you notice stuff. Like in higher art-education you often know what your creativity is all about and what you really need is to learn how to use it. How to communicate it to other people.
Do you think a city such Stockholm held opportunities enough for the new blood?
Stockholm is a small city, but I think therefore kind of special. People tend to adapt trends and ideas fast here. But sometime its the same trends everywhere and you have to be accepted to get the attention. So I think I just answered no to that question..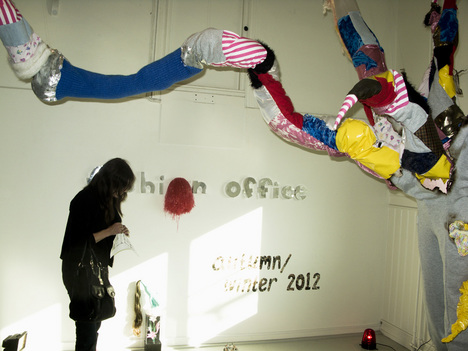 What is your new project about?
The project ARIAH.09.b that I exhibit during Fashionplay is about value. What diced the value of a garment or an object? Is it the worth in money or the label that is in the shirt? I try to find the value that you have in a sweater that your grandmother knitted. I try to create that kind of value by the trace of the hand and by the working time that is behind one of mine caps for example. To the exebithion I did this installation whit over 400 little handmade thread-things that falls down from a roof made by twigs. Its a try to find a way to get people to react over time. The fashion-industry moves so fast and I wanted to do something that showed slowness and thoughtfulness.
Where would you wish to exhibit most?
That's a hard question. It would be really nice to find a gallery to collaborate with or several, not just in Stockholm.
Fashion Play
Date: August 25th – 30th, 2009
Place: Stationshuset
Address: Torsgatan 5, Stockholm
Exhibitors: ARIAH, Josefin Arnell o Erik Annerborn, Lisa Axelsson o Lisa Billvik, Ninna Berger, Tove Berggren, Jenny Bergman o Karolina Serning, Magnus Carlsson, Ellinor Eklund, Ulrika Gunnarsdotter, Hanna Frostell, Maja Gunn, Sarah Isaksson, MINNAPALMQVIST, Pernilla Rozenberg, Hiroko Tsuchimoto och Sarah Törnqvist.
Text: Victor Moreno
Photos: Victor Moreno

[Help wanted]
Inviting volunteer staff / pro bono for contribution and translation. Please
e-mail
to us.