Green, Slow & Sustainable.
Green is the new Black, Slow is the new Fast and Sustainable the new Everything. Or so we would like to hope – new tendencies in consumer behaviour don't leave out the domain of fashion.
We've had plenty of occasions to hear and read about the phenomenon: "green is the new black" has been repeated over and over again by so many (hopefully) committed fashion editors that the slogan already lost some of its initial poignancy. And yet, the segment of green and sustainable fashion is still on the rise, with its potential of growth unbroken and an increasing number of designers and labels flocking into these promising grounds. Had the world still needed a decisive impulse, Barack Obama's initiative to fuel economic growth by focussing on sustainability according to the motto of a Green New Deal might have been just sufficient to end the period of stagnation and inertness. Developing new business models and doing good: a challenge for automobile producers as well as fashion designers all over the globe. It is all the more interesting to single out some successful projects that have emerged in the Viennese fashion scene over the past few years – these short profiles constitute the next part of a series of articles resulting from a collaboration between Shift and AUSTRIANFASHION.NET on the occasion of the Japan-Austria-Year 2009.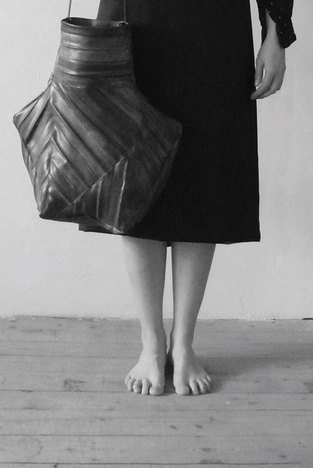 kontiki © kontiki/Karin Maislinger
kontiki
Green fashion is as vast as versatile a category: what unites all approaches in this field is the commitment to sustainability in social as well as ecological terms. Karin Maislinger's label kontiki has recently earned a lot of interest on an international scale, as it ranked among the finalists in the green fashion category at the International Handbag Designer Awards in New York. The success story of kontiki started in 2003, when Karin set out elaborating her ever-evolving "aquatic series" of bags and wallets manufactured from recycled bicycle tubes. The great variety of shapes and styles is what fascinates a crowd of customers looking for striking aesthetics as well as a genuine commitment to sustainability. 2009 sees the launch of a new capsule collection called "vegetable wardrobe" that comprises clothes and bags made from recycled textiles and organic leather.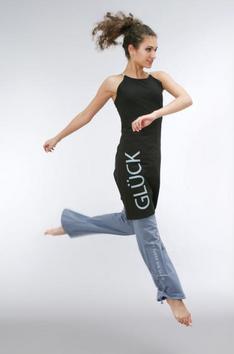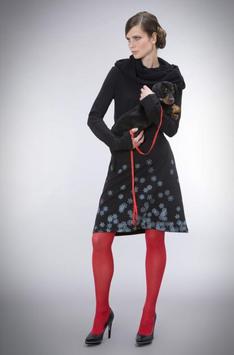 Göttin des Glücks © Göttin des Glücks/Bledl, Muhr, Sapic, Stoytcheva
Göttin des Glücks
If the name doesn't promise too much, "Göttin des Glücks" (Goddess of Bliss) is the one-stop instance bringing together style, class and happiness. What started out as a loose collective of befriended creatives from Austria, Croatia and Bulgaria in 2005 quickly turned into Vienna's probably best known green fashion venture. Design newcomers Monika Bledl, Lisa Muhr, Igor Sapic, and Dessi Stoytcheva took good care of assuring that the expansion of their label be as steady as healthy. It isn't a secret that one of the key necessities of green and sustainable fashion is a certain reduction of speed: becoming too big too fast may indeed complicate the commitment to greenness… The designers of Göttin des Glücks make sure that working conditions are as fair for the employees in their entrusted production facilities on the island of Mauritius as they would like their customers to feel happy and good in their soft and floating designs.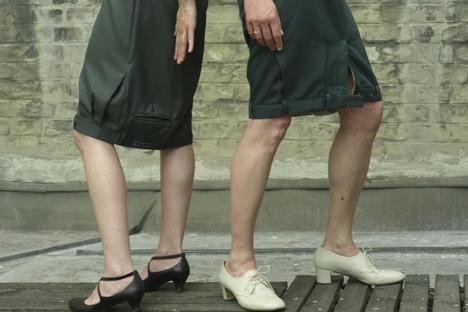 Milch © Milch/Cloed Priscilla Baumgartner, photos Elvira Faltermeier
Milch
The designer behind the fashion label Milch (Milk) is Cloed Priscilla Baumgartner, who launched her venture in 1998. With the explicit aim to avoid "adding to the growing mountain of discharged and unwanted textiles", she has been experimenting with the recycling of textiles for just over a decade. The special feature of Milch is that the designer creates womenswear from vintage men's trousers, shirts, jackets and waistcoats which she significantly alters and recombines into what strikes the beholder (or wearer) as utterly deconstructivist clothes at first glance. But of course, that's what recycled fashion is all about, de- and reconstructing shapes and clothes and somehow inscribing oneself into a discourse of postmodern overlapping of quotations and cross-references. The characteristic of Milch is to point out this kind of fashion interplay in a very self-confident and even blatant manner.

Alila © Alila/Barbara Lindnder
Alila
Alila is a very interesting label, and also the perfect match for our Japan-Austria-2009 series: Barbara Lindner, the designer who set up Alila (sanskrit for "surprise") in spring 2008, uses vintage kimonos and obi belts as well as kimono silk from the 1930s to 1980s as the raw material for her "recycling de luxe" approach. The rather modest collection comprises skirts as well as evening clutches for special occasions and will enthuse lovers of sustainable fashion as well as the great number of friends and fans of Japanese culture in Austria. Domo arigato gozaimasu, we say…
Text: Daniel Kalt from AUSTRIANFASHION.NET

[Help wanted]
Inviting volunteer staff / pro bono for contribution and translation. Please
e-mail
to us.