As the entire world is becoming increasingly aware, trees are one of the most important parts of life on earth. Unfortunately, wood is also one of the most important resources to humanity. A Hong Kong woodworker Wing Wong makes the best use of the fallen tree trucks, which were found in dumpsite to turn the wood into some beautiful hand-made organic furniture. As his concern on the high percentage of wood material wastage due to mass production, Wing simply took the natural form of the tree trucks and twigs to create the elegant One-Of-A-Kind series with his craftsmanship. On top of creating the furniture, he also created an online DIY community by starting a website to spread out the message of being recycled.
Could you introduce yourself with your background?
With a trained sculptor / woodworker background, I consider myself a thinker-maker.
To me, design is not only problem solving or fashion. It is a way of expressing oneself with the material, craftsmanship and object that he believes.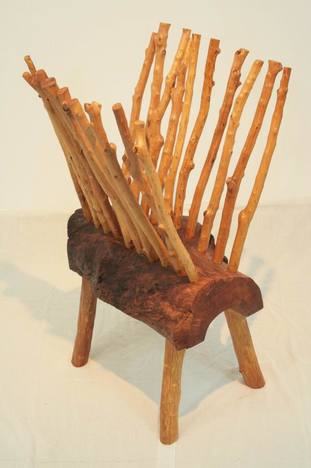 What is the motivation to start creating this unique furniture?
It all started one day I saw some fallen tree trunks lying on the side of a constructing highway near to where I used to live. These trees were cut down because the government decided to make a bigger road in that area. I found some trees lying around were in fact quite good wood such as Acacia, Camphor and Longan. So I started to collect some back to my home and store them in the front of my house. Owe to my woodworking background and some new knowledge which I pick up from books, I managed to build a simple outdoor storage which functioned as an air-dry seasoning facility to these found wood.
At first, I made some sculptures and carvings out of these materials, which comprised a series of works that I called "Suspended Duality". After that I tried to build some simple furniture for my own use with this wood. My neighbors and friends saw it and all think I should make more. Of course, my hobby of collecting found wood could only get bigger and bigger. I started not only to collect fallen and drifted wood but also other abandoned but useful objects such as car tires, tubes, picture frames, etc. And then, naturally these materials became my toys to play with. I made sculpture, furniture and garden fixtures with them.
As the volume of my private collection started to grow, I tried to sell some to friends. The reaction was better than I could imagine. Because of the uniqueness of this furniture, lots of people were attracted by them. They wanted to know more about this type of furniture. They wanted to know how I made them, what materials are they, etc. To me, they are not first class woodwork. In fact, I thought the way this furniture was fabricated wasn't that difficult for a person to learn. Besides, I know there must be other people who like to recycle stuff into something cool and useful out there. Then I got the idea of setting up a website that gathers these DIYers together. That's why I started a website called eco-diy.com in 2007.
Read more ...
[Help wanted]
Inviting volunteer staff / pro bono for contribution and translation. Please
e-mail
to us.