Wing Wong
As the entire world is becoming increasingly aware, trees are one of the most important parts of life on earth. Unfortunately, wood is also one of the most important resources to humanity. A Hong Kong woodworker Wing Wong makes the best use of the fallen tree trucks, which were found in dumpsite to turn the wood into some beautiful hand-made organic furniture. As his concern on the high percentage of wood material wastage due to mass production, Wing simply took the natural form of the tree trucks and twigs to create the elegant One-Of-A-Kind series with his craftsmanship. On top of creating the furniture, he also created an online DIY community by starting a website to spread out the message of being recycled.

Could you introduce yourself with your background?
With a trained sculptor / woodworker background, I consider myself a thinker-maker.
To me, design is not only problem solving or fashion. It is a way of expressing oneself with the material, craftsmanship and object that he believes.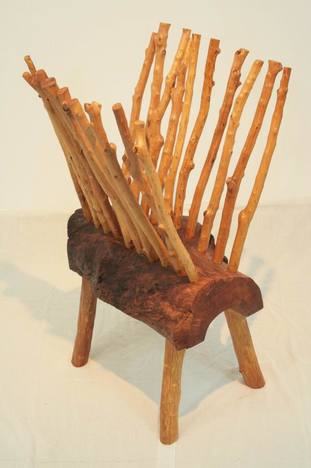 What is the motivation to start creating this unique furniture?
It all started one day I saw some fallen tree trunks lying on the side of a constructing highway near to where I used to live. These trees were cut down because the government decided to make a bigger road in that area. I found some trees lying around were in fact quite good wood such as Acacia, Camphor and Longan. So I started to collect some back to my home and store them in the front of my house. Owe to my woodworking background and some new knowledge which I pick up from books, I managed to build a simple outdoor storage which functioned as an air-dry seasoning facility to these found wood.
At first, I made some sculptures and carvings out of these materials, which comprised a series of works that I called "Suspended Duality". After that I tried to build some simple furniture for my own use with this wood. My neighbors and friends saw it and all think I should make more. Of course, my hobby of collecting found wood could only get bigger and bigger. I started not only to collect fallen and drifted wood but also other abandoned but useful objects such as car tires, tubes, picture frames, etc. And then, naturally these materials became my toys to play with. I made sculpture, furniture and garden fixtures with them.
As the volume of my private collection started to grow, I tried to sell some to friends. The reaction was better than I could imagine. Because of the uniqueness of this furniture, lots of people were attracted by them. They wanted to know more about this type of furniture. They wanted to know how I made them, what materials are they, etc. To me, they are not first class woodwork. In fact, I thought the way this furniture was fabricated wasn't that difficult for a person to learn. Besides, I know there must be other people who like to recycle stuff into something cool and useful out there. Then I got the idea of setting up a website that gathers these DIYers together. That's why I started a website called eco-diy.com in 2007.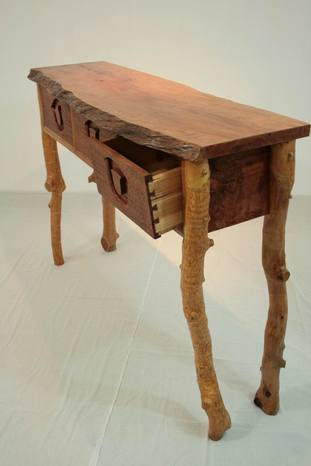 So tell me more about eco-diy.com?
There are more than two hundreds registered members so far. Members come from all walks of life. You may find housewife who can turn old sheet into a brand new sofa cover. You may find group of women who turn used cooking oil into soap bar. You may find designer who uses scraped fabric to make characterized stuff dolls.
Eco-diy.com is also a popular market place for those who want to exchange used furniture. There are numerous numbers of successful cases which beautiful used furniture finds its new owner in eco-diy.com.

Could you tell us about the sustainable concept behind your collection?
The entire design concept behind the whole thing is the three big Rs; Recycle, Reuse and Reduce.
As mentioned, 90% of the materials used in my furniture are found in dumpsite. I sometimes incorporate old furniture parts or other industrial objects into my designs. More importantly, the way this organic form furniture is made is much more effective than those made in mass produced industrial factory. In my over ten years experience of working in various position in furniture production industry, I can tell when a tree is fallen only 45% to 50% of the wood materials are actually made into industrial acceptable grade timber. Where do the rest go? Some of them will go to fiber baseboard production such as MDF, Chipboard, etc. Many of them including the tree crown, sapwood and the tree bark are wasted. Also consider the large amount of waste created in the milling process in every piece of furniture made in a factory.
The One-Of-A-Kind series maneuver to avoid unnecessary milling. I just take the natural beautiful form of a tree trunk and twig and effortlessly compose these natural forms into a functional context. And I used mostly the branches and twigs which usually come from seasonal tree pruning.
I have to admit, I'm no pioneer of this type of marrying natural to mankind. Great master furniture maker/architect Mr. George Nakashima is the one inspires a lots of woodworkers including me.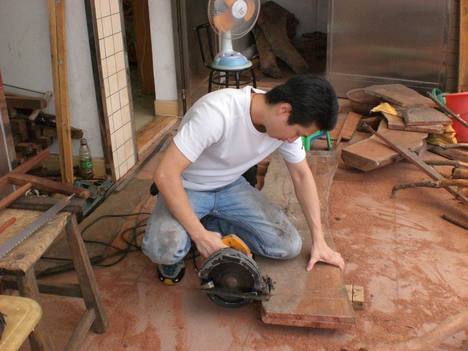 For the material, you create your pieces with Longan tree and Lychee tree, could you tell us why you chose these specific kinds of tree? And how do you find those trees?
Longan idea started from the village I used to live in. There are plentiful of Longan trees growing in that village. Harvesting and pruning is necessary every July and August. Sometime I saw fallen trees after typhoon. So I started to collect them.
Lychee is after I met another woodworker in ZhongShan, China. Mr. Lam is a traditional boat builder in GuangDong area. His livelihood is in jeopardy as his trade is being obsoleted. We met and talked and found that traditional fishing boats use a lots of recycle materials in their production process. Wild grown Lychee is one of the trees that land owners would uproot when they decide to develop the land. Due to the irregular shape of the species, the wood is hardly used for furniture making. However, the curved shape fits perfectly to be used as the bottom of a fishing boat. In fact the curvy grain figure of the wood really appeals to me. As you can see in pictures of my works, some of these Lychee trees appear to be as figurative in the grain as some exotic hardwood except that Lychee is much more available and fast growing.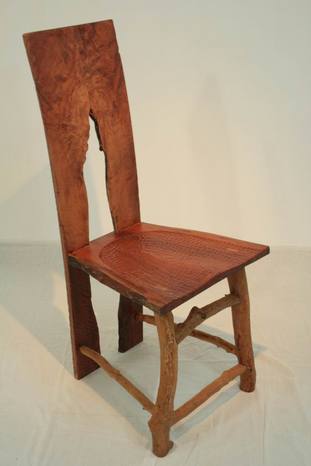 From wood to the finishing pieces of your hand-made furniture, how did you produce the pieces? Could you share your creative process with us?
This furniture is not produced in mass by heavy-duty machines. Starting from the seasoning of the wood, I leave most of the jobs to the power of nature.
They're secured with simple joinery. Nails and screws are hardly employed. I also try to maintain the natural color and surface of the wood itself. The finish coating I put on the wood is primary natural Tung oil plus a couple layer of PU or Bee Wax depends on project.

Do you plan to try creating the furniture with other sustainable materials in the future?
I always try to explore other possible materials, but wood seems to be more accessible to me at the moment.

Could you share your thoughts on today's environment?
People are too much addicted to the idea of "getting convenient". It is to a level I think we're abusing it. Single serving objects are designed because consumers think they are more convenient. Getting rid of your old furniture or appliances rather than getting somebody to fixing it is more convenient. Living in a campy apartment in an over populated city because we can get around more conveniently. But what we are doing is depletion of natural resources. What we sacrifice is the diminishing of natural beauty that supposed to be free to everyone.

Text: Justin Tsui