As capitals and "second cities" all over the globe struggle for recognition as creative hubs, Vienna has one very important asset to count on. Situated at the heart of Central Europe, the Austrian capital does well in underscoring the cultural potential inextricably linked with its geographical position. Quite logically, then, the organisers of ViennaFair have turned to countries from Central Eastern Europe (CEE) in the short history of the event (2009 sees its fifth edition taking place), so as to present collectors with a good reason to pay this otherwise rather modest art fair a visit. The overall atmosphere, we hear, has been good in 2009 – despite all fears about the recession and the consequences of general reluctance to spend the crazy amounts of money we've seen flowing into the art market in the past few years. This new atmosphere might even be to the advantage of a such a relatively small art fair, where young and sometimes more regional talents are introduced to an international public. After all, a new constellation of the art world might hold greater space for emerging artists whose work can still be considered as "affordable". And ViennaFair didn't only reach out to a wealthy collecting public, there were also some finds in a rather modest price range, eg. photo editions, which allowed for occasional art buyers with a smaller purse not to leave empty-handed.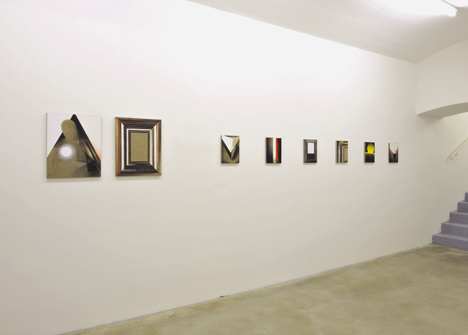 Svenja Deininger, exhibition view Galerie Martin Janda, 2009, © Martin Janda gallery
Obviously, to pick from art exhibited by a total of 122 galleries, 29 of which represent ViennaFair's focus on the CEE region, is as difficult a task for the collector as it is for the journalist. Anyhow, an overview of artist's positions or gallery selections worth mentioning should include the Vienna-based Martin Janda gallery, which chose to show established artists the likes of Roman Signer alongside a fresh face like Svenja Deininger.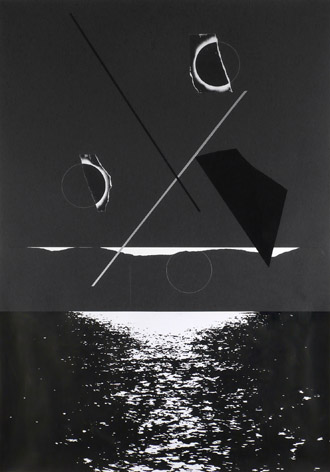 Nick Oberthaler courtesy of Layr Wuestenhagen Contemporary © Gregor Titze
Layr Wuestenhagen Contemporary also opted for some promising talent from the emerging local scene: Nick Oberthaler, already on show in the gallery a month or two ago, received an entire wall and beckoned out to visitors (a slight increase of + 1,4 %, was reported by the organisers, by the way).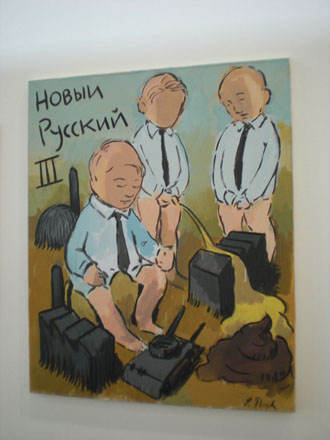 Lukas Pusch at Konzett Contemporary © Daniel Kalt
Konzett is another Viennese gallery and art dealer, whose contemporary art section showcased quite extraordinary wolpertinger-like miniature tables by Christian Eisenberger as well as a painting by the young Austrian artist Lukas Pusch. Pusch completed part of his studies in Moscow and he obviously still feels close to the country's culture, which he depicted in a precise caricature of new Russian wealth.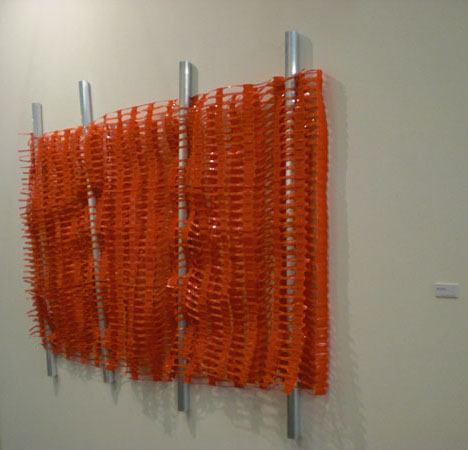 Gerold Tagwerker at Grita Insam © Daniel Kalt
Gerold Tagwerker's examples of urban art studies sought their public in the cubicle of Grita Insam gallery, but certain installations could only be classified as DIY-compatible "arte" very "povera". Not necessarily what I would turn to for some cheering-up in times of a mood-wrecking recession, if I may say so.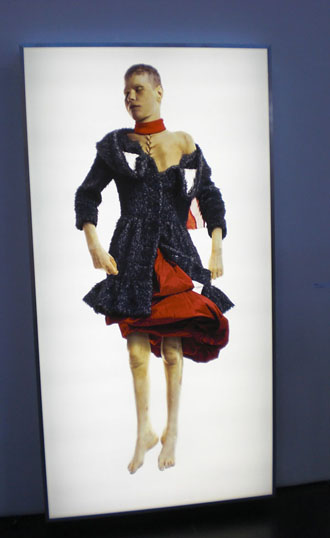 AES+F at Knoll gallery © Daniel Kalt
Some truely Russian art could be seen at the stand of Knoll gallery with branches in Vienna and Budapeszt: two quite upsetting light boxes by the AES+F collective were up for sale, stageing dead bodies in stylish attire that provided for a somewhat "memento mori" like and baroque-ish nostalgia for things past.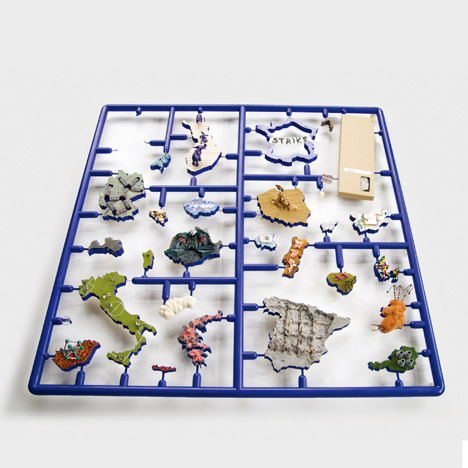 David Cerný, Krištof Kintera, Tomáš Pospíšil, Viktor Frešo Entropa, 2009, mixed media, courtesy of Kressling Gallery, Bratislava © David Cerný
Some of the more interesting galleries from Eastern Europe were New Moment Ideas from Serbia, Hunt Kastner Artworks from the Czech Republic, Galeria Pies from Poland and Kressling from Slovakia. The latter had quite a scandalous artwork on display, namely David Cerny's "Entropa", which had caused great uproar in Brussels when the Czech Republic took over the EU presidency earlier this year.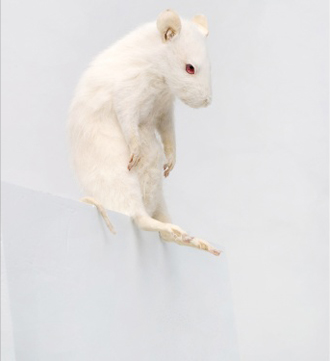 Stano Masar, On the Edge © Stano Masar
Less showy was the art exhibited by Priestor from Slovakia, where Stano Masár's stuffed white rats invaded the gallery cubicle and incorporated a troup of metaphorical urban parasites. What's interesting, Anna Jermolaewa (represented by Widauer) also opted for laboratory rats for the compostion of her video "Der Weg nach oben" (The way to the top). There might actually be something in the current global situation that instigates a new take on certain processes in society…
Outside the grounds of ViennaFair, another huge art event entitled 'curated by' was on last week: it was put together by the organisation departure , which is a key factor in the municipal government's cultural policy. The stated aim of departure is to support entrepreneurs from the creative industries – industrial designers, architects, fashion labels etc. – so as to turn Vienna into an efficient creative metropolis beyond art and the art market. Therefore, and even though there is little doubt about the overall quality of curated by, one does have a hard time understanding how a mere fine-art project is to be reconciled with the declared purpose of departure. Following a concept that has been rather en vogue recently (a notable initiative took place in Paris and Berlin earlier this year, when gallerists swapped towns and curated shows in their partners' art spaces), curators of international renown were invited by departure and realised a total of four group shows held in 18 Viennese galleries. Jérôme Sans, María de Corral, Dan Cameron, Matthew Higgs and Gianni Jetzer did their best to entertain a crowd of culture addicts that is always craving for input. One could feel tempted to ask whether this huge and without a doubt quite costly effort wasn't overdoing it a little bit – but then again, why spoil the fun with too many a question.
But of course, curated by was not the only art event to watch out for during the week of ViennaFair. Quite an important number of off-spaces and smaller art centres wanted beckoned out to a flock of art lovers. What came as a nice surpise: Chicks on Speed rocked Vienna's rather new Bawag Contemporary art space (definitely one to watch out for, by the way) with their performance "Power Tools". The girls are always fun to watch, and so they attracted a hip and youngish crowd ready to catch up with the chicks' ever so trashy, early-Noughties-Berlin style. Even though theirs is a by now very well-known aesthetics, it is obviously still à la mode in a town that tries so hard to be as fun and artsy as the German capital.
Text: Daniel Kalt from AUSTRIANFASHION.NET is also author of the blog ParisVienne.
[Help wanted]
Inviting volunteer staff / pro bono for contribution and translation. Please
e-mail
to us.