An experimental dancer exploring body expression with spine.
Steve Paxton is an experimental dancer and choreographers who developed Contact Improvisation (C.I.). He is one of the main people in American post modern dance. At this time, his exhibition, workshops and talks have been held across Japan: Aomori, Tokyo, Yokohama, Kyoto and Yamaguchi. The main focus of this project is a workshop and exhibition called "Phantom Exhibition" at YCAM about the Material for the Spine, which he has been working since 1986. Steve Paxton has been integrating Aikido, Yoga, Vipassana meditation, and other Asian body techniques into dance. I visited his workshop in Yokohama to interview him.
Could you tell me how this project began?

It happened by accident. I was asked to make a DVD from a publisher in Brussels; we did the first shooting in Spain. At the end of the period we had a party. We showed images on the wall and it was great. It made such an interesting space – the way the images seemed to project the distance in the wall. So, I suggested to my friend to make an exhibition to show this quality of image. We have done it in Brussels, and have been to Tokyo, and will be in Madrid and Brazil. The reason why I came to Japan is Fujiko Nakaya…an artist invited me.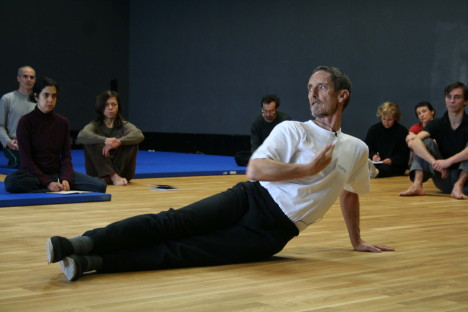 "Material for the Spine" Photo: Contredanse (Florence Corin and Baptiste Andrien)
The Material for the Spine is your new DVD and the theme for this workshop, what is "spine" for you?
It is very difficult to sense unless the spine is injured. I had an injury in my spine, and I could not move—it was really painful…I had to use a wheelchair at that time. Thus, something is core about the spine within humans. The English word spine means "column" in Spanish and it may be a better way to explain it.
Dance and most sports are focused outside of body, such as arms, legs and shoulders. On the other hand, the spine is the main focus for C.I. I started to create exercises for C.I. through analyzing how to use the spine in C.I. Using this exercise; I organized a workshop specifically for the spine.
I focus on the skeleton and how to support the weight. I am curious about the weight of many parts of the body and how it is all connected around spine.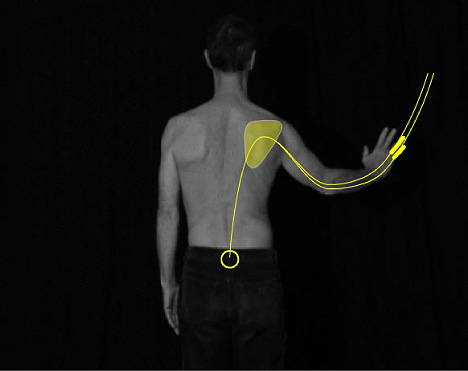 "Material for the Spine" photo: Contredanse (Florence Corin and Baptiste Andrien)
For dance, muscle is normally the main concern, isn't it? Why are you curious about the skeleton more than muscle?
Because so many people are already thinking of muscle. From my experience, there are some dance techniques of the spine, but that are not only of the spine. I cannot concentrate only on the spine for that because I need to be careful to be sure my step is correct and how I should move on the floor.
Thus, it is necessary to think of the spine deeply. If you study the spine once, you have never forget it. If someone would like to study the spine for long-term, yoga or Tai Chi is recommended. Material for the Spine is a good introduction.
Did you think of that since you were a child?
Nope. One day I started to dance and it was fun…I ended up being a dancer. Material for the Spine is about my dance idea I had in 1986.

Photo © Jordi Bover
Why have you been interested in teaching dance?
Because people want dance. Dance is one way to think about the body and plastic medium…it expends our possibility – this is a live medium.
For instance, one early morning in Taiwan, I went to a temple on the top of a hill. There were people practicing Tai Chi; away from there, about 30 men and women were gathering to dance samba. I think this is great idea. There were old people getting in touch, hugging and moving on rhythm. There were male and female connections, but nothing serious. It was just a morning exercise. This is a fundamental way that social dance is used for therapy…like Tai Chi. Samba is much more popular than Tai Chi. Tai Chi is kind of lonely, but with social dance one can do it with old friends…this is what dance can be. Look at the great dancer; it makes your nerves feel more alive…you can feel an incredible movement. For example, when I sometime watch hip-hop dancers on TV, I can feel movement in my body – they energize you little bit. Martial arts and dance help complete the possibilities of the body and give practice to movement.
Then, you think dance should be fun?
No I did not say that. But I do think it sometimes can be fun.
So, what is dance?
For dance, development of the body and language of the body is in the action that the body does. So, you actually have to do movement.
The skeleton stops growing when you're 22 years old, but my best dancing happened in my fifties. So, there was thirty years of development to make something happen, and I was never able to find any other way. I needed it to acquire what I wanted to do. It is great physical energy, far more balance and sophistication, so that in my fifties I thought it was fabulous.
At that time, I was dancing a two-hour dance program that included a 45-minute solo. I might be able to dance because of the development, but most people do not do this.
What inspires you the most?
Other dancers. If I listed the dancers I knew: Fred Astaire – the first ballet dancer I saw, Cunningham Dance Company, Simone Forti, and Lisa Nelson, who taught me the beauty of creating new dance.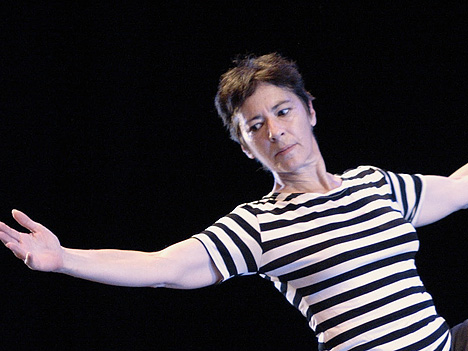 Lisa Nelson "Night Stand", Photo: Jordi Bover
You are working on this project with Risa Nelson, how did you get to know her?
We have been making duets since 1978. We are thinking about making a new piece for 21st century, which will be a work performed in Tokyo this time.
You live on an organic farm. What connection do you make between dance and farming?
It is the same…how to keep my body alive. Some of the exercises are for the body, which I call dance, and others I call farming. I use form in farming that I use for dance. For example, I cut my glass to bring consciousness to my spine – likewise in the workshop.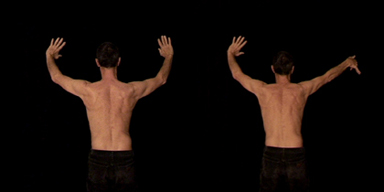 Phantom Exhibition, Steve Paxton with Florence Corin and Baptiste Andrien (Contredanse).
Photo: Contredanse (Florence Corin and Baptiste Andrien)

Do you have anything you are interested in except dance and farming?

The human brain, environmental issues, art – such as paintings, performance, music, etc.

Could you let me know some names of you are interested in?

A Canadian environmentalist, Dr. David Suzuki; a Spanish Judge, Baltasar Garzo; a Chief Prosecutor of the International War Crimes Tribunal, Louise Arbour; and a Canadian Politician, Stephen Lewis.

There is lots of improvisation in your work. What do you think about improvisation?

It is life itself. For instance, there is a lot of improvisation in sports. In the case of soccer, it is necessary to improvise within a rule because many adults follow the rule. Improvisation makes your body move, not just think in your head.
Today, I heard one of the better definitions of improvisation from Robart Frith, a jazz musician on the radio. He said that improvisation is the assumption of innocence in the context of experience.
I thought that it was a very interesting definition…sort of explains why it is so interesting. Okay, you have context, which is the conservative element; such as memories and experiences, but the assumption of innocence is childhood. I've been dancing for fifty years, and I'm still interested in moving on progressively.

How much do you improvise on stage?

It's not how much I improvise, but in what way I improvise.
So, since the 1970's I've been testing my idea in my dance almost scientifically. I could say that I am a researcher. For instance, for C.I. I am researching weight and reflection. I was dancing with various styles, like collaborations with other dancers, musicians, and solo dance. With one body, one space, one night and little music, I have been trying what I can do, as everything only has one chance.
When it comes to time, you might think of the concept of time. There are many philosophies about time, but it is hard to be practical with the idea that you only are alive in this moment; we all are simply projecting the future and carrying the past. Right there in the middle exists right now, which needs exercise too.

Are there any reasons you set one hour for taking a nap in the workshop?

My workshop's exercise deals with coordination, which is strange to the body, as it has nothing to do with ordinal movement. Naps are necessary because the part of brain that actually does the movement, which is unconsciousness, can learn the movement. Get consciousness out of the way by putting it to sleep.

Steve Paxton+Lisa Nelson Project
Steve Paxton 10 days Workshop "Material for the Spine"
Date: April 26th – May 5th, 2009
Place: Graduate School of Film and New Media, Tokyo University of the Arts
http://ddjc2009.org

Steve Paxton "Phantom Exhibition – Material for the Spine"
Date: May 24th – August 31st, 2009
Open: 10:00-19:00
Close: Tuesdays (the next days if it falls on holiday)
Place: Yamaguchi Center for Arts and Media [YCAM]
Address: 7-7 Nakazono-cho, Yamaguchi
Tel: +81-83-901-2222
Admission: Free
http://www.ycam.jp

Steve Paxton
Dancer / Choreographer. Born 1939 in Phoenix, Arizona, he has researched the fiction of cultured dance and the 'truth' of improvisation for 40 years. He lives on a farm, and he has received grants from Change, Inc., the Foundation for Performance Arts, John D. Rockefeller Fund, and a Guggenheim Fellowship. He has been awarded two NY Bessie Awards, and is a contributing editor to "Contact Quarterly" dance journal. He was one of the founders of the Judson Dance Theater, Grand Union, Contact Improvisation, Touchdown Dance for the visually disabled (UK), and began his career studying modern dance techniques, ballet, Aikido, Tai Chi Chuan, and Vipassana meditation. He performed with the Merce Cunningham Dance Co. from 1961-65. He lectures, performs, choreographs and teaches primarily in the USA and Europe. Recently he collaborated Mikhail Baryshnikov, Trisha Brown, Lisa Nelson and etc. In 2008 he published a DVD-ROM "Material for the Spine" and book with Contredanse in Brussels.

Text: Wakana Kawahito

<!- Rubicon OS Player -->