GREAT OUT DOORS – GRAFFITI AND STREET ART SHOWS
The urban door is one of the most frequently used canvases for street and graffiti artists around the world, it's frame providing temporary shelter for the elusive artist, it's surface proclaiming missives for all the world to see. The door is the subject of the landmark group exhibition, the Great Out Doors, curated by Luna Park and Billi Kid and on view at Williamsburg's Artbreak Gallery from May 2-29, 2009. Featuring approximately 30 doors, re-appropriated by some of today's hottest artists working the street, the show offered each artist the opportunity to expand on painting, stenciling and wheatpasting skills honed on the streets.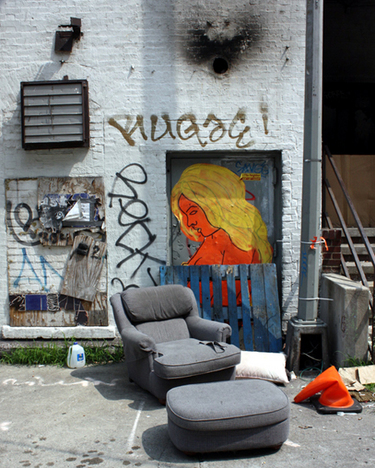 Street and graffiti artists love to work within the metropolitan environment and pay close attention to all available exterior facades, most notably the door. Each of the following participants in the show has at one point or another transformed a door or two for public consumption: Billi Kid, Blanco, Broken Crow, Buildmore, Cake, C-Damage, Celso & LA2, Cern, Chris (RWK), Deeker, Destroy&Rebuild, Dude Company, Feral, Goldenstash, Imminent Disaster, Infinity, Kngee & Dana Woulfe, Matt Siren, Morgan Thomas, Peru Ana Ana Peru, Plasma Slugs, Veng (RWK) Royce Bannon, Skullphone, Stikman, Windowzoo and Yassie Goldie.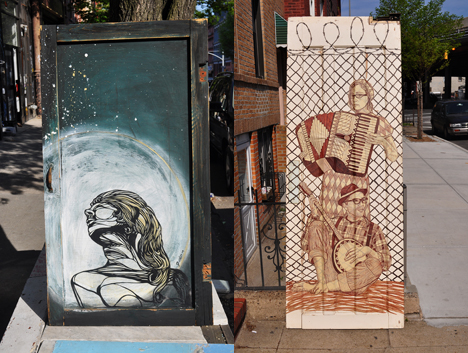 Each artist was given the task of reworking a used door specifically for this exhibition: doors were salvaged from the curb, stolen from dumpsters, and bought at rural farmhouses. All manner and size of doors were procured, from wood to metal, from very light to absurdly heavy. A range of artistic techniques was displayed. Blanco, Broken Crow, and Dude Company delivered beautiful stencil work. The cut-out skills of Imminent Disaster and Feral impressed all. Remarkable collaborative works were created by Boston-based Kngee and Dana Woulfe as well as New Yorkers Celso and LA2. Robots Will Kill members Veng and Chris both ran with a mail theme, incorporating a mailslot. Deeker and Royce Bannon worked out their inner monsters.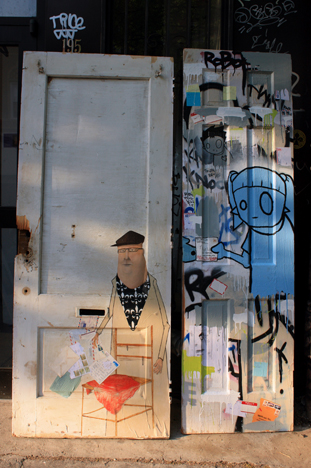 Graffiti and street art shows are often criticized – rightfully so – because the work often does not translate onto a canvas in a gallery setting. So much of what works on the street is lost without the context – clearly the dialogue created by an artfully placed piece on the street can seldomly be recreated in any other location. But by bringing doors in from the street, we were able to keep some of the context. Much like at the zoo, it is my hope that in bringing doors indoors, we may have inspired viewers to look more closely and to appreciate the ones they encounter outdoors.

Great Out Doors
Date: May 2nd – 29th, 2009
Place: Artbreak Gallery
Address: 195 Grand Street, 2nd Floor, between Bedford and Driggs Avenues in Williamsburg, Brooklyn. New York
Opening Hours: Thursday – Sunday, 13:00 – 19:00
Curated by Luna Park and Billi Kid

Text and photos: Katherine Lorimer

<!- Rubicon OS Player -->