The cover for March is a new take-over from Caperino & Peperone!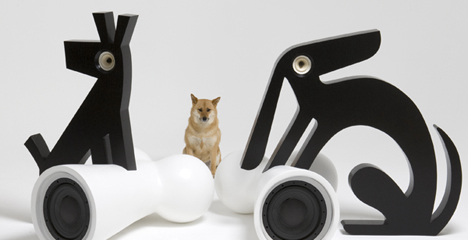 Just like Cap & Pep feeling the nice breeze, we can feel the warm air of spring along with their creator's voice of Kuntzel+Deygas, as known well for their creation of the iconic symbol of colette. The Kuntzel+Deygas's creativity flourished in Paris and soon spread all around the world, taking in the diverse forms of fashion, movies, CD covers, packages books and more. Like Cap & Pep on the cover, let's get a breeze of the "fresh air" brought to you by Kuntzel+Deygas.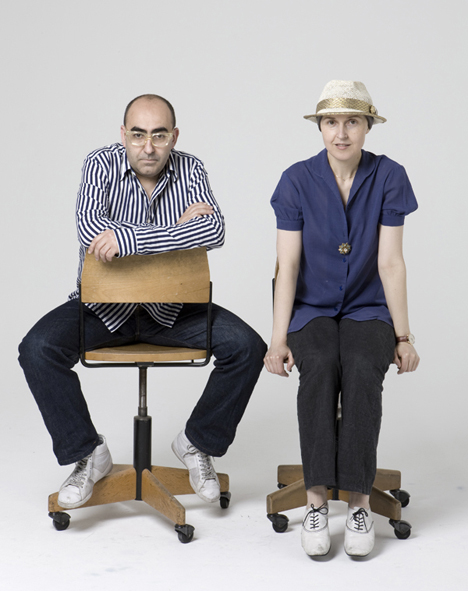 © Photo by Khalil
Could you introduce yourself?
Olivier has an art school education and Florence an animated movie education.
We are narrative designers and the creators of Caperino & Peperone.
We're using graphic creations and motion design in order to tell stories, see "Catch Me If You Can" opening title sequence or the music video for Carla Bruni "L'Amoureuse".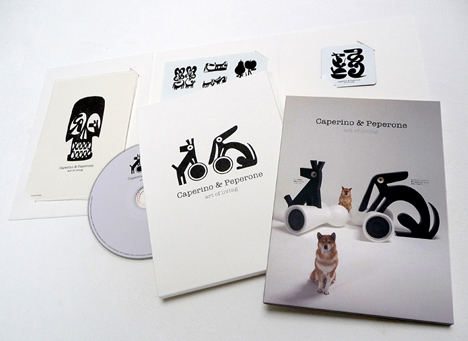 The Art Of Living CD © Kuntzel+Deygas
I heard that you will be participating in Kuala Lumpur Design Week 2009 (KLDW) which will be held for the first time in Malaysia. What are you going to present for the event?
We're invited to participate to the Maximum Minimalism Conference. We're going to tell the story of how and why our creations touch Minimalism. We will talk about our "Sushi-like" approach that we use when we create our new variations of Cap & Pep. "Take-over" is the basic and essential concept of Cap & Pep which means to take an already existing and defined product and Cap & Pep leave their traces on it. We've done through Cap & Pep several take-overs in different artistic fields (e.g. Cap&Pep x Medicom-Toys, Cap&Pep x Lacoste, Cap&Pep x Baccarat, Cap&Pep x Eames chairs and many more).
We will share our idea on how to drive an independant creation today.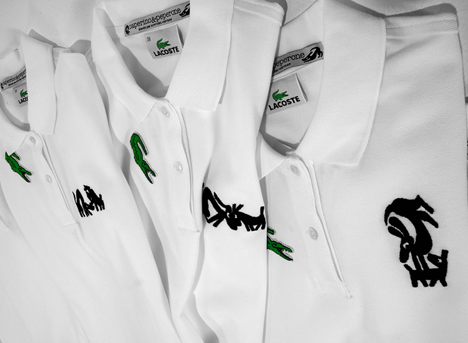 Cap & Pep x Lacoste © Kuntzel+Deygas
Other than the work on KLDW, could you tell us about the current projects and activities you are working?
After "The Art of Living" we prepare a second music compilation called "The Art of Sleeping" (at Rambling Records) and also some assorted videos around this theme. We have started to communicate on the "Haute Fidelite" sculpture we created in the shape of Cap & Pep.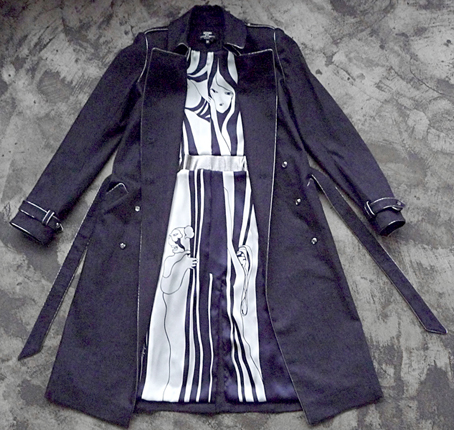 "Beauty And Her Beast" trench coat – Kuntzel+Deygas x Azzaro Couture © Kuntzel+Deygas
Through our other creation, "The Beauty And Her Beast", we have collaborated with Azzaro Couture on a trench coat which is only available in a limited edition of 10 pieces. We have also worked together with Akhah Jewels on a "Beauty And Her Beast" pair of necklaces and also with Jaeger-Le Coultre on two Reverso watches.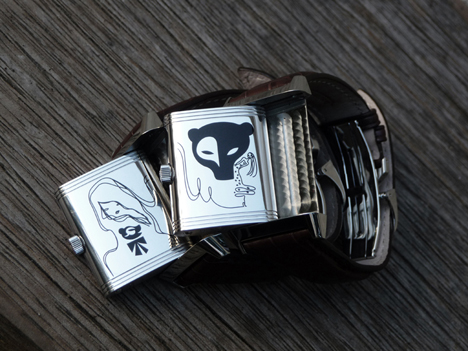 "Beauty And Her Beast" two Reverso watches – Kuntzel+Deygas x Jaeger-Le Coultre © Kuntzel+Deygas
We've just finished a 3 minutes world wide communication film for Japanese brand Toto, for an upcoming exhibition broadcasting.
Right now we're working on an opening title of a French movie "Le Petit Nicolas" after de book by René Goscinny and Jean-Jacques Sempé. The movie is directed by Laurent Tirard and will be out in the cinema in September 2009.
ADD A DOG is a production tool for Kuntzel+Deygas. Could you elaborate more about it?
From the beginning on of our partnership we felt that we needed our own tools and space in order to create. Our activity is not nomadic so we have installed a tailor-made workshop and studio in order to work in an optimized way. Our studio is very spacious which allowed us to install a screening room, a computer room, a drawing space and an office room. The proportions are like in a house, a house for Design.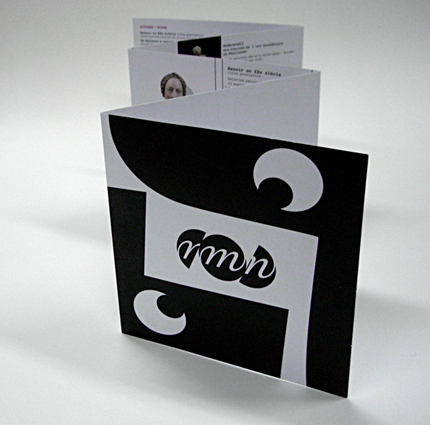 RMN © Kuntzel+Deygas
So famous duo, Caperino & Peperone! Where are they from? How and when did they form a duo? Please tell us their current works?
Before being exposed Cap & Pep were at the beginning private creations. They're a duo and most of our creations are beased on duality (contrast or complementary). Cap & Pep are "Italian" because we've created them in Italy (precisely on Stromboli Island). We see them as a kind of "existentialists". For us they are a method of communication, we express through them our mood, our feelings of everyday life.
Caperino is square-shaped and small. Peperino is round-shaped. Their personality however is flexible and changing depending on the situation. They cross the path of colette, Vogue Nippon, Isetan, RMN (French Institution of the national Museums) and many others. They have also friends in Hong Kong, Dubai, Singapour and soon in Kuala Lumpur.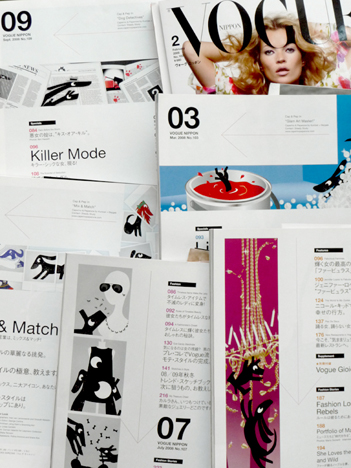 Vogue Nippon © Kuntzel+Deygas
Your creation can be seen on a wide rage of the creative fields including fashion, movies, CD jacket works, packages, books, characters and so on. And what I can feel from the almost all of your creation is a touch of the playfulness and a sort of humor. Do you intend to make things with something amusing people? How do you get/create ideas?
As we often work with a light smile on our faces, it makes sense that the confrontation with our creations evokes this light smile on others too. No matter in which field our creations interfer (art, cinema, fashion,…) we are always fascinated by the subtle nuances, behind seriousness there is lightness, behind frivolity there is deepness.
What/who did you think you get influenced by? Any inspiration sources?
Silent movies are a big inspiration in regards to the narrative performance (in terms of rhythm, gestures, facial expressions). Music is the other inspiration. We respect its power to liberate our mind and its reinforcing effect on our visuals.
What is your favorite things (books, fashion, food, colors, animals, anything you can think of)?
Sharing meals with friends.
Long walks with our dogs.
These are the moments when good ideas blossom.
You are well-known as fashion illustrators as well. Could you share with us your favorite fashion, fashion brands/shops, styles?
We're attracted to fashion that is created with an independant and strong mind, fashion that is made without any concession.
We like fashion that expresses the personality of the creator and not only the brand image. Personally we love the creations of Martin Margiela, of Vanessa Seward for Azzaro, and the innovative approach of Comme des Garçons.
Could you talk about the cover design you created?
Another take-over from Cap & Pep, this time for Shift magazine.
We used an existing animation of Cap & Pep that we like a lot. It's a loop animation of Cap & Pep refreshing themselves by the light breeze of a ventilator. We've replaced the original ventilator by an animation of the SHIFT letters. The message could be "Shift brings fresh air".
Please tell us your future plans or any upcoming events?
More take-overs by Cap & Pep, more extraordinary sculptures, more narrative objects. But above all, our main goal is to work with pleasure.
Kuntzel+Deygas
ADD A DOG, 96 rue du poteau, 75018 Paris, France
Tel: + 33 1 42 55 43 94
contact@addadog.com
www.addadog.com
Text: Mariko Takei, Kazumi Oiwa
[Help wanted]
Inviting volunteer staff / pro bono for contribution and translation. Please
e-mail
to us.