Design is Love. Design is Poison. Design is Reality. Design is Happiness. Design is Living.
Kawamura Hideo Activity participates actively in various fields. The work of Hideo Kawamura, the designer/founder of Kawamura Hideo Activity, is not always plain. After his independence from Tanak Noriyuki Activity in 1977, Hideo Kawamura founded the design company Kawamura Hideo Activity. He also established a product design label called Rezon® in 2005, and received the 2006 Good Design Award with Rezon's first product called "ONOFF." His ideologies (such as the connection between humans, a sense of courtesy and respect; and love) give warmth to his products and exert a powerful hold on many people. I had a great chance to interview Hideo Kawamura, the core person of Kawamura Hideo Activity, who is a new-type creator.
First of all, please tell me the detail of Kawamura Hideo Activity (KHA) and their jobs.
After I worked for Tanaka Noriyuki Activity, I set up in Kawamura Hideo Activity on my own. Our jobs are mainly graphic designs, but we also have a wide range of jobs including products, space direction, and motion pictures.
Please tell me about the product design label "Rezon®."
Rezon® is the design label we created to express our designs and ideas freely – you can read it as re·zo·n. In Chinese symbols, it means "courtesy and respect." The motto for KHA is "don't be a stereotype and work without borders," this does not work out without communicating with various people. The name Rezon has a shade of meaning wherein we should not forget the connection between people and the sense of courtesy and respect therein. We keep producing various designs such as interior design, furniture, cutlery, stationary, and graphic design.

ONOFF
I guess the shade lump ONOFF, which received the 2006 Good Design Award, must be one of your representative products. Could you introduce some other projects and products including ONOFF?
ONOFF was born with unintentional scribble as a start. I drew a circle on the front of a piece of paper and drew eyes and a mouth on the back of the paper, then I held the paper up to a light and saw a smiley through the paper. I started to think how I could apply this gimmick to something, and I ended up applying it to lighting after trial and error.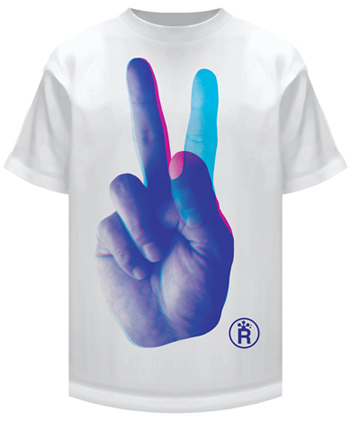 3D Love & Hate T
Other products such as T-shirts, shopping bags, and stickers with gimmicks are also on sale at Rezon.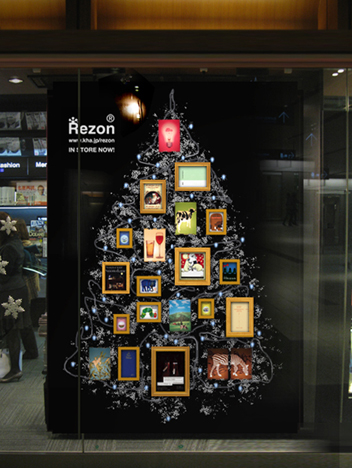 TSUTAYA BOOK STORE (midtown store)
Please tell me about some of the stores you've done the interior design and display for.
I've worked with Odakyu-line's new logo and decor of the stations, the Science Museum "Kitanomaru Cycle" exhibition area's interior, TSUTAYA midtown's display, and CowParade TOKYO Marunouchi 2008, etc….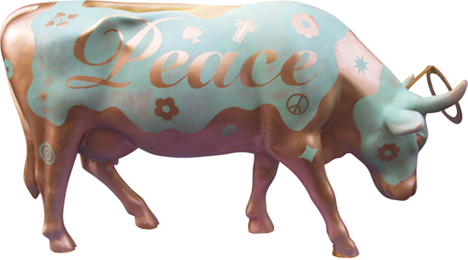 "Holy Cow!" CowParade TOKYO Marunouchi 2008
How many designers belong to KHA? Also, how long does the process take to complete one project?
There are three designers. We work in a group and come up with several variations, then we repeat brainstorming, designing (destruction and creation), and brushing-up.
How do you get inspiration for your projects?
I try to think about everything that has possibilities and potential.
What is the policy or concept of KHA?
Officially, it's love. Privately, it's for fun.
Since your independence in 1997, what are some of the changes in the design industry? Please tell me about your idea of the current design industry.
It's an exciting time now in which design is flourishing. Our time now makes me believe there is a universal meaning encompassing design.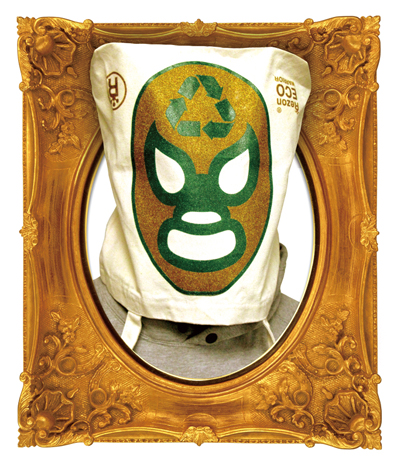 ECO WARRIOR BAG / High Class Ver.
As you also produce eco friendly products, what is your idea about eco friendly products?
After all, I guess my idea is something like it's a universal love for all living things, which is not to be trifled with.
How do you spend your private time?
I look for different shops, museums, and movie theaters seeking good design.
Please tell me about your upcoming plans.
We're planning to present more products from Rezon this year. Also, some projects such as a collaborative work with another business firm are in progress. I had a conversation with my senior Noriyuki Tanaka, and he is this month's "Design Note No.23." Please check it out!
Kawamura Hideo Activity Inc. / Rezon®
Tel: 03-3403-3024
kh@kha.jp
http://www.kha.jp
http://www.kha.jp/rezon
Text: Kazumi Oiwa
Translation: Fumi Nakamura
[Help wanted]
Inviting volunteer staff / pro bono for contribution and translation. Please
e-mail
to us.