Some may find junk wood useless, but Wong Tin Yan surely finds its natural beauty and turns it into a zoo of funny looking creatures with his own tricks. Wong uses the junk wood that he digs up from industrial areas and happily gives them a second life as cute cartoon animal sculptures. These large eco-friendly artworks have been well received by kids and adults alike. Wong is now making animal furniture and it's a great chance for you to "adopt" one of his lovely animals back home.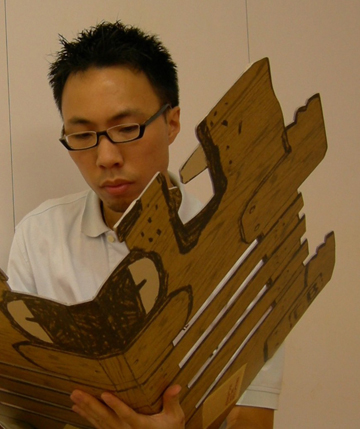 Please tell us about yourself and your background.
I graduated from the Department of Fine Arts at Chinese University of Hong Kong and now I'm working in a young art studio as a head of branch. I'm also a part-time wood sculptor; I like collecting junk wood and using it to create cartoon animal sculptures.
According to your website, you started your first junk wood sculpture in 2000, what inspired you to start your first piece?
Actually, it was an accident. I was looking for materials to create my work for my university graduation show in 2000 and there were some renovations near my department of school, so I collected the junk wood from the site and played with it for a bit. Then I found out this is the medium that I wanted to use. The good thing with using the junk wood as art material is that I don't need to spend any money on it and I don't need to worry if I make any mistakes. Most importantly, I give the junk wood a second life as a new art piece. All these reasons inspired me to do my first piece and keep on making it.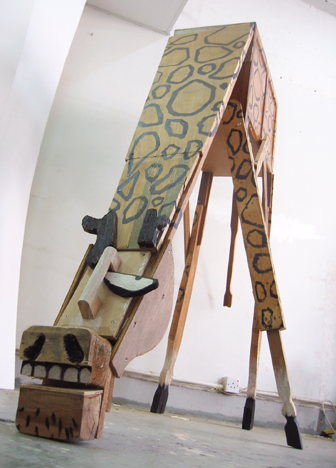 中長頸鹿 Giraffe (M), 240cm(L) x 140cm(W) x 220cm(H), 2005
Why do you choose junk wood to be your raw material? Where and how do you collect them?
Junk wood is my favorite among all raw materials. I like using junk wood to create my art piece, because it can have a very unique texture. Some people may think it is all rough and dirty, but from my point of view; there are some fascinating stories behind this wood. On top of that, there are a lot of techniques we can use on wood, such as nail, screw, interlock etc. The techniques accumulate the wisdom from various countries and cultures. Also, it's quite easy for me to collect these junk wood pallets as my studio is in an industrial building.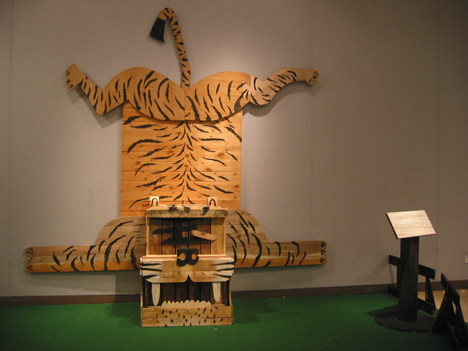 虎死留皮 Tiger Skin, 280cm(L) x 90cm(W) x 300(H), 2006
Why do you choose animals as your creative subjects?
Actually, I'm not an animal lover, but I like the animated animals in cartoons. They have funny appearances, interesting facial expressions and special characteristics. Also, they are relatively neutral and easy to understand. Most of their image was engraved in my mind when I was a kid. So when I create my sculpture, I always make it cartoonish and add some humor to it. My sculptures don't necessarily carry a message; people can just simply enjoy the form, the scale, the texture and the details of my artwork.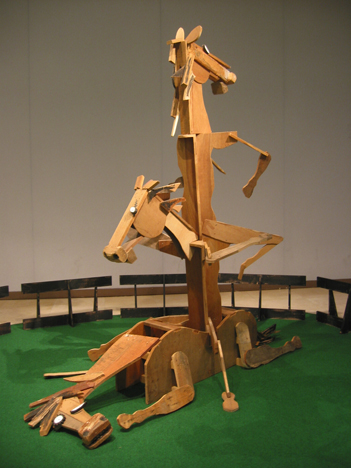 疊馬 Horses, 250cm(L) x 140cm(W) x 250cm(H), 2003
How do you create your work? Could you tell us about your creative process?
First of all, I observe the junk wood from different angles and try to imagine what part it will fit in an animal. After I have a basic idea of what I'm going to make, I use the jigsaw to cut off the pieces that I need and think about what technique I should use to combine the piece. Then I will design a suitable facial expression for my work and paint it in black and white. During the process, I would keep on challenging my original idea and try to make it better until I feel satisfied with the piece.
You have been involved in some projects, which one do you like the most and please tell us about it?
Hm…I think it would be the one with MTR. The project is called "MTR Mobile Exhibit Train". MTR transformed an old train into an exhibition display train. My junk wood sculptures were displayed in the middle of two train engines and the train passed through different MTR stations slowly during non-peak hours for three weeks. I feel such an honor to be the only artist having this chance to showcase my work in such a special way with trains running through different MTR stations. I think this is a very creative way to exhibit artwork.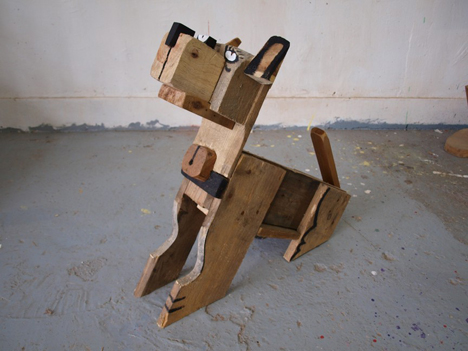 門口狗(一) Don't bite I, 68cm(L) x 16cm(W) x 65cm(H), 2008
Apart from making these wood sculptures, do you create any other kind of art piece?
Besides junk wood sculptures, I also make junk wood furniture. As I mentioned before, I like using wood to make my pieces more than any other materials, so I also use wood as my medium to make my furniture. As I had made the "Monster Chair" before, I would like to create some more pieces and let them become a whole furniture series. The reason why I make junk wood furniture is because I have noticed that buying art to display them at home is not really a normal habit for most of the Hong Kong people, so I want to create some art piece that people can actually use with an affordable price and they are under the same style of my junk wood sculptures. When people buy my furniture, they also buy an art piece to home.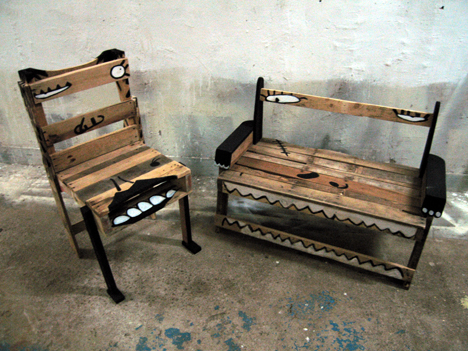 怪獸櫈(一) (二) Monster Chair I&II, 2008
What do you think of living in Hong Kong? Tell us about Hong Kong in your own perspectives.
I really like living in Hong Kong. I think this is a city that is full of opportunity and convenience. We have a lot of freedom to do things that we like. However, I don't agree with most of the Hong Kong people's values. I think they care about money and land property too much and they miss out things that are precious around them sometimes.
Please share with us your favorite place in Hong Kong and why you like the place in particular?
My favorite place in Hong Kong would be Chung Hom Kok beach near Stanley. I like sun bathing and swimming in the summer and Chung Hom Kok is the perfect beach for me to hang out with my friends, because it's not crowded and it's very quiet, especially on the weekdays. I've been going there every summer for many years now. It's a very special place for me.
What is your future plan?
I would like to establish a company or a shop, selling some unique handmade furniture with affordable art pieces, accessories and even clothes. The mission behind this is to provide more choices for Hong Kong people's living.
Wong Tin Yan
Tel: (852) 9751 7157
tinyantinyan@yahoo.com.hk
http://www.wongtinyan.com
Text: Justin Tsui
[Help wanted]
Inviting volunteer staff / pro bono for contribution and translation. Please
e-mail
to us.