3030 NEW GRAPHIC DESIGN IN CHINA
The latest Chinese graphic arts / illustrations / art collections.
Edited by Javin Mo, "3030 New Graphic Design In China" was published by the Chinise publisher, 3030 Press. This book is a collection of graphic design by young artists mainly from China.
The number in the title "3030" was taken from the name of 3030 Press. Furthermore, it features 30 artists who were born in the 1970's and 1980's. Over 3 pages are offered for each artist, so that you will not miss their talents while you are looking through their posters, book designs, illustrations.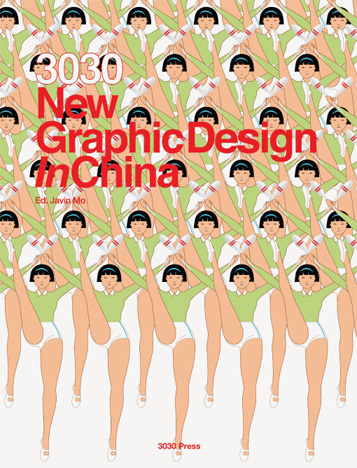 © Li Xinlu. Courtesy of 3030 PRESS
"3030 New Graphic Design in China" cover artwork
Once you see the cover of the book, you can recognise that this is about China. This work is by Lulu, who was born in 1972. I was overwhelmed by the impact of the alignment of this unique girl when I looked at the book. Chinese red color will welcome you when you see the inside of the book, then photos of China such as Beijing's National Stadium which is famous for the Beijing Olympics, then architecture and the city are briefly introduced. Then, here we are, the introduction of the featured artists.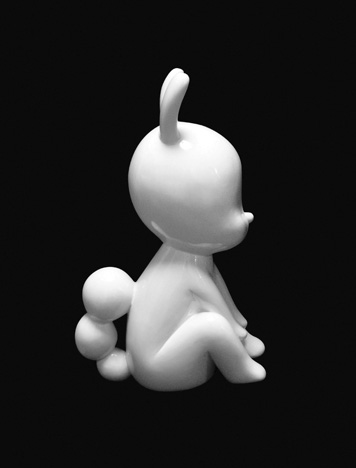 © DN. Courtesy of 3030 PRESS
"Jellofox", Product design/Installation, Designer: DN (aka Tang Yan)

DN aka Tang Yan, was born in 1978. His animal characters are very simple and cute. He is also a talented illustrator.The work is quite warm and will make you smile.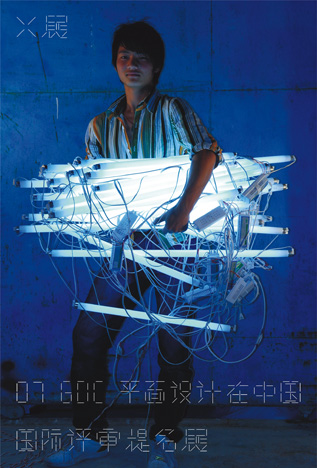 © Hei Yiyang. Courtesy of 3030 PRESS
"X-Exhibition – Graphic Design in China 2007", Installation & Poster, Designer: Hei Yiyang, Sense Team
Hei Yiyang, was born in also 1978. His book design is absolutely notable but also his works using fluorescent lights are particularly unique. I loved the exhibition poster of an installation exhibition in which he is holding numbers of fluorescents.
You can see photos of the exhibition in this book, but it is better to see live the letters which glow in the dark night.

© Ren Qianyi. Courtesy of 3030 PRESS
"Girl Roll With The Twin Loop", Illustration, Designer: Ren Qianyi, Kodyopark
Ren Qianyi, was born in 1983. Its the distinctive Chinese atmosphere that will catch your eye. It has a strong impact but also reminds us of surrealism. Once you see this work, you won't forget it so quickly.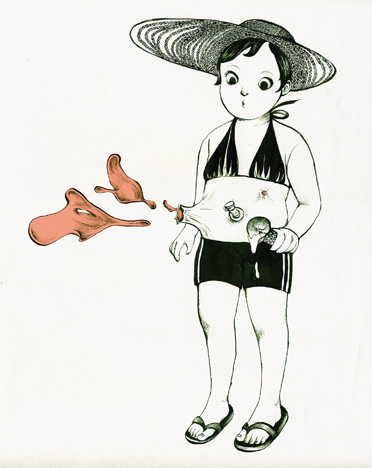 © Zhang Wen. Courtesy of 3030 PRESS
Gal", Illustration, Designer: Zhang Wen, Menz
Zhang Wen aka Menz, was also born in 1983 and introduces us to very sweet illustrations. It has a slightly strange part, like something is coming out from her belly, somehow it is not too strage more like nostalgic. Her graphic design used photos that are very girlish with vivid color, sweet again basically, that is her attraction I guess.
I have introduced 4 young artists from the book, I hope you can feel a unique Chinese atmosphere from the book. Most of the works I thought "these are totally Chinese works!" were very eccentric somehow. Keep on checking out this individual progress of China. I would highly reccomend this book to those who are keen on young Chinese artists.
3030 New Graphic Design In China
Speficication: 204pages, 23.9 x 18.8 x 1.5 cm
Released: March, 2008
Language: Chinese, English
ISBN-10: 9889938413
Price: 18.50 EUR
Publisher: 3030 Press
Text: Asami Miyamura
Translation: Junko Isogawa
[Help wanted]
Inviting volunteer staff / pro bono for contribution and translation. Please
e-mail
to us.