Kustaa Saksi creates retro-futuristic kaleidoscopic imagery, daunting and irresistible.
The Shift cover for December is created by Kustaa Saksi. As you might have seen his artworks once before, his creation bears the aesthetic aspects of psychedelic and bizarre characteristics, which make a strong impact on as almost intoxicating our brains. SHIFT interviewed Kustaa Saksi who will start his solo exhibition at Maxalot Amsterdam from December 12th.
Could you introduce yourself including your background?
I'm a Finnsh illustrator and designer living and working in Amsterdam, The Netherlands. I moved here last year from Paris, where I lived four years. I graduated from Lahti Institute of design in 2000 and started working as full time illustrator in 2003.

Today's Art – Precision beamed installation in Hague (The Netherland)
You are going to have an exhibition at Maxalot. Could you tell us how you get started it?
I've met the great people from Maxalot in Today's Art festival where I collaborated in a project with them. We've had some other projects going on through the years but finally after settling in a same city we decided to make an exhibition together. I'm really looking forward to that because they always come up with nice shows.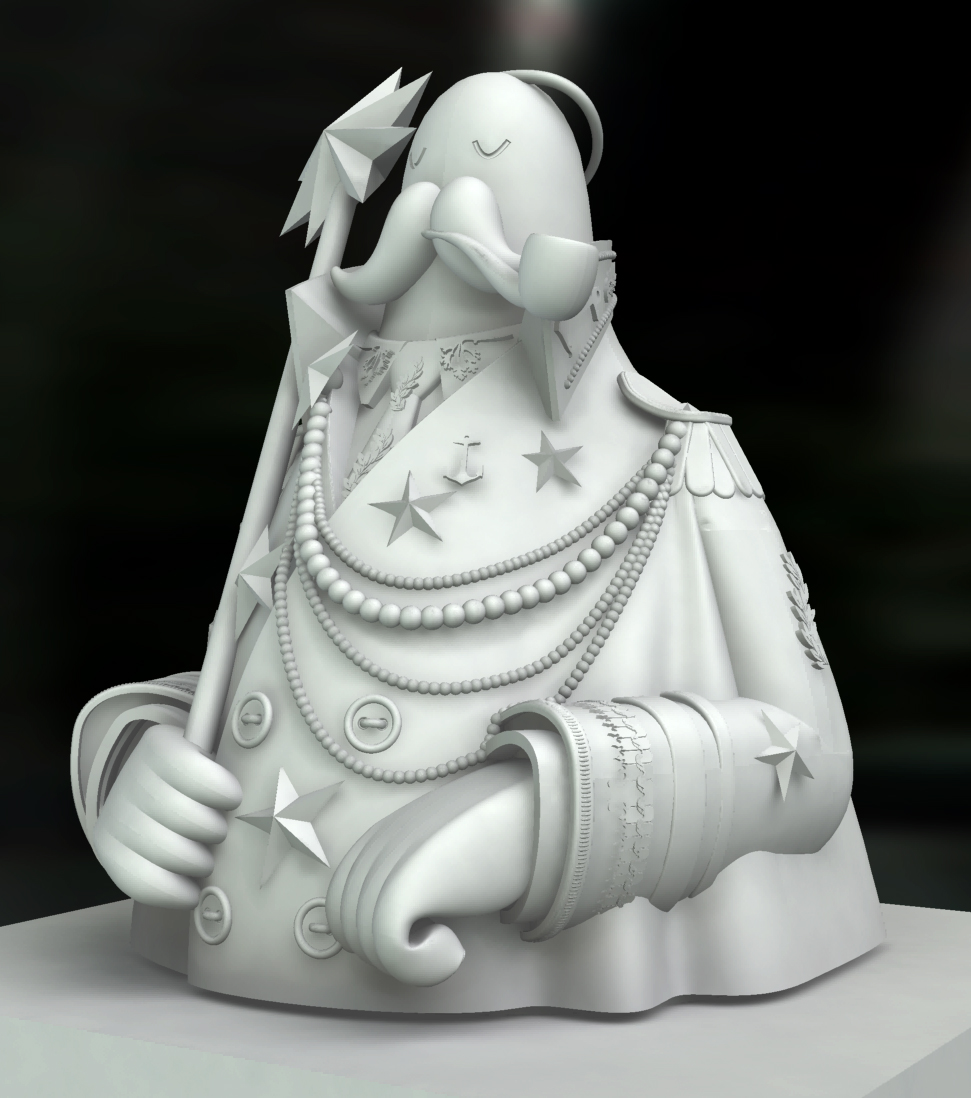 The Later Days of Vice Admiral A. B. Aslanbegov
What is your main theme for the exhibition? Could you tell us about the exhibition including some of the works?
The exhibition is called Kustaa Saksi's "The Heroes" and it will showcase a variety of my work and there will be the European book launch of the title "Offpiste – In the Land of Kustaa Saksi" by Basheer/Gestalten. I've been inspired by heroic imagery after my trip to St. Petersburg in Russia. I found this strange little religious icon from an old church illustrating a Russian admiral as a saint. For some reason I found it very interesting and I've been going through loads of heroic portraits since that. They all represent power, flattering the looks of a hero with a lot of medals, crests and the symbols of power. But, at the same time they look extremely humoristic, usually unintentionally. This contrast makes them really interesting to me and I've wanted to build up my own series of heroic portraits with elements from past and today.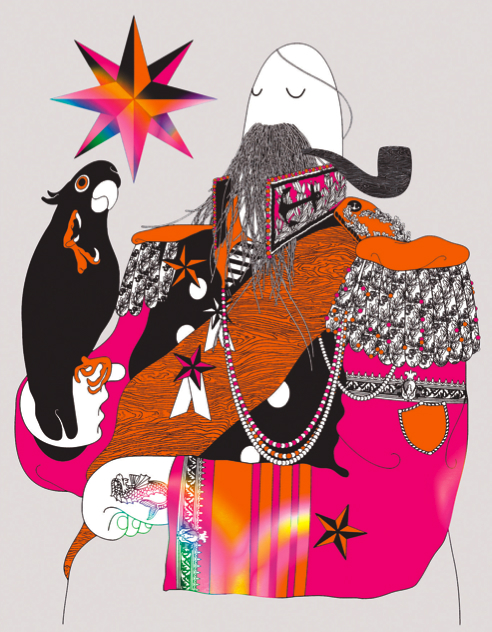 The Captain
You have been involved in various projects. Please tell us a project which creates the biggest impression? Why?
It's very hard pick one project. I've been working with many projects from fashion to music through advertising and art. Maybe the most interesting projects are the ones that have been interacting with people. I like it when I'm having direct response. Havaianas' huge size wall paintings in various parts of New York city last year is a very good example.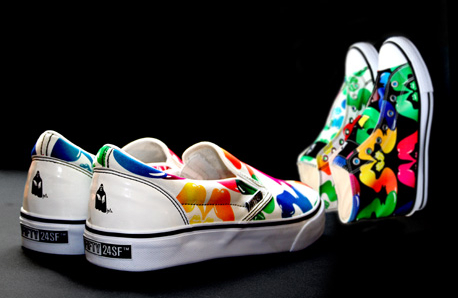 Fiftr24sf – Signature Sneaker Collection, 2008 (USA)
Your works looks elaborate and fantastic. Looking into your artworks shown on your website, I feel like I am in somewhere in a different world. How and when do you get ideas?
Usually I get the ideas outside from my studio. Sometimes sitting on a cafe, looking at the people going by might help. I like a lot of food packaging, especially in Asia. At supermarkets I can get some genius ideas! I also like a lot of old children books from the art nouveau era and pattern designs from William Morris. Also, I've been heavily inspired by sixties op art and psychedelia. Mathematical fractals look very interesting at the moment.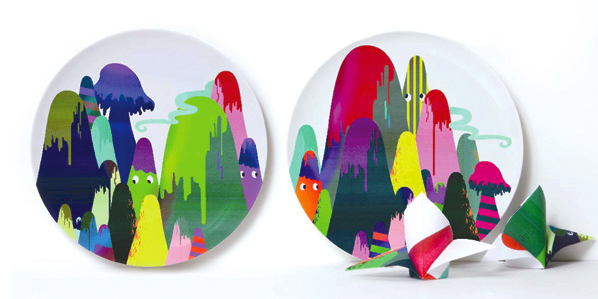 Domestic – Plate designs for Domestic Tableware Series (France)
It seems that you get inspirations from nature such as grasses, trees and mountains. Do you consistent with any common theme?
I think it's my Scandinavian background that I've always been inspired by natural, organic elements. Also, when making the compositions I feel it's very important to leave some space for natural incidents – I think small mistakes are very important in the images. Although I'm using a lot of computer in my works I always try to find more human ways to express with the software.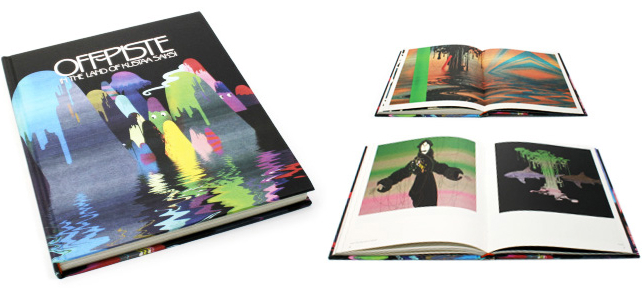 Offpiste: In the Land of Kustaa Saksi – © 2008 Gestalten, Berlin (Germany)
In what work environment do you work on your creation?
I found a studio space from an old chocolate factory in the center of Amsterdam. It's in the top floor so I can get some natural sunlight in, even in winter. I've been very pleased with the place as it seems to have a nice history. Although, I'm sure there's some ghosts in here…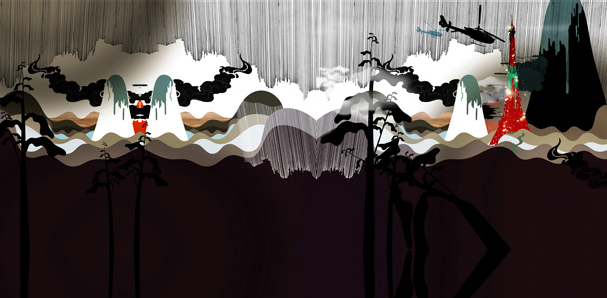 Igor – Wallpaper For Restaurant Igor in Gement (Belgium)
What do you like to do in your spare time? (I personally would like to know how your wall is like!)
I love chilling out, reading a good book when it's cold and windy outside. I'm trying to learn how to cook a bit better. Also trying to go jogging as often as possible (which is not enough). My home looks quite simple – I don't want to gather too much things around me. At the moment, I like the feeling that I can move around quite easily if I want to.
Please tell us about an art scene in Amsterdam.
Amsterdam art scene seems to be very vivid. There's a lot of quality exhibitions going on all the time. It seems the gallerists here always tend to come up with fresh new shows. One of my favourite places is Foam – the museum of photography.
Please tell us about your future plan and next projects?
At the moment I'm working on a project for Adidas and finishing the Christmas windows for Mandarina Duck. I'm looking forward to take my work more into 3D side and maybe animation. I will definitely keep on working with more exhibitions.
Please leave a message to SHIFT readers.
SHIFT+Apple+Z!!!!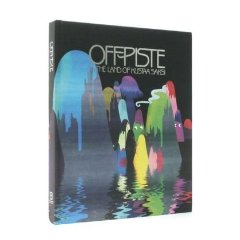 Offpiste: In the Land of Kustaa Saksi
Specification: 114 pages, Hardcover
Release: November, 2008
Language: English
Publisher: Basheer/Gestalten
ISBN-10: 3899552296
Price: $50.00
Kustaa Saksi
Address: Utrechtsedwarsstraat 13 III, 1017WB Amsterdam
Tel: +31 (0)20 4273835
info@kustaasaksi.com
http://www.kustaasaksi.com
Kustaa Saksi's "The Heroes" Exhibition
Date: December 12th – 30th 2008
Private view: Thursday December 11th, 6-10pm
Place: Maxalot Gallery Amsterdam
Address: Boudisque, Haringpakkersteeg 10-18, Amsterdam
Tel: +31(0)6-2450-4540
http://www.maxalot.com
Text: Mariko Takei, Kazumi Oiwa
[Help wanted]
Inviting volunteer staff / pro bono for contribution and translation. Please
e-mail
to us.