"You will return to earth as an animal".
The second part of this month's cover will feature Bruno Dicolla, whose selected work for DOTMOV 2008 has been now showing at the festival around the globe. Based in São Paulo, Brazil, Bruno Dicolla is an artists whose works can be found and enjoyed in the field of art, motion, design, illustrations and animated gifs. The interview to him will invite you to the microcosm of Bruno Dicolla.
Could you tell us about your background and living environment?
I'm from São Paulo, Brazil. São Paulo is a mess. Fortunately I have some relatives that live outside the city so when I was a kid I used to visit them regularly. I also traveled a lot with my family, so I think all this helped me to get to know things that I wouldn't be able to if I was stuck in São Paulo during the whole childhood. But I think there are great people doing amazing things in São Paulo, so I like living in here.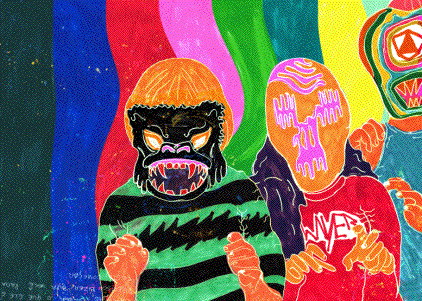 The International Illustrated 3rd Issue, 2007
How did you start working for Art, Motion and Animated Gifs?
First of all I think they are all connected, they are just different ways to show a point of view. It all started with a wish to do record covers but my first job was really weird and far from that. I was an art director in a small ad agency, to compensate the non-sense work I had to do there, I started doing illustrations and videos on my own. Later on I quit that job but never stopped doing things on my own.
Please introduce some of your recent works.
Recently, Ana Helena Tokutake and Diego Denardi and I collaborated with Trevor Sias on a music video for the band "A Sunny Day in Glasgow". Trevor Sias filmed the scenes in NY and we worked on his footage. In addition to that I'm finishing some new paintings.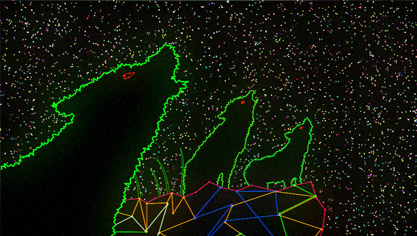 Return as an Animal, 2008
What is the concept of "Return As An Animal", the selected work for DOTMOV 2008?
Once I heard a myth about life after death that says that after you live 22 lives, you will return to earth as an animal, unless you have some karma to deal with. I don't know if I believe in this but I liked how simple and bizarre the story was.
Animals are the impressive main object in your works, and those movements have a sense of verisimilitude although they are simple. Have you been ordinarily-familiar with animals?
I believe animals are wiser than us, I think they know something that we don't. But my contact with them are only from t.v. or the zoo. Actually the first scene of the "Return as an Animal" is inspired on a picture I took of my cat.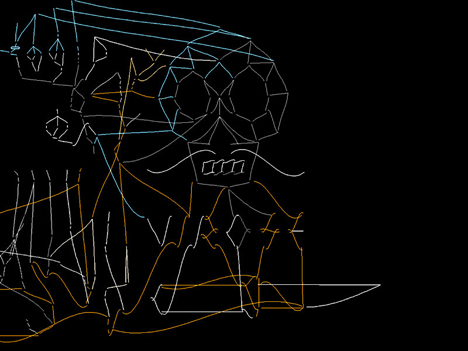 Virose, 2005
Background in your works is also distinctive; those color use, sprinkle, and patterns. Could you tell us about it?
Many cities in Brazil have some distinctive sidewalk patterns. I think that influenced me over the years. This and my broken TV, it does create some cool patterns sometimes.
Do you have any thing/people/happening you are influenced by?
My family, my friends, conversations I hear on the streets, random things I see everyday, I don't know for sure.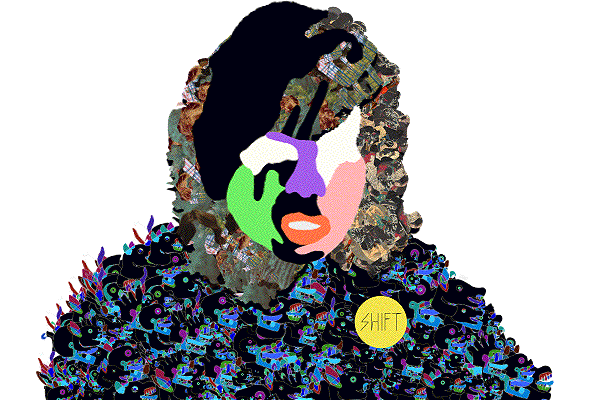 The International Illustrated 3rd Issue, 2008
Could you tell us about the Shift cover?
I met a girl and she was just like this. She was a fan of death metal and stuff like that. She was really cool but I never got to see her again.
What would you like to try next?
Start a new band, do another movie, get a new bicycle, maybe do an exposition, but so far I've been busy finishing another animation for a show, and I can't wait to get it done!
Please leave a message to Shift readers.
Do what you feel, do it for yourself, nevermind what other people think.
Bruno Dicolla
bruno@brn.cc
55 11 9962 7165
Text: Yurie Hatano, Mariko Takei
[Help wanted]
Inviting volunteer staff / pro bono for contribution and translation. Please
e-mail
to us.