Sankai Juku Japan Tour, the first time in two and a half years.
Kitakyushu Performing Arts Center was enveloped in complete darkness. The Sankai Juku Japan Tour, which was the first time in two and a half years, was implemented under the perfect direction for jet-black darkness turning off seat guide lights and no-smoking signs.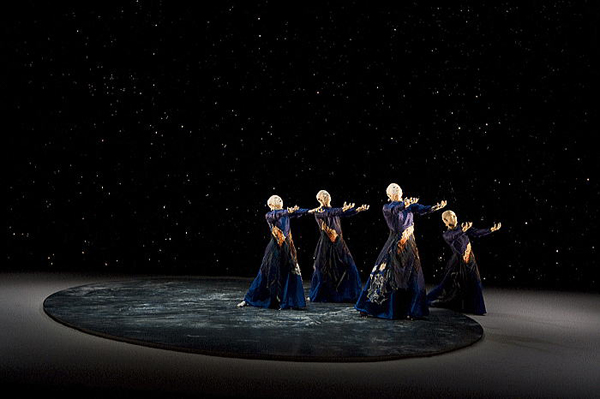 TOBARI © Vincent Jeannot
Sankai Juku is a Butoh dance company founded by Ushio Amagatsu in 1975. They have performed in 43 countries since 1980, and are currently based in Theatre de la Ville in Paris. Their new production "TOBARI" was performed as world premiere in Theatre de la Ville in Paris in May 2008, and its Japan tour was started in Kitakyushu Performing Arts Center.
When the curtain went up, an ellipsoidal platform appeared at the stage center. The infinite number of stars were sprinkled on the platform and the stage background. Those stars brilliantly shined according to the scenes divided into seven chapters and changed each atmosphere.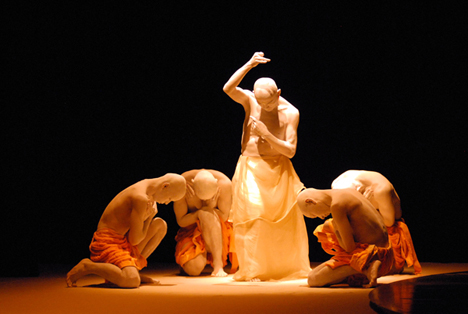 TOBARI © Jacques Denarnaud
Butoh dancers showed very expressive slow movements and also sudden sharpness. It was a great variation in all kind of expressions showing all their body possibilities; movement like a bird, like skimming the surface of water, sometimes it was smooth, sometimes intense, and relaxed.
However, the body didn't make a sound at all. Only what I could faintly hear was the rustle of stage costumes and also the sound when they fell over the stage. I was amazed how human's body could show such abundant powers of expression in the silence. From one scene representing a desert, I felt life force of human in ultimate state. On another scene, it was like a new world in a different planet in space.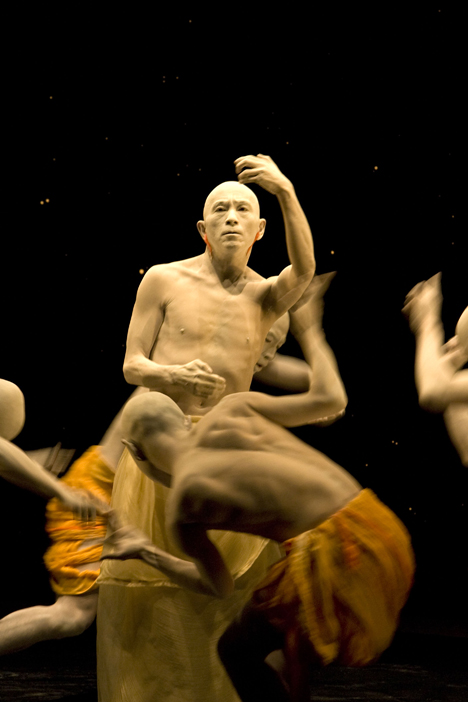 TOBARI © Vincent Jeannot
And the solo performance of Ushio Amagatsu was overwhelming. Explosive presence and expressiveness. It showed the silent scream and the story without words. Inarticulate feelings came out from the entire body of Amagatsu, which moved feelings of the audience as well. Exceeding the difference of culture and language, it overwhelmed us with a flood of emotions.
One significant art was created by the fusion of all elements; body performance, beauty of theatrical design, costumes, and inspirational music. This is why they are highly evaluated inside and outside the country and its ticket was hard-to-find in France. On this occasion, I would like to highly recommend to experience this stage by all means.
Sankai Juku "TOBARI"
Direction, Choreography, Design: Ushio Amagatsu
Music: Takashi Kako, Yas-Kaz, Yoichiro Yoshikawa
Butoh Dancer: Ushio Amagatsu, Semimaru, Toru Iwashita, Sho Takeuchi, Akihito Ichihara, Ichiro Hasegawa, Dai Matsuoka, Nobuyoshi Asai
Produced by: Theatre de la Ville in Paris, Kitakyushu Performing Arts Center, Sankai Juku
World Premiere: May 2008 at Theatre de la Ville in Paris
Sankai Juku Tour Schedule 2008
http://www.sankaijuku.com/schedule08.htm
Text: Yuko Matono
Translation: Yurie Hatano
[Help wanted]
Inviting volunteer staff / pro bono for contribution and translation. Please
e-mail
to us.