Elements. The creation and destruction.
Akiyoshi Mishima is an artist, who brings his ability into full play as an art director and an image director in the graphic art group Enlightenment led by Hiro Sugiyama. Also, on his solo-project, he unfolds his own outlook on the world which carries a profound expansion. This year, two years after his solo exhibition at NANZUKA UNDERGROUND, he will present new MISHIMA world at the solo exhibition "Elements" at DIESEL DENIM GALLERY AOYAMA from August 30th. The curator of this exhibition, Mr. Nanzuka from NANZUKA UNDERGROUND, interviewed Akiyoshi Mishima whose exhibition is near at hand.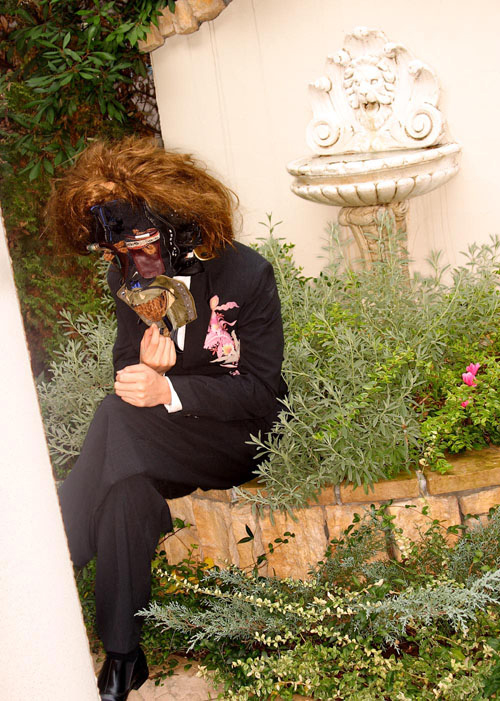 This solo exhibition is the second show after "QUARTER" in 2006. First of all, could you tell me about the details of this exhibition entitled "Elements"?
For this exhibition "Elements," I got a clue from Wu Xing (Five Elements) originated from ancient China. Wu Xing (Five Elements) describes the origins of world with five elements; Water,Fire, Metal, Wood and Earth. Concretely, it is the overcoming cycle of Wu Xing which is "Water destroys Fire, Fire destroys Metal, Metal destroys Wood, Wood destroys Earth, and Earth destroys Water." Through the interrelationships between harmonization and destruction of Wu Xing (Five Elements), I came up the idea that we could think the possibility of harmonization between various culture areas in the world such as Asia, Oceania, Europe, North America, South America, Middle East, Africa, and Russia in a similar way. To sum up, when I thought about harmonization of worlds from global-scale points of view, I came up an awareness of the issues that complementing and controlling each various "elements" were the very things we needed right now.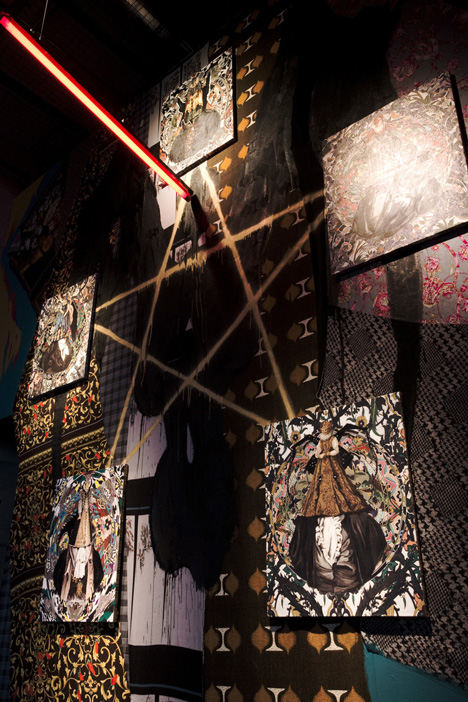 PHOTO: JIRO FUJITA
On the premise that I came up the idea, I always consider what I should be in present Japanese society. In the previous exhibition "QUARTER" at NANZUKA UNDERGROUND in 2006, I represented an aspect of Japanese who are the third generation since the war. The aspect is our flat sensation which treats all different cultures as same and try to absorb them positively. For example, most of postwar Japanese are atheists who hold Christian weddings and perform Japanese funerals. When I bought a printed fabric with Koran text in Malaysia, the storekeeper asked me "Why Japanese need this?" I just wanted it as a material without any religious motive, but these ideas are not acceptable in most of foreign countries. When I got a clue, I realized that being an ignorance is shameful, but contrary, being liberal without clinging to specific ideas or rules is rather an advantage. Moreover, it could be helpful to construct a harmonious world without wars.
In response to those ideas, I'm planning to show some plane surface work that personifies five elements from Wu Xing, and the experimental installation that visualizes a possible world future.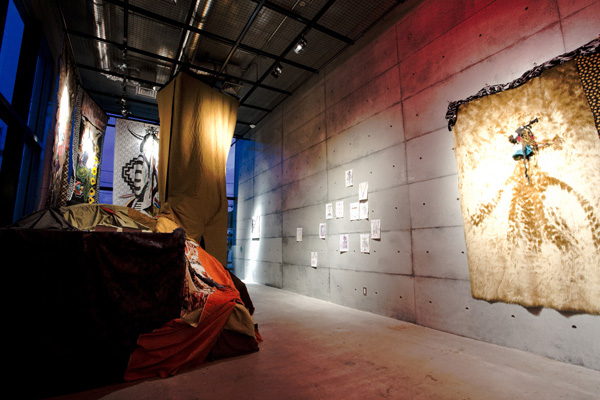 PHOTO: JIRO FUJITA
Do you have any special consciousness about having an exhibition at DIESEL DENIM GALLERY AOYAMA?
It doesn't affect the production of work, but I am aware of concentrating on installation for this exhibition because it is not a gallery space like White Cube has. Also, I expect to widen the groups of viewers because DIESEL DENIM GALLERY AOYAMA is not a space only for art, also for fashion and design.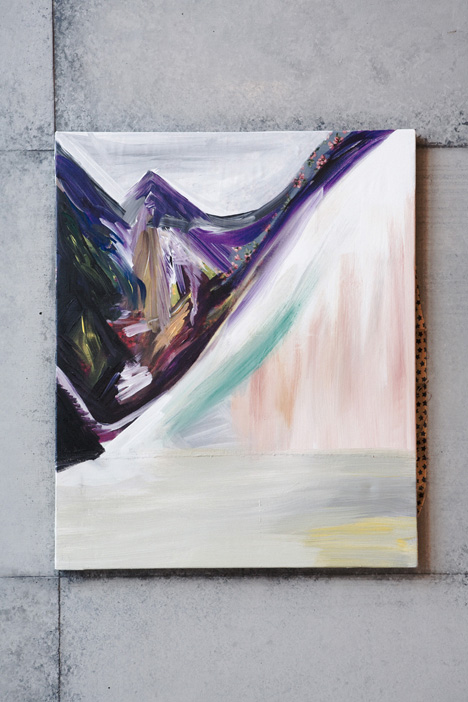 PHOTO: JIRO FUJITA
In recent years, I notice that contemporary art is receiving more and more attentions in Japan. As an artist, do you feel any reality such as response or criticism?
That's right. Including DIESEL DENIM GALLERY AOYAMA, there are more opportunities to experience art through fashion such as Chanel Mobile Art and Maison Hermès. However, since I have more opportunities to see international art scene including the group activity of Enlightenment, I always feel the difference of interest of society when I compare Japanese art scene with Western county's. Anyway, the thing I can do is presenting my work to liven up Japanese art scene as an artist.
Could you tell us about future plan?
I'll have a solo-exhibition at an art fair "Bridge Miami", which is held in Miami in this December. Then, I'm planning to have a solo-exhibition on NANZUKA UNDERGROUND in February.
Akiyoshi MISHIMA "Elements"
Date: August 30th – November 9th, 2008
Place: DIESEL DENIM GALLERY AOYAMA 2F
Address: 6-3-3 Minami-Aoyama Minato-ku, Tokyo
Tel: 03-6418-5323
Opening Hours: 1F STORE 11:00-20:00 / 2F GALLERY 13:00-20:00
Holiday: Unfixed
Host: DIESEL JAPAN
Curator: NANZUKA UNDERGROUND
http://www.diesel.co.jp/denimgallery
Text: Shinji Nanzuka, Mariko Takei
Translation: Fumi Nakamura
[Help wanted]
Inviting volunteer staff / pro bono for contribution and translation. Please
e-mail
to us.