Could you talk about your Fall Winter 08/09 collection "The Thing"?
For the Rozalb de Mura FW 08/09, I loved the mystery and austerity conveyed by the sheer blackness of an all black lot. What I had in mind was the feel and look of an ancient lava specimen. It's as if all pieces have been immersed in a black viscous liquid, and then brought to surface bearing the lobe-like traces due to the solidification process. I wanted a combination of organic excess and black camouflage, with many hidden details: curved cuts, hidden pockets, two-in-ones, false folds and other secret traits that sometimes only the wearer can really appreciate.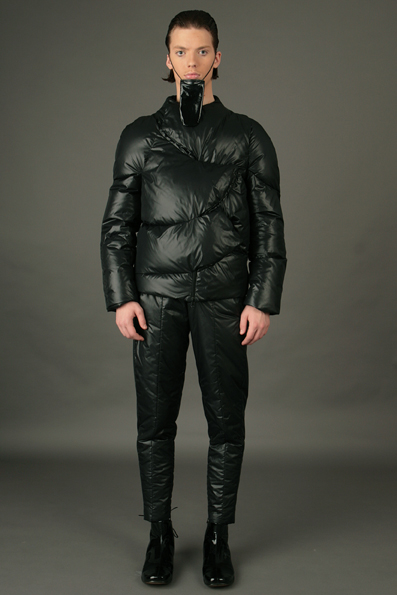 Rozalb de Mura FW 08/09 Collection 'The Thing'
In the FW 08/09 collection, the dominant use of black color and the form of clothes with the mask-like accessory on face is very impressive. It seems as if the clothing was protecting oneself. How did you come up with those ideas? What was the inspiration?
The fascination I have for the sheer, latent forces captive deep down under somewhere. A mineral cocktail of lava, science, something very archaically ancient and literally down-to-earth. I might have been unconsciously influenced by the magnificent landscapes surrounding my home. Not volcanic, it's true. But still, it's nature, in its splendidly indifferent, almost crashing-you-down beauty. The Carpathians mountains and forests with their vaguely menacing air about them, lakes and wood and rocks, rough textures and materialities.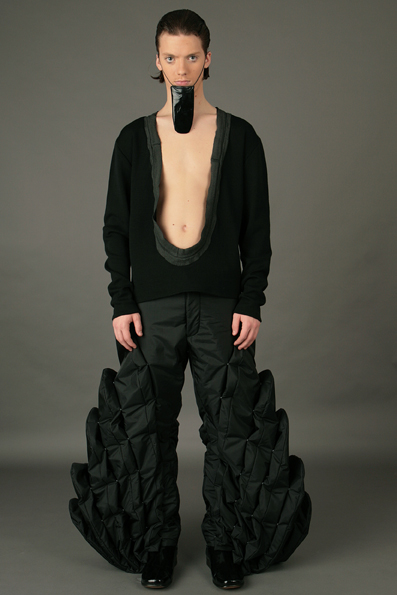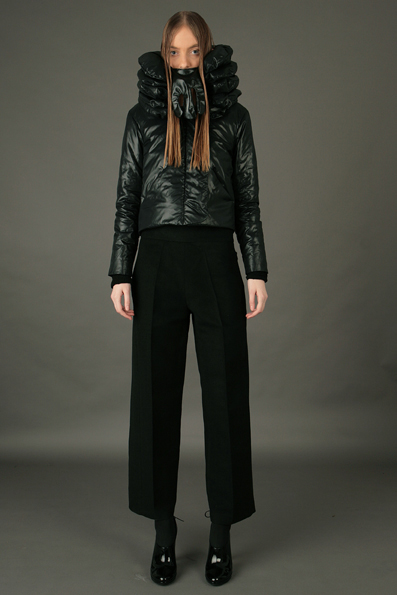 Rozalb de Mura FW 08/09 Collection 'The Thing'
It seems that the sewing is difficult because of the exquisite workmanship for the detail parts of clothes. Did you have any difficulties to complete your collection? Also did you focused on the use of textiles and materials particularly?
Rozalb de Mura production is extremely accurate – I consider this to be essential. Especially since most of the young designers have problems with the quality of the production or the fabrics. Our label is benefiting from the long experience of the factory in Miercurea Ciuc, that has a high quality reputation in making coats and jackets for international brands. As the production facilities are next to my studio, I'm in a continuous coming and going between them. Each decision is crucial, even the minutest detail can influence, improve or ruin the whole look of a garment.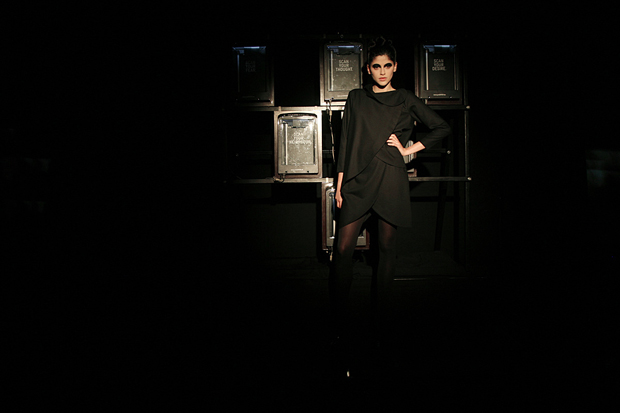 Rozalb de Mura show at IDEAL Berlin (February 2008)
What does the machine tools on "The Thing" image imply?
It's a tool used by volcanologists to collect and study lava samples.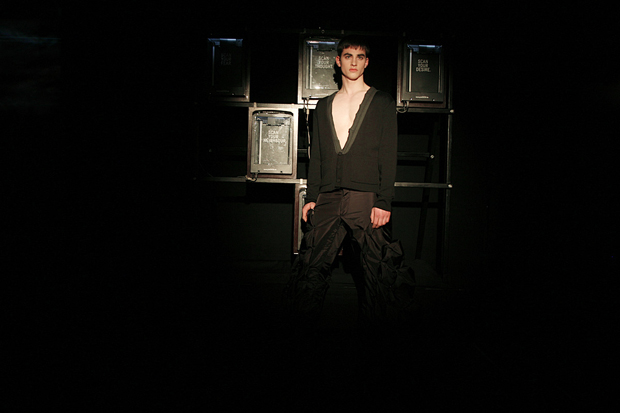 Rozalb de Mura show at IDEAL Berlin (February 2008)
Could you tell us about Romanian fashion scene?
I belong to an ex-communist country, in which the scene is quite small and still struggling to coagulate. It is still quite conservative and underdeveloped. Until recently, most of the fashion meant oscillating between the "entirely sexy" or an impressive kitsch without humor. I think this was because of an unsavory mixture of long years of communist regime, some Balkan influences and lack of openness and curiosity.
In Romania, there is not much infrastructure, nor support for developing a business in this field, so you have to imagine your own solutions. Consequently, things are quite hard for a young label. There are also some really talented young designers, struggling to present their vision and to build a business.
Read more ...
[Help wanted]
Inviting volunteer staff / pro bono for contribution and translation. Please
e-mail
to us.