SHOBOSHOBO ONSEN BUS TOUR
I joined a special bus tour called "SHOBOSHOBO ONSEN(hot springs) BUS TOUR".
Here is what it was: various artists joining together on a tour of Japanese onsen (hot springs) by bus. And during the tour, we played music and drew pictures.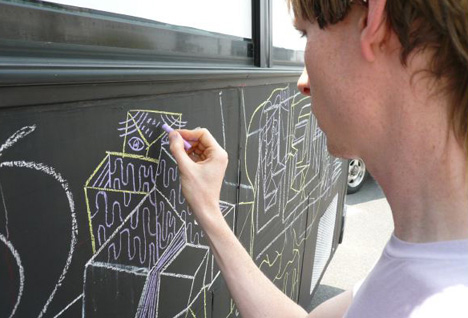 This was the second tour first started by French artists Mehdi and Lozi (as the bus, MOBIUM) in the summer of 2005.
It is impossible to discuss everything about them because they did so much. For example, they've exhibited in Tokyo, held concerts in many cities and of course gone on onsen tours. I recommend you to visit their website where you can see the diaries of the tour and many of their great artworks.
Let me introduce you to the artists that joined this tour.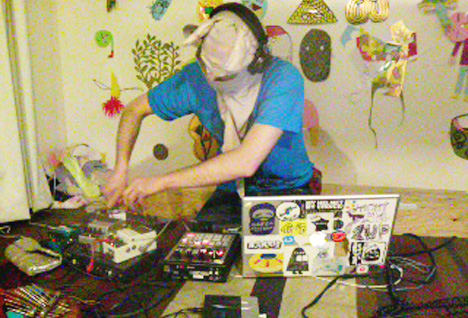 Mehdi Hercberg/minifer (France)
A Musician/Drawing artist, Mehdi Hercberg. This tour is a Japanese version of the series of events he organized in France,"SHOBOSHOBO". His concert is solemn but pop, and it's also experimental. He also creates wonderful goods. It's really fun to see his beautiful drawing books, T-shirts, CDs and pins. These goods are one of his ways of exhibiting his work. During the tour, he kept drawing great pictures.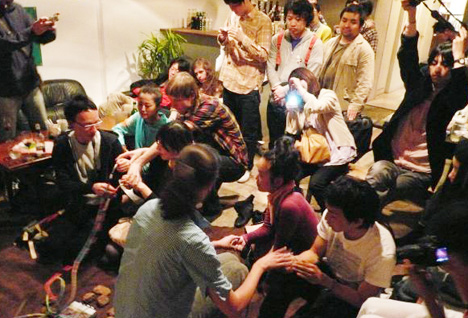 Lucky Dragons/Sumi Ink Club(USA)
Lucky Dragons is a unit composed of two artists, Luke and Sara. They are musicians and drawing artists. One of their instruments makes sounds by holding hands with the audience. It creates the mood of the place making audience peaceful. Their performance was creative and interesting. Also their drawing project "Sumi Ink Club" is brisk. They were constantly drawing amazing drawings during the tour. By the way, their name "Lucky Dragons" was named after a historical Japanese fishing ship which was an H-bomb test victim in 1954.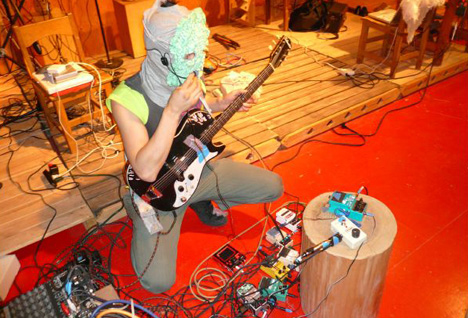 Tetsunori Tawaraya (JAPAN)
Tetsunori Tawaraya is a musician known as DMONSTRATIONS in USA, and also known as a musical unit "2UP". In this tour he joined in as a musician "VASTIEU RAMEN". It's hard to expect his unique performance when you look at his manly, robust appearance. He is also a creator of illustrations and comic books. He was drawing with Medhi during the tour.
MOBIUM(Lozi) produces mobile museum "MOBIUM" for his fieldwork of sound activity. He makes tours of Japan and does sound and art works at many areas. In this tour he was in charge of driving along middle to western Japan, and organizing the event. He is a really creative artist, but in this time, he concentrated on organizing the tour. I really appreciate hid hard work, driving and organizing the event!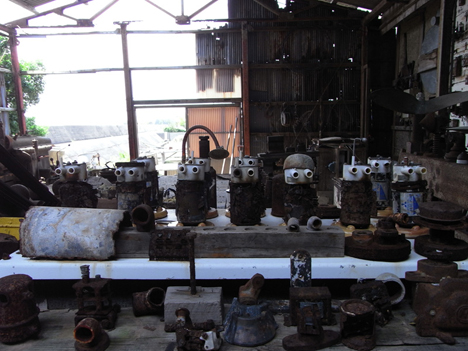 Café Nafsha (Awajishima, Japan)
Many other artists joined in the events held at various places. I did an art performance in Awajishima.
I joined in Osaka(AManTo), Awajishima(Awajishima Art Center, Café Nafsha), Kyoto(Japonica), and Nagoya(Aichi Children's Center). All of those places have a deep consideration for artists and audience. I'm truly happy to have those kinds of places in my country.
Café Nafsha is hosted by contemporary artist, Yasuhiro Ozaki. Everything in the place was made by his hands, Including the food and building. I really enjoyed it.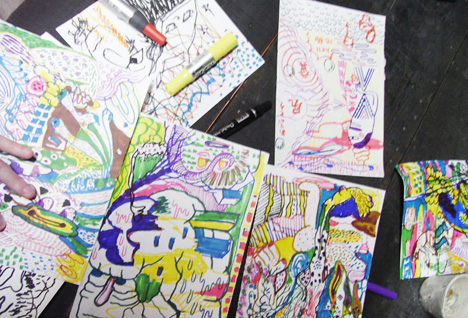 One night, during dinner at Awajishima art center, Medhi and Lucky Dragons started to draw. And then, following them, staff and other artists, everybody in the place started drawing. Many many artworks were created eventually. It made me recall my childhood. I was crazy about drawings. Pure times.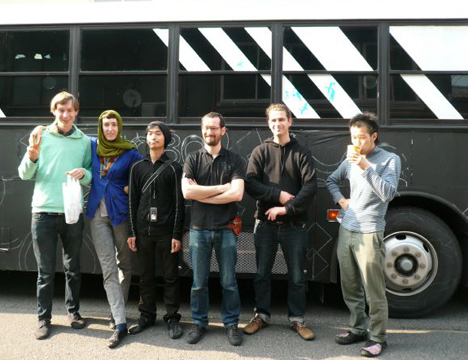 This tour had been running around, making everybody happy.
SHOBOSHOBO ONSEN BUS TOUR
Date: April 17, 2008 – May 5, 2008
Place: Tokyo, Sakurajima, Beppu, Osaka, Awajishima, Kyoto, Ogaki, Nagoya
http://www.shoboshobo.com
Text: PHIRIP
Photo: PHIRIP, Mehdi Hercberg
Translation: Shiori Saito
fukuoka, kyoto, nagoya, osaka, tokyo, yamaguchi
[Help wanted]
Inviting volunteer staff / pro bono for contribution and translation. Please
e-mail
to us.