What's this about free art on the streets of new york?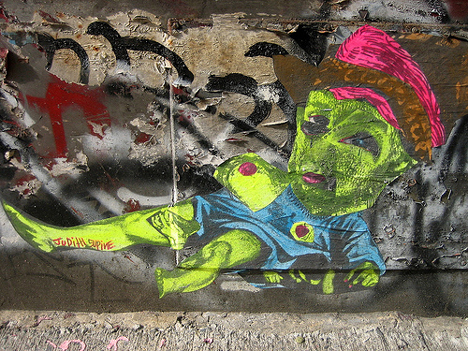 I can still remember the first piece of New York City street art that made an impression on me: walking through Williamsburg several years ago, I was stopped in my tracks by the haunting face of a young girl peering out at me from within a doorframe. Pasted on a door was a beautifully detailed woodcut print I would later learn had been crafted by the street artist Swoon. Down the street, I discovered what looked like a cover of a tawdry pulp fiction novel stenciled on some wooden scaffolding by a collective known as Faile… from that moment on, I was hooked. With a little patience, you too can develop a street art habit.

Faile © Luna Park

The streets of New York City have something for everybody, provided you know where to look. If the walls are spotless and clean, keep walking. If the stores you're passing are ones you'd find at the Mall of America, keep walking. If things are starting to look a little grotty, slow down and put your peepers to work. It is almost impossible to walk the entire length of a street without encountering some kind of illegal art. Marker tags are everywhere – if you can't read them, don't worry – they're solely to let you know that the tagger made it there before you. Once you start paying attention, you'll be hard pressed to pass a mailbox, newspaper stand, construction fence or pretty much any free standing object that doesn't have a tag on it. If you let your eyes wander, you'll start seeing stickers, lots and lots of stickers. You can continue to ignore about half of them, because they're just bands, t-shirt manufacturers or other corporate wankers hoping to build some street credibility so they can tap into the lucrative urban youth market. But wait, what about the other half? Well, that's where things start to get more interesting.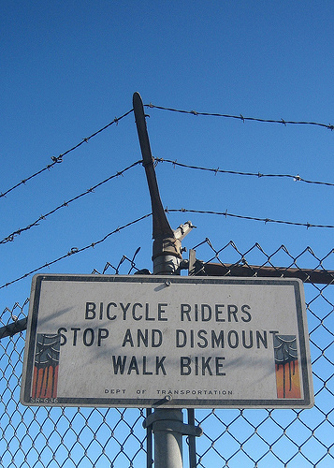 Darkcloud © Luna Park
The street sticker is a classic, low budget means to get your image seen again and again. Whether you draw them by hand or cough up the cash to have them printed on vinyl, if you put up enough stickers in a city, they will get noticed. Take, for example, my boy Darkcloud: his signature, hand painted dripping clouds can be seen, often in pairs, on the backs of street signs all over northern Brooklyn. Why are they there, you ask? Who cares? They're cool to look at and more fun to spot than a red-tailed hawk, unless of course you're a birder, in which case you're all set with your hobbies anyways. Then there's the work of Dan Witz, whose tiny photorealistic paintings are ingeniously placed so as to blend in with their environment. When you've finally spotted one, pat yourself on the back because you're well on your way to becoming a superstar. Just don't let it go to your head.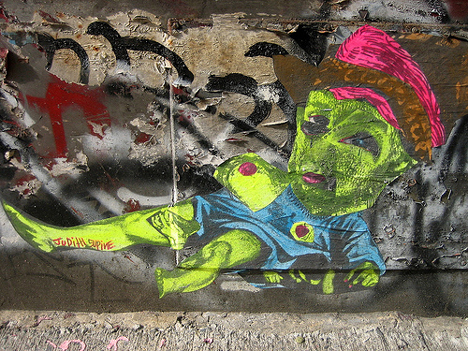 Judith Supine © Luna Park
Now that you've gotten a little taste, you're ready to hunt down some stencils and wheatpastes. If you used to huff glue as a kid, I hate to break it to you, but wheatpaste won't get you off. Still, it's a cheap and easy solution to make glue at home with little more than flour and water and it's the best way to get paper to stick to walls. Did I mention that DIY is the name of the game? That having been said, what should you be on the lookout for? If you come across a cut-n-paste collage of say, Paris Hilton or Whitney Houston, with extra eyes or other superfluous appendages, you're onto Bäst. Unless you're blind, Judith Supine's oversized, neon-colored collage wheatpastes are impossible to miss downtown. Especially if you like your street collages on the titillating side, then Judith Supine's your man (wink wink). Although he's also a wheatpaster of fine woodcuts, lately Elbow-Toe has been giving his hands a break and us a treat by stenciling. You too will be amazed at the details he can achieve with a multi-layered, multi-colored stencil, if you can find one. What are you waiting for? There's a whole world of street art out there and I haven't even mentioned any of the crazy 3d stuff yet.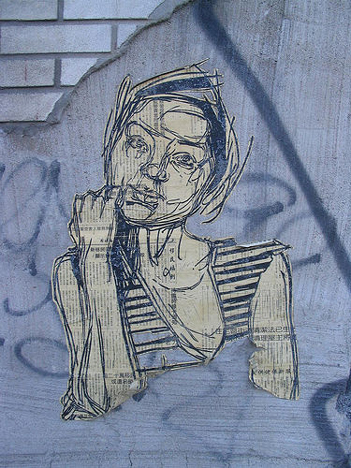 Swoon © Luna Park
Of course there are forces in the City that conspire to paint over anything that isn't a paid advertisement, but thankfully, they aren't the most vigilant bunch. Occasionally there'll even be a closet art critic who carefully repaints a wall, making a point of going around even the art that isn't supposed to be there. My advice to you? Turn off your TV, put on some sneakers, get out of the house and explore… you'll never know what you're missing if you don't go looking for it!
Some neighborhoods worth checking out:
SoHo
LES
Chelsea
Williamsburg
DUMBO
Bushwick
Text and photos: Katherine Lorimer
[Help wanted]
Inviting volunteer staff / pro bono for contribution and translation. Please
e-mail
to us.