This must be the Avant Garde.
Koichiro Kimura is a Sendai-based international designer and is also known as an owner of 'international', the interior showroom in Sendai-city. Kimura has developed his own style in working with both art and interior design using lacquerware, a main aspect of Japanese traditional craftsmanship. In recent years, Kimura has exhibited at several international exhibitions in addition to getting a lot of offers and commissions from many corporations worldwide.
We had a chance to interview Koichiro Kimura who continues on his course to making some of the most beautiful objects we've ever seen.
Please introduce yourself to the Shift readers.
When I aspired to becoming a fashion designer, the designer I looked up to advised me that challenging new things should be the point of one's life, so therefore, I chose to fall heir to his lacquerware business. I then started exhibiting my works worldwide, like at Milanosalone. Nowdays, I have been working with different companies worldwide for a variety of projects related to art or even high-technology.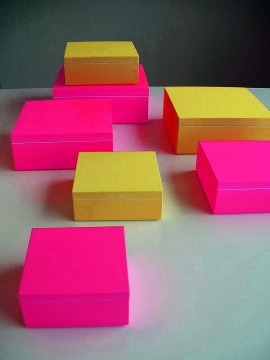 BOX, Yellow / Pink, 2006
You did not study design at school, so why did you choose to be an interior designer?
Well, I base my work on lacquerware. Actually, I have never said that I wanted to be an artist or an interior designer. However, as I started to get offers from various people, I was able to expand the field I worked in. Now, Art has become 90% of my work.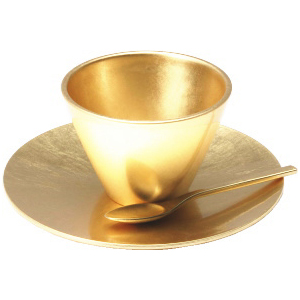 NEW WAVE, GOLD Cup, Saucer & Spoon Set, 2006
Why did you choose Sendai as your working hub?
I love the town where I was born. I even have a feeling of yearning for Sendai. I have been to many towns, but Sendai is just beautiful for me.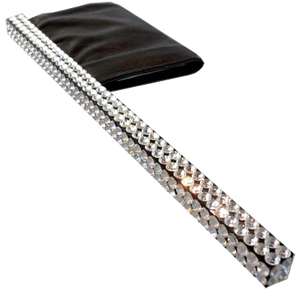 Haute-Couture "Swarovski", Prtable Ashtray, 2007
There is a sense of warmth and benevolentness in your lacquerware, but there also is a sharpness and intensity in your work. How do you make your work? Where do you get ideas from?
When the punk movement was in its prime, I spent All or Nothing in my youth thats hwo I lived. I clung to works of Mishima, Mapplethorpe, Parajanyan, Kubrick and Jim Jarmusch. They taught me the meaning of elegance in the extreme. I may not have a good control, but I want to get my straight message out to the world.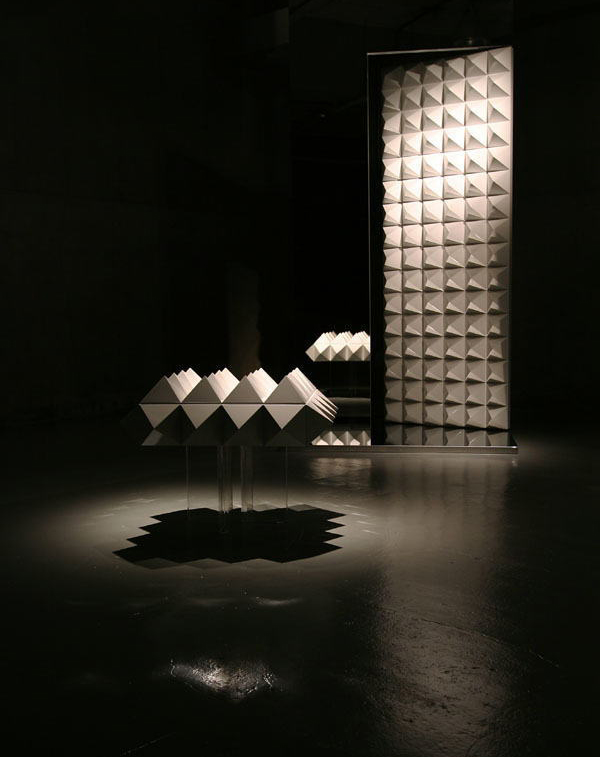 M-Chair, 2007
Most of your works consist of daily objects including, tableware, furniture and interior objects. However, the works themselves are full with extraordinary shapes and colors. What is your concept and your commitment to material?
 
My main theme is freedom and pleasure. I have made the M-Chair which is made with pyramid blocks. It hurts when you sit down on it. However, it is rather beautiful and there are people who want to sit on the M-Chair. I think to be beautiful is the most important thing. Don't you think ordinary is rather extraordinary?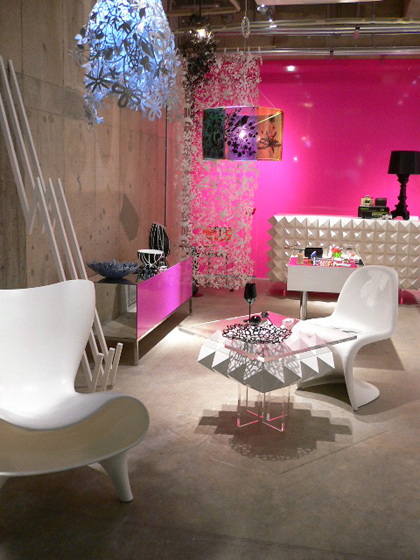 International, Sendai
What was the motivation to launch 'International'? Whats the theme?
I serve as chairman for a council in my dear Sendai of which the purpose is to establish Sendai as an art capital. I wanted to put Sendai at the forefront of the world where we do not need a filter to see. That is why I launched International in Sendai three years ago. The theme is to create a more-evolved relationship between humans and objects.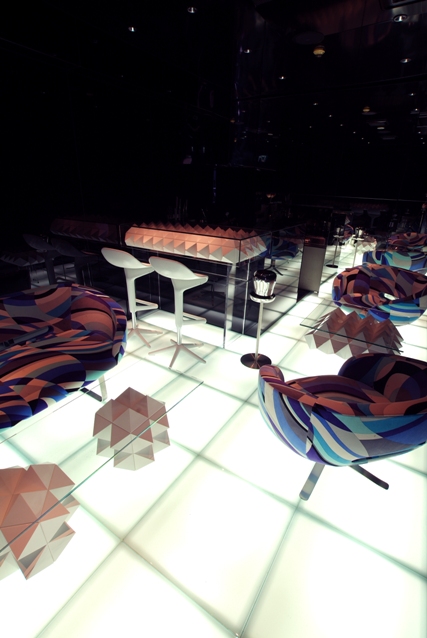 HIGH TIMES, Sendai, 2007
What triggered the production of 'High Times', the Champagne Bar?
A friend of mine requested me to do something fun in an 8 square feet store. So, we started with an idea of a room with Champagnes, cool and gorgeous, glittering gold, mirrored, upper-lighted, and elegant.

Kawara, 2008
What was the first work you exhibited internationally and what was the concept?
It is Kawara series. The concept was to make a very finely tuned sense of balance with Japanese spiritual beauty, such as Japanese Kawara and the rooftop of Phoenix Hall of the Byodo-in Temple in Kyoto.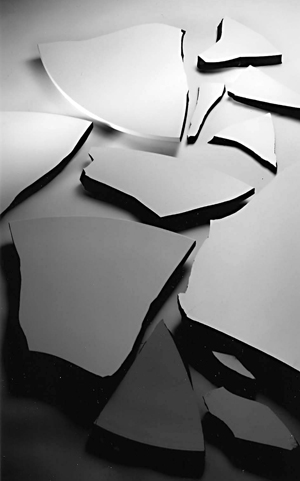 Piece of Peace, 2008
Can you tell me about one of your favorite works?
It is 'Piece of Peace'. After 9/11 , I sent a sympathy card to one of my customers in New York. The customer replied me saying, "Because of this event I was able to feel your love. Thank God." It taught me that it does not end because of destruction, but it starts life because of the destruction. I worked to make that idea into a shape.
Please tell me about your new work 'Fusion', which will be exhibited at this year's Milano Salone?
Well, there are many conflicts between different religions and races in the world. It is my wish that those conflicts would melt into one and everything on earth could come together. I am expressing this idea with colors and shapes.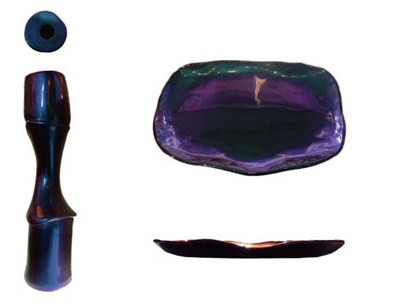 Fusion, 2008
What do you think about the interior industry in Japan?
It is no doubt that Japanese traditional craftsmanship is some of the first leading in the world. And, people can get a sense of this if they study the history. The Japan brand is advancing and designers are reviving the traditional craftsmanship. As for me, I am a traditional lacquerware craftsman. However, I design high-technology. The times have changed.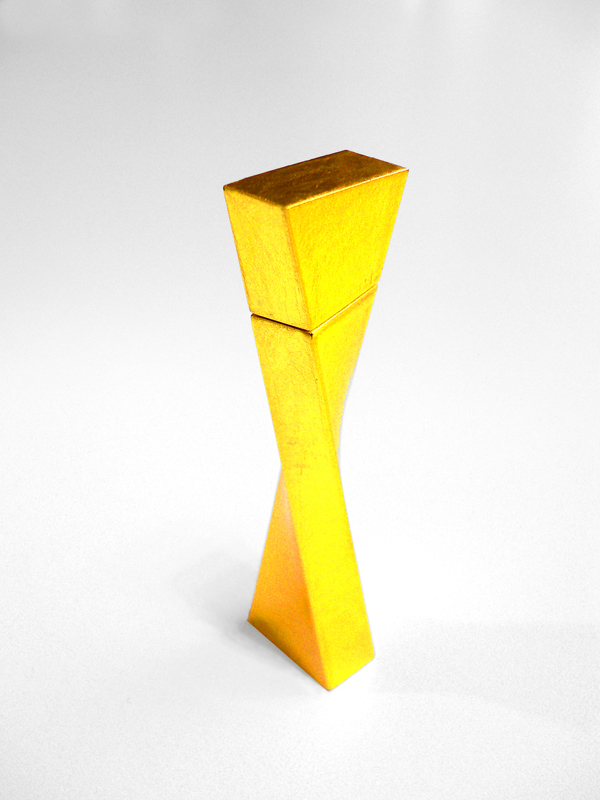 USB Memory Stick, 2008
What does the future hold for you?
Well, to mention a few things, I will have an exhibition of new work at Milanosalone, an exhibit of a 6 meter sculpture. I'll also show the full gold leaf USB stick art for Sendai's international promotion. There are many exhibitions worldwide, so please see my website for more details.
Anything you'd like to say to our Shift readers?
I have been taught the meaning of beauty through pleasure and many different experiences. I will make and exhibit art super aggressively around the theme of provoking world from Sendai. If you are interested in my work, please contact me. I look forward seeing you sometime.
International
Address: 26-13 Tachimachi, Aoba-ku, Sendai
Tel: 022-223-3267
info@love-international.jp
http://www.love-international.jp
Text: Kazumi Oiwa
Translation: Masanori Sugiura
[Help wanted]
Inviting volunteer staff / pro bono for contribution and translation. Please
e-mail
to us.