CHINA DESIGN NOW EXHIBITION
Made in China.
The familiar words "Made in China" are about to take on a whole new meaning, if the V&A contemporary wing's China Design Now exhibition is anything to go by.

From the pioneering graphic designers of Shenzhen, to the fashion-savvy lifestyles of Shanghai's new urban middle class, to the very cutting edge of architectural design in pre-Olympic Beijing, via film, photography, product and furniture design, youth culture and digital media, China Design Now is a rich journey through the re-connection of China with its pre-socialist past.
Universally-recognised relics of China's rich heritage such the vases of the Ming Dynasty, the infamous fashion for impossibly tiny feet, the sumptuous flavours of the universally beloved Dim Sum cuisine, the revered kung-fu skills of Shaolin monks, and the grand pagodas of traditional Chinese architecture, point to an ancient civilization that has been home to some of the world's most complex and awe-inspiring cultures.
But Mao Zedong's tyrannical methods of getting everyone's undivided attention during the early part of last century, meant the systematic destruction of countless ancient buildings, artifacts, antiques, books, and paintings; even flowers were seen as subversive, as children were encouraged to trample grass and knock the heads off the blooms in their school-yards.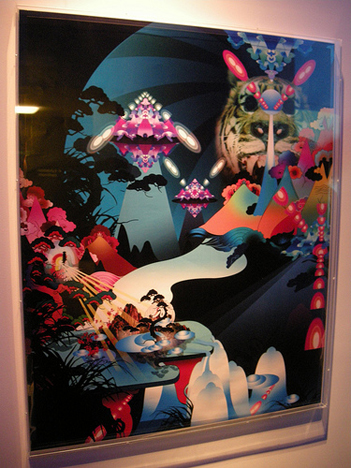 "Chinese World View" by Guan Xiao (2005)
Unsurprisingly, the years of the cultural revolution left a vacuum which was filled by years of soullessly mass producing the bulk of the world's electronics, shoes, gadgets and much more, while the conception, design and creative input was invariably left to Europe, America or Japan.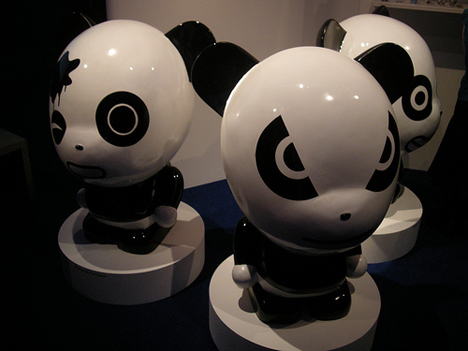 "Hi Panda" sculptures by Ji Ji (2006)
Perhaps these years of cultural destruction, repression and emptiness are the reason China is now enjoying an energetic re-awakening of creativity, particularly in the field of design. With over 200 exhibits, China Design Now celebrates this new cultural surge, presenting a fascinating insight into contemporary China and exploring its hopes and dreams over the last two decades.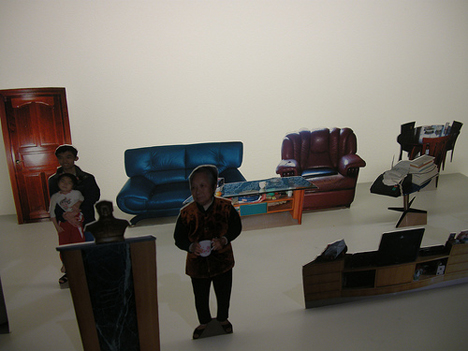 "Homescape" photo collage installation by Chen Shaoxiong (2002)
As recently as 4 years ago, the urban youth of China would still have given their left leg for a pair of Nike's and would never deign to choose local soft-drink Jianlibao over Coca-Cola.
But the impact of rapid economic development has meant an explosion of new architecture and design in China's major cities, says V&A Director Mark Jones, "the tremendous pace of change has inspired a whole new generation of designers and architects who are shaping fashion, product and urban design in China's big cities."
These powerful new national brands are now vying not only for the Chinese market but competing with global brands for the attention of the world.
The exhibition route begins in the country's southern region with the graphic design, youth and urban culture of Shenzhen, where, says the exhibition's curator Lauren Parker, "designers are really playfully exploring global youth trends the relationship between global youth trends – things like skateboards, trainers, t-shirts, as well as their traditional Chinese icons."
The concept of design is in itself something of a novelty in contemporary China, where during Mao's era, there were simply a handful of 'artist-workers' churning it out for state-owned companies.

Poster for China's first graphic design exhibition by Chen Shaohua (1992)
But since the 1990s pioneering individuals who used Hong Kong as their inspiration and technical yardstick, turned to posters as their primary means of communication – first with neighbours Hong Kong and Taiwan and now with Europe, Japan and America.
In the last few years, a number of world-class art and design collectives have emerged, notably MEWE Design Alliance and Perk, who are held together by a mutual appreciation of interdisciplinary design and the inter-breeding of creative ideas.
The second phase of the exhibition takes us North along China's coast to the birthplace of 'China Modern' and the country's most cosmopolitan city – Shanghai. After millions abandoned the city as Mao's despotic Great Leap Forward policies kicked in during the early 1950s, many emigrants are now returning as the city's fortunes are revived, the economy is transformed, and a new urban middle class is born.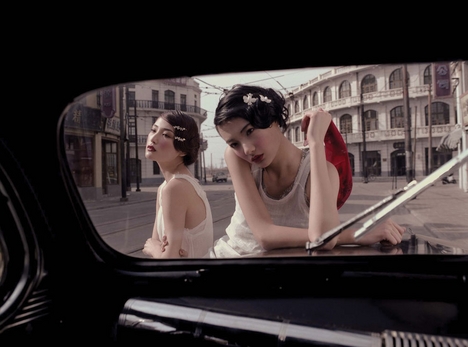 The Soft Touch for Time Magazine © Wing Shya La-La (2005)
Fashion magazines, consumer culture and an edgy fashion scene championed by designers like Ma Ke, Wang Yiyang and Zhang Da, reflect the production and consumption of a new dream that combines Western-style aspirational lifestyle culture with a nostalgia for China's recent past.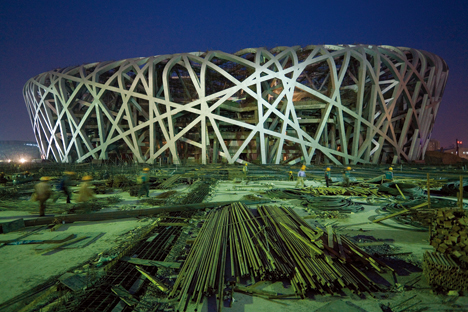 National Stadium for the 2008 Olympic Games © Herzog de Meuron
Finally, we travel to China's political and cultural centre, the rapidly modernizing Beijing, where the shape-shifting skyline reflects a spectacular array of architectural and urban planning developments including offices and hotels, shops and houses, apartments and schools, with Herzog & de Meuron's 'Bird's Nest' Olympic Stadium taking centre stage.
This environment fosters a climate of independent creativity, as ambitious young studios practice independently from the state system, forging an alternative vision of modern China.
That China is taking over the States as the world's new economic giant is nothing new. But judging by the buoyant energy and spirited confidence of the myriad exhibits at China Design Now, we may well have a new design giant in our midst too.
China Design Now
Date: 15 March – 23 July 2008
Place: V&A Museum
Address: South Kensington, Cromwell Road, London SW7 2RL, UK
Tel: +44 (0)20 7942 2000
Text and photos: Lotje Sodderland, Maxalot
[Help wanted]
Inviting volunteer staff / pro bono for contribution and translation. Please
e-mail
to us.