Product design that finds the balance of art and practical living.
For their brand, ChilliChilly, a Hong Kong based product design brand, Arthur Yung and Clement Cheung use narrative form in their design. Having studied architecture, they apply a subtle twist to their design, which gives them a great reputation.
They have recently participated in the Matching Project initiated by SCV (Shizuoka Contents Valley Consortium), to work with a local firm in Shizuoka developing together a design on the theme of "Kids Corner". We had a chance to interview them and asked about their vision on design and various projects that they have been involved.
Please could you introduce ChilliChilly?

ChilliChilly, a product design brand, started in 2004. Clement and I were the co-founders of the brand. ChilliChilly designs, manufactures household design products such as clocks, tableware, stationary and other living accessories.
Please tell us where the name, ChilliChilly, came from.
CHILLI, CHILLY are homophones; meaning that they have the same pronunciation, but different meaning. What is interesting about this combination of words is that they mean the opposite thing. CHILLI being hot or spicy. While CHILLY means cold. The opposites, or Yin-and-Yan, is something that we envision what ChilliChilly can be – product design that finds the balance of art and practical living.
What are the roles for each of you, and which field are each of you specialised in?
I am mainly responsible for the design of the products and the art direction for the brand. While Clement is the money-man, the guy who deals with the client and the finance of the company. And our colleague, Benjamin Wong is the guy who makes the design into realization, he deals with the production.
Could you introduce us your representative works/projects, please.

Decode Clock, 2004
Winner of Good Design Award 2004 and Gold Award of HKDA Awards.
When the minute hand crosses over the 'coded' words, the readings of time is immediately apparent. so when the minute hand lands on the 12 position, the word 'twelve' becomes apparent.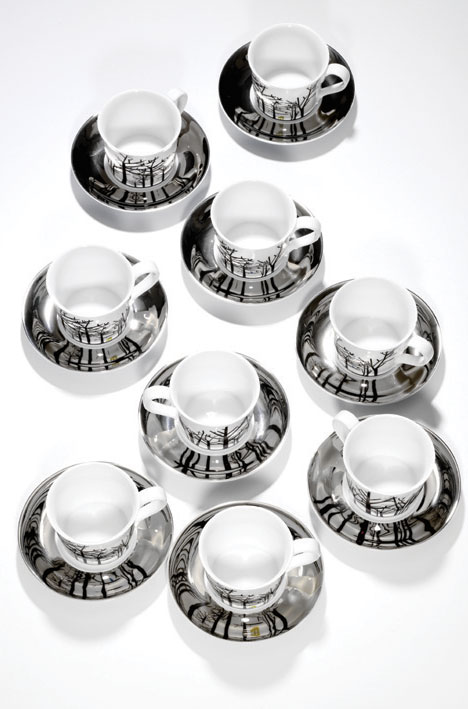 By the Lake cup and saucer, 2004
This was actually our first design. The inspiration came from a trip to Frankfurt; me and Clement were by the canal having coffee, and saw the reflection of buildings off the canal, and we thought it'd be quite romantic to replicate that scene in our design. Of course we romanticized that scene with a minute animal and trees by the lake.
So, the reflective saucer was our lake, and when the cup sits on the saucer, the reflective image of the trees are apparent on the saucer.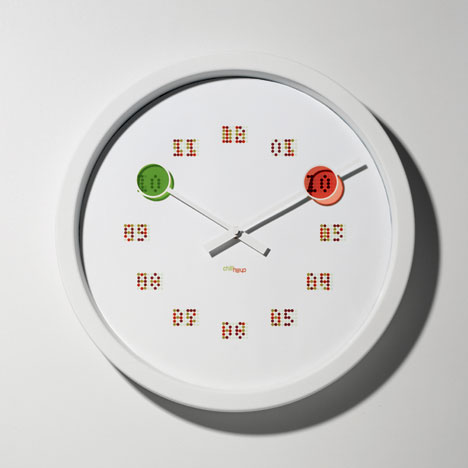 Seeing Doubles clock, 2006
Silver Award of HKDA Awards
We wanted to have digital readings on our analogue clock. and we achieved that by utilizing the color theory we learn in art-classes. The numbers on the clock differs when the minute hand and hour hand hits the same marker respectively. For example, on the 3 position of the clock, the number is initially not legible; but when the minute hand reaches that spot, it will read "15" ("15" minute being its reading on a digital clock). Alternatively, when the hour hand rests on that space, it will read "3" ("3" o'clock being its digital reading)
We heard that you studied architecture. In terms of designing, what aspects do you find interesting or attracting in product design that you wouldn't find in architecture?
Well, product design is certainly a much smaller-scale project compared to architecture. What we like about it is that this is design that is very intimate to the end-user, it is something small, personal object that the user interacts with on a daily basis.
ChilliChilly's design is not just decorative design, but there is a little twist to it, which is very distinctive. You state that "design is recognising the art of living", what aspects or when in daily life do you find these inspirations?
For example, the Silhouette Vase, I always thought the study of the optical illusion of the Rubin's vase to be very interesting; and I thought that it'd be quite romantic if the two figures looking at each other had a dreamy night scene in the background rather than staring plainly at one another.
So, this is something that I probably picked up from my interest of art and living… and applied it to my design. So what people are buying from ChilliChilly is really an accumulative of things I saw and experienced before.

ChilliChilly has released collaborative projects/products with various artists from all over the world. How do you select these artists, do you have a set of standards for the selection?
Yes, there were several projects that were done in collaboration with other artists. And I think what initiated these projects were my admiration of their respective works. And this is a good way to work together with others. So, there weren't really a set of standards for the selection, rather the selection was stem from my respect for their works.
About the Matching Project initiated by SCV (Shizuoka Contents Valley Consortium) that you are currently participating with its theme of "Kids Corner", could you explain about the details of your project?
Kids' furniture is certainly a field that I never explored myself. The process of designing a series that is agreed by all is actually quite difficult, because the project requires that both the kid and the adult parent have to like it. But in the end, I tried to recall what I liked as a kid, and finally found inspiration from my favorite children literature, Where The Wild Things Are (by Maurice Sendak), as basis of my design.
Your activities are not limited to product design, but also include graphic design, interior design, and interactive design. What's your next plan and do you have anything that you would like to challenge in the future?
Personally, I am focusing more effort on my own design studio, BE COCO, in graphic design and advertising; as well some more product and spatial design for other companies (more to reveal after it's in the market).
While Clement has moved on to work for his mom in the trading business. And Ben is doing some exhibition design.
ChilliChilly
Address: Unit 39, 17 fl., Block D, Wah Lok Industrial Center, 31-41 Shan Mei Street, Fotan, New Territories, Hong Kong
Tel: 852-2543-6034
http://www.chillichilly.net
Text: Kyoko Tachibana
[Help wanted]
Inviting volunteer staff / pro bono for contribution and translation. Please
e-mail
to us.