Transformation of the sight – it can be one of the possibilities of visual arts in the present age.
Biwako Biennale 2007 taking place at Omi Hachiman, Shiga Prefecture Japan, was an interesting exhibition being rooted in this possibility.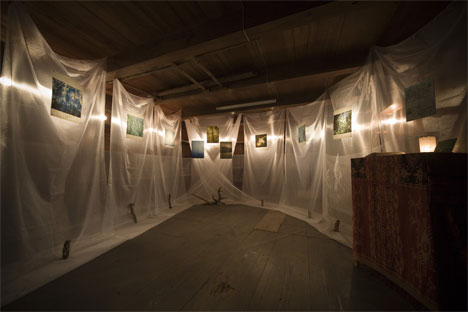 Biwako Biennale is a project started in 2001 at Otsu City in Japan by a figurative artist Yoko Tanaka. The second edition was held at Omi Hachiman in 2004, followed by the third edition this year. Omi Hachiman is a beautiful suburban city; as the birthplace of Omi merchants, it has retained an old streetscape with ancient tradesmen's houses and moats. In recent years, there have been lots of tourists since it's a popular tourist point in the center of the Kinki, Chubu, Hokuriku area, near super the popular cities of Kyoto and Nara. Omi Hachiman is also an extraordinarily versatile city, where ancient and modern Japan contrast to highlight the rapid progress of globalization in farming villages and the cities. Against this backdrop, the third Biwako Biennale was appropriately titled "Spirit of Place: Genius Loci". Genius Loci is Latin, and it refers to to the distinctive aspects and characteristics of a particular place, or to an ancient spirit that inhabits and protects a place, or even to an invisible place that exists only in the mind. It can be translated into the specific "climate" of the place. The project repossessed the lost "climate" and transformed the sight of the art fans, tourists and inhabitants of Omi Hachiman City, by using decommissioned tradesmen's houses as exhibition places.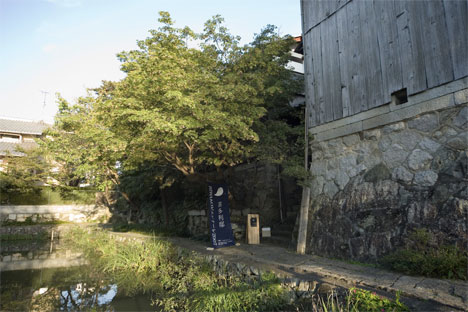 Kitari Tei
Placed along with the moat of Hachiman where the former main stream of commerce of Omi Hachiman was, Kitari Tei was a luxury tradesmen's house that used to belong to a Tatami mat manufacturer . It consists of 2 huge storehouses and main house and annex of two stories. In this exhibition, Kitari Tei exhibited works of 10 artists.
To complement the style, there were installation-like exhibits utilizing structure of the building.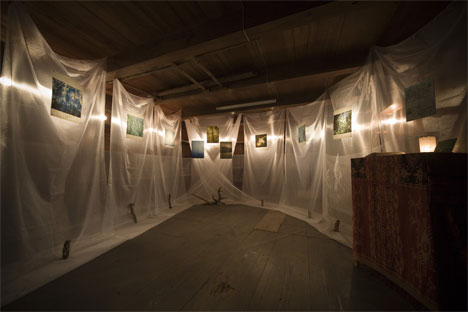 Takashi Horie
Photographer Takashi Horie showed photo works in the space invoking fresh wind. Likewise, Hiroshi Saito used a space for a Buddha statue, which was also a motif of his own work. He incorporated a part of the work concept "heritage handed down from generation to generation" as an element of the creation.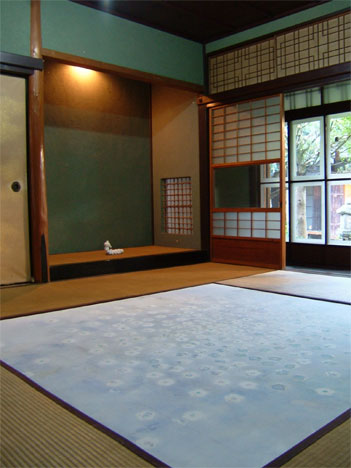 Matsuo Ikuko
Also, Matsuo Ikuko exhibited drawings and objects using Japanese drawing techniques such as Iwaenogu (colored natural rocks) and glue. She took advantage of the floor, little alcove, and texture of sand wall as the space component of a Japanese room. Naoki Takeda's work was made of garden lanterns between the main house and annex. Using fire bags as one scene, he presented about lust in one's life as a series of the story.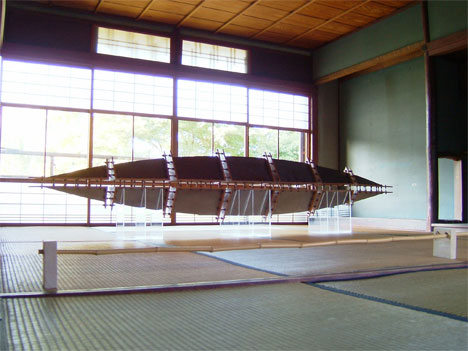 Tetsuya Tanaka
Keiko Koitabashi who had lived in Kitari Tei to complete his work, showed an installation with cocoon as a material at the first floor of the annex. At the second floor, Tetsuya Tanaka was exhibiting the SF-like formative work and futuristic tea utensils, and there was a tea ceremony during the period. Harue Takami expressed "time and darkness" with simple and a simple mount of paper workmanship, and dust in the storehouse.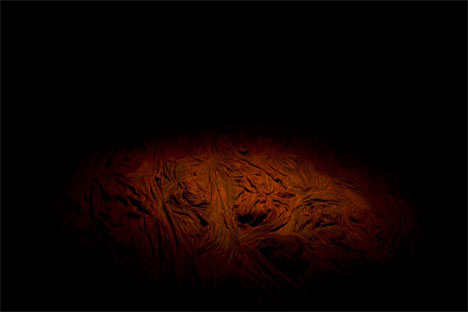 Mayuko Tanabe
Meantime, Mayuko Tanabe developed an installation in the natural darkness of the storehouse which was quiet but had lasting impression. Takashi Mitsuda exhibited works pursuing the possibility of paper cutout with motifs of fishes and plants living in Biwako.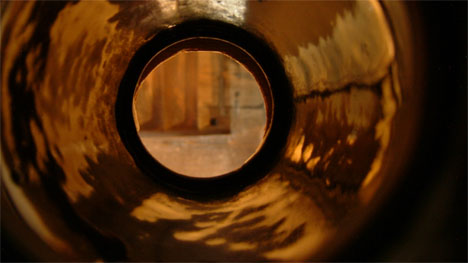 Stella Geppert
Work by Stella Geppert embodied the quiet Spirit of Place in daily lives, by providing the wide sight seen from a hole on the bottom of a vase. In addition, Kitari Tei also had a cafe at verandah-like porch, which was offering coffee or Yuzu (citrus) tea.
Read more ...
[Help wanted]
Inviting volunteer staff / pro bono for contribution and translation. Please
e-mail
to us.